Bill would give Miss Navajo one more year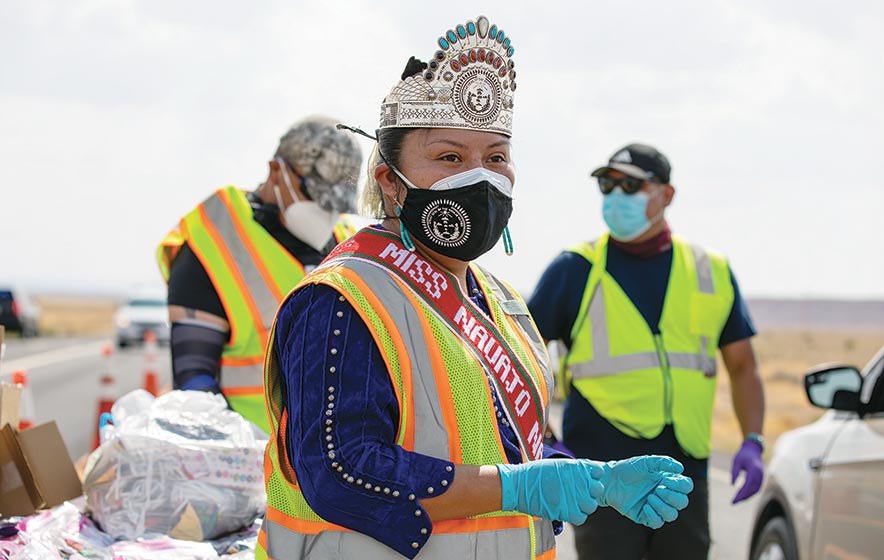 WINDOW ROCK
Over a year ago Shaandiin Parrish competed for and won the title of Miss Navajo Nation.
Miss Navajo is considered a goodwill ambassador during her yearlong reign, and the public service required to fulfill this role is immense. But this duty is one Parrish gravitated towards.
Six months into her reign, the Navajo Nation was hit with the coronavirus pandemic, which halted the government and deterred many of the plans Parrish had made.
Along with canceling a trip to Taiwan scheduled for March and other travel that a normal Miss Navajo usually does, Parrish also had to cancel the summer workshops she had planned.
But this didn't deter her from doing what she does best and the part of being Miss Navajo that appeals to her the most – public service.
"My drive, it's driven by public service to our community members," said Parrish. "For as long as I remember, community service has been one of my core values. It brings me joy. A lot of the service that I've displayed this year has been genuinely finding ways to help our communities."
During this time of COVID-19, Parrish can be found helping with food distribution and in her spare time she is making facemasks. Currently, she is trying to encourage everyone to respond to the census count and register to vote.
Before becoming Miss Navajo, Parrish, who holds a political science degree from Arizona State University and is a former Miss Indian Arizona, was a public information officer for Arizona State Treasurer Kimberly Yee. Parrish said Yee was her mentor while she interned for the Arizona State Senate. She credits her former jobs to her civic mindedness.
What she learned in her PIO capacity she utilized as a volunteer at the Navajo Health Command Center's public information office for a few weeks during the beginning of the pandemic.
As PIO, Parrish created graphics on preventive measures written in both Navajo and English, which have been printed and widely shared.
"As Miss Navajo it was essential in my capacity to share with the public the changes that were happening," said Parrish. "I decided I would best fit in the public information office and help with the messaging for preventable measures."
The pandemic not only impacted her reign but hit close to home when her grandfather contracted the virus. He recovered but the threat of the virus is still prominent because her family lives in Kayenta, not far from Chilchinbito where the virus spread like wildfire and is still considered a hot spot.
Parrish was supposed to have completed her reign during the Navajo Nation Fair, but all Navajo fairs were canceled.
Along with the fair the Miss Navajo competition was canceled and the Naabik'iyati' Committee tabled legislation sponsored by Speaker Seth Damon to amend the Miss Navajo office's plan of operation. It would extend Miss Navajo's reign for one year, among other things, if passed.
"The one-year term may be extended for one additional year in the event of exigent circumstances, including, but not limited to, natural disasters, approved public emergency by the Emergency Management Commission," the bill says. 'The one-year extension must be approved by the Navajo Nation president."
The Miss Navajo plan of operation hasn't been amended in 20 years and the topic of concern among delegates were contestants' eligibility requirements, including where it states contestants are prohibited from being a member of the National Guard, or in the military, or attending post-secondary and trade schools.
"As a Council we need recognize that the eligibility there should be a conversation (about) who could represent as a cultural ambassador to the Navajo Nation," said Delegate Amber Crotty. "How do we create an eligibility that is inclusive for individuals who have the want and the skills (and) feel they can represent our great Nation?"
The legislation was tabled for 90 days with a vote of 19-1. Parrish didn't comment on the legislation.
"I think everybody in our government is focused on the well-being of our people," said Parrish. "We want to make sure our people continue to stay safe at this time and that is my absolute focus."
---