Coffee in half the time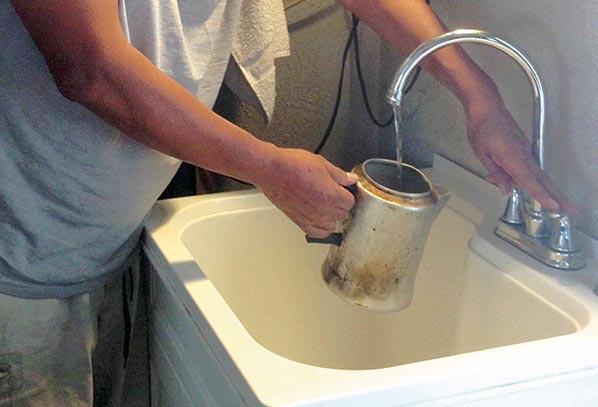 Nonprofit working to install running water in Baca-Prewitt area
PREWITT, N.M.
Freddie James grew up in Prewitt, New Mexico, and has been hauling water for as long as he can remember. Now, with a turn of a faucet, the 61-year-old can easily cook, do laundry and wash dishes in the large sink of his hogan.
"I can make coffee in half the time," he said, adding that running water has saved him a lot of time and money.
His water system was provided by DigDeep, a human rights organization working to bring clean and running water to areas in need. The nonprofit runs the Navajo Water Project, a cause dedicated to get running water to families in Thoreau, Smith Lake, Mariano Lake, Casamero Lake, Baca, Prewitt, Haystack, Star Pond, Borrego Pass and surrounding areas.
Emma Robbins, American Projects director with DigDeep, said they have 238 homes on their list and have about 90 systems done. Robbins said they used the existing St. Bonaventure water route to identify homes in need of running water. In addition to the water systems, Robbins said they're also installing LED lights and charging ports.
Part of the process to getting running water to families is raising money to buy the materials. The Navajo Water Project takes donations year around and so far they've raised $341,765 in donations to bring water and light to 75 families from the chapters listed. Their goal on the website is to reach enough money to help 100 families.
The organization uses donations to buy water cisterns, solar panels for homes without electricity, a sink with a faucet, pipes, fittings, a water pump and other necessities for installation.
"We're trucking along," she said. "A lot of the reasons we get slowed down, working in the Baca-Prewitt area specifically, there's very hard rock."
---