Data at treaty exhibit offer some surprises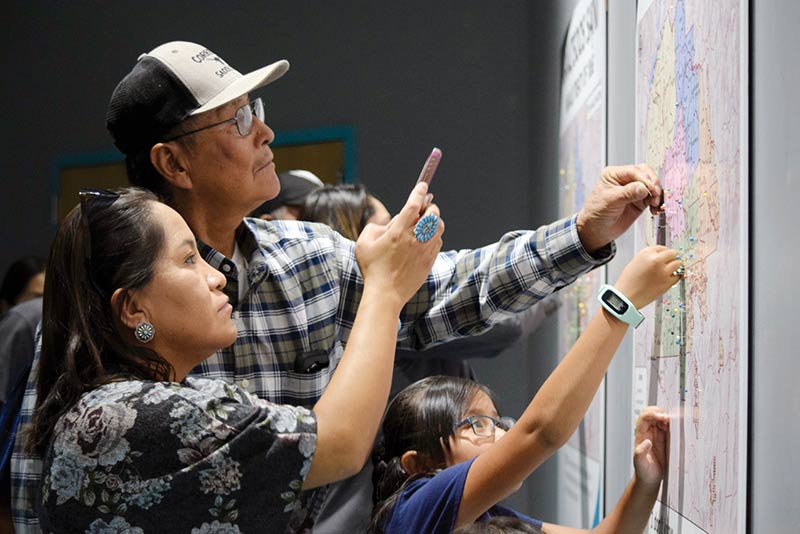 WINDOW ROCK
To make the display of the Treaty of 1868 more interactive, the staff of the Navajo Nation Museum decided to allow Diné visitors to give some feedback on their own families' Long Walk experience.
Three maps of the Navajo Nation line the wall on the way in to the exhibit: one for those whose ancestors did go on the Long Walk, one for those whose didn't, and one for people who don't know one way or the other. Each family who visits the exhibit is supposed to put a pin in the appropriate map showing where their maternal clan originated.
The data is admittedly sparse so far, but if it's at all representative, it contradicts common knowledge about who went on the Long Walk and who did not.
Museum Director Manuelito Wheeler said during a media tour of the exhibit that he thought collecting some data would be interesting, because while the government kept tabs on those Natives who made it to Fort Sumner, no one counted the thousands who managed to escape that fate by hiding out with another tribe or in rugged areas. "The latest research indicates more people may have not gone on the Long Walk than the ones that went," he said.
A glance at the maps confirms what seems obvious: On the map of those who went on the Long Wak, the highest concentration is along the corridor between Canyon de Chelly, where Kit Carson flushed hundreds of families out of their farms, and Fort Defiance, the U.S. military headquarters in Navajo country. But a closer look turns up some surprises.