Naaltsoos Sání viewed by Diné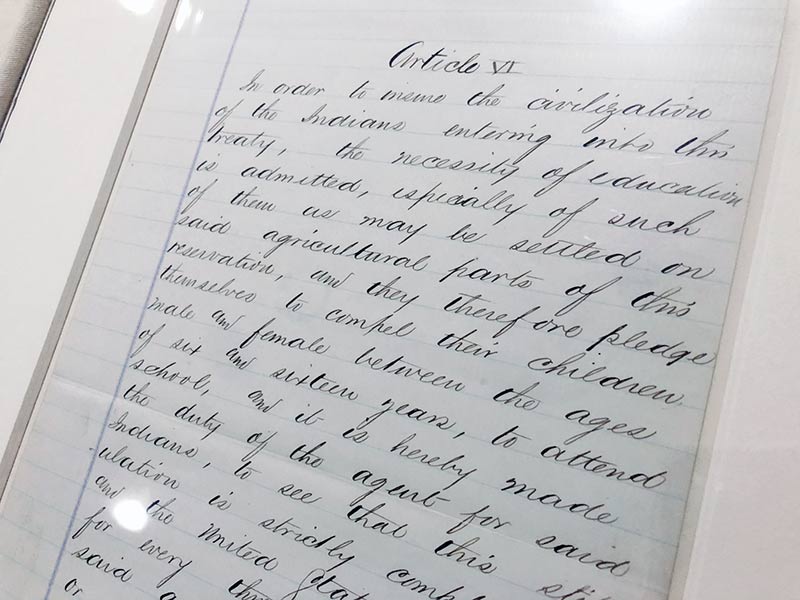 WINDOW ROCK
Manuelito Wheeler, director of the Navajo Nation Museum, said the Naaltsoos Sání was transported to Window Rock from Washington, D.C., by a special shipping truck.
The 150-year-old, 20-page document with the "X" signatures left by 29 Navajo leaders such as Barboncito, Ganado Mucho and Manuelito came in two crates in the air-controlled truck.
Wheeler and the museum staff worked for two years to bring the treaty to the Navajo Nation for the first time. On June 1, the museum opened its doors to the public with the vital documents on view. It is an opportunity many would never have had if not for the museum, with help from the president's office and Navajo Nation Council.
"I feel the Navajo Nation Museum worked very hard on this exhibit and we did it for the Navajo people," said Wheeler. "I'm proud of my staff's work. "It was paid for by Navajo, researched by Navajo, built by Navajo and I'm proud of that effort," he said. "It's a big step for a tribal museum."
The document was the key to setting free imprisoned Navajos when it was signed on June 1, 1868, by Navajo leaders and federal government officials. For four years the Navajo people had been imprisoned in Bosque Redondo after they had endured being rounded up and forced to march 300 miles, an experience known as the Long Walk.
The Treaty of 1868 had stipulations that needed to be met by both parties, but it allowed the people to return home within the four sacred mountains. And now for the month of June, anyone can inspect the signatures and see the original document.
---