End of watch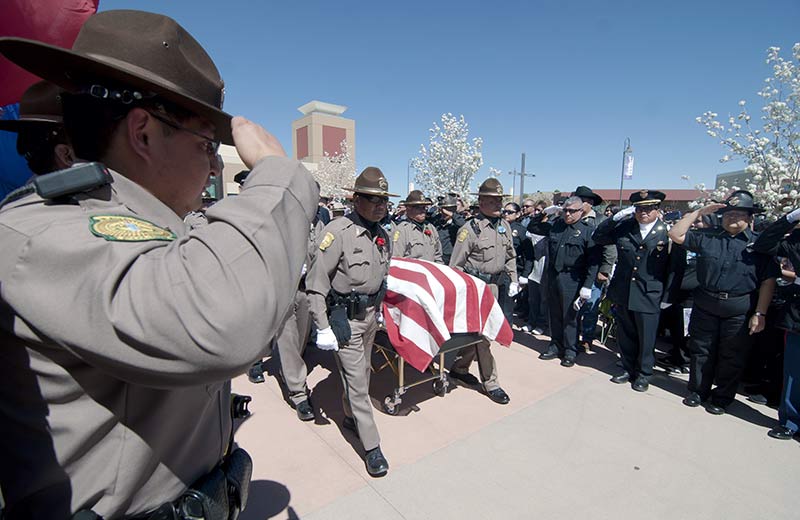 Officer's death sparks pleas for more funding, personnel
FARMINGTON
It was a chance to honor a fallen hero, but for some, Navajo Nation Police Officer Alex Kee Yazzie's funeral here Friday was also a chance to reflect on how to prevent more heroes from falling.
Yazzie, 42, was felled by a bullet during a gunfight with a domestic violence suspect in Red Valley, Ariz., March 19. The gunman, Justin Fowler, 26, was also killed and two other police officers were wounded.
"The Navajo Nation is saddened by what happened," said President Ben Shelly to the 2,000 or so mourners crowded into the huge Piñon Hills Community Church. "I know the condolences are there."
But, Shelly added, there are also "a lot of lessons to be learned" from the tragedy.
Shelly noted that Yazzie was the third Navajo officer to die while one duty during his term as president. Sgt. Darrell Curley was also shot by a domestic violence offender in 2011, and Officer Ernest Montoya suffered a heart attack while transporting a prisoner last year. It's too many, Shelly said.
"We need to start listening," said Shelly, a former New Mexico State Police officer. "We need to start seeing some changes."
Shelly said he had been to Washington, D.C. several times in search of more funding for the Navajo Nation Police Department, but was unsuccessful.
He offered a three-pronged approach that, in addition to better funding, he thought would help support the officers: update the Navajo Nation Code, cross-commission more state and county county officers, and codify Navajo fundamental law.
"You cannot operate on old, ancient laws," Shelly said of the Navajo Nation Code.
Putting Navajo fundamental law into writing, he opined, would give Navajos good guidelines on how to treat each other and settle differences.
"We shouldn't have Navajos killing Navajos," he said.
Former police officer and Council delegate George Tolth, who gave the closing prayer, also took the opportunity to press for more support for the Navajo Nation Police, whom Shelly said number fewer than Farmington city officers.
"Don't just let it go," Tolth urged the lawmakers in attendance. "Mean what you say! More funds for training, for equipment … Let's start tomorrow,"
To his friends and family, of course, Yazzie was more than a police officer. His niece, Rolanda Cowboy, remembered her youngest uncle as "a skinny teenager with big glasses" who loved riding his BMX bike.
Later, Yazzie was a U.S. Marine, a mechanic and a truck driver, but it wasn't until he became a law enforcement officer, first with the Navajo Nation Environmental Protection Agency and later with the police, that he found his calling, Cowboy said.
"Every time something would happen on the reservation and it made the news," Cowboy recalled, "my mom would call him to see if he knew anything about it.
"I'm not going to hear, 'I should call Alex' any more."
Several hundred law enforcement officers from as far away as Chicago attended the funeral, as well as veterans from all branches of the service, and Officer James Hale, recovering from a wound obtained in the same gunfight, sent a letter to the family that was read aloud by Hale's brother.
"Your father was a brave man," Hale write to Yazzie's children. "You should be proud of him."
Yazzie is survived by his common-law wife, Mirenda Yazzie, and four children.
---