Family of Loreal Tsingine in disbelief of Maricopa County decision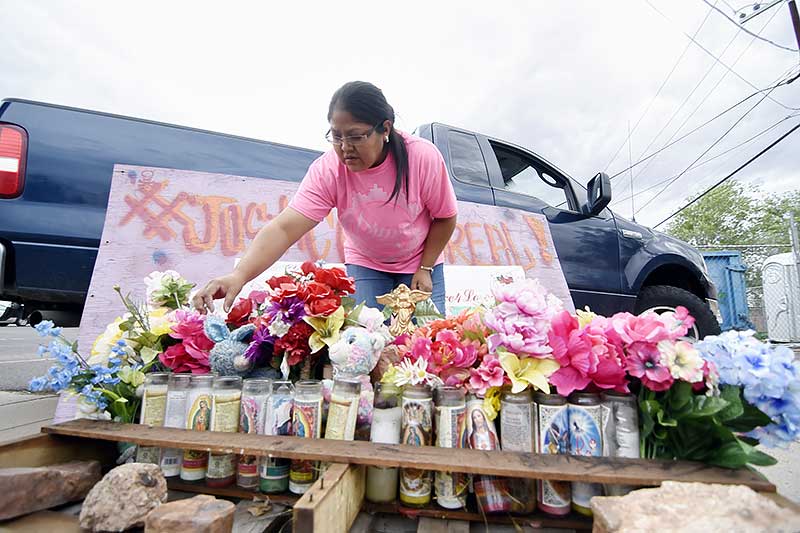 WINSLOW
City of Winslow city manager Stephen Pauken said at a press conference  Friday that the city would respect and abide Maricopa County Attorney Bill Montgomery's determination that Winslow police officer Austin Shipley would not be charged.
But to the family of Loreal Tsingine, 27, who was shot and killed by Shipley on Easter Sunday of this year, justice was taken away.
Related: No charges against Winslow officer "Today was unbelievable," said Floranda Dempsey, the aunt of Tsingine, while rearranging a makeshift memorial at the site where she was killed. "We are still law-abiding citizens, even though the law may not cover us sometimes and be prejudice against us."
"We're just going to regroup and keep going," Dempsey said. "We're still going to follow through with our lawsuits to make sure that we get our justice on cowards Austin Shipley and (Winslow Police Chief) Stephen Garnett."
A press release by Maricopa County Attorney Bill Montgomery stated that the county attorney found no evidence of criminal conduct on the part of officer Shipley and that he would not charged.
"After careful review the facts surrounding this case, including available video evidence and witness statements from all involved my office has found no evidence," Montgomery's statement said.
Winslow police received multiple calls from Circle K employees of a woman shoplifting and harassing store employees and threatening a store employee with scissors, the Maricopa County press release stated.
When police arrived, the suspect had already left the store. Officers begin to search for her and Shipley located the suspect, the press release stated.  Shipley attempted to detain her, but she did not comply. While while attempting to detain her, Shipley saw that she was holding scissors, which she swung at him.
Shipley then retreated with his weapon drawn and gave multiple commands for the suspect to stop and drop her weapon, according to the press release. She did not comply and instead got up and aggressively advanced on the officer with scissors in hand. Officer Shipley discharged his weapon and the suspect was pronounced dead at the scene.
Navajo Nation Speaker of the Council LoRenzo Bates said the council was appalled and disappointed at the county's decision.
"Words cannot express how disappointed we are with the outcome of the investigation," Bates said. "We demand U.S. Attorney General Loretta Lynch to conduct a federal investigation into the wrong and shameful acts of Officer Shipley."
The Navajo Nation Council unanimously approved a resolution on May 26 of this year calling for U.S. Attorney General Loretta Lynch to investigate the Winslow Police Department in response to the shooting.
After the press conference, Dempsey and her family gathered at the place their baby was killed. Ty Yazzie, Tsingine's uncle, told the family the electric company said they had to remove flowers and messages left by people off the pole and electric pole.
Dempsey and her family quietly took down the artificial floral arrangements and placed them next to the candles.
"I don't know what's in their heads or in their thoughts, but karma's karma, it will eventually come, we will make sure of it," Dempsey said. "She had relatives, she had grandparents, she has people praying for her justice."
"We are gonna have to just keep going, keep doing what we need to do and not give up," Dempsey said.
---