Family, supporters seek justice for Winslow shooting victim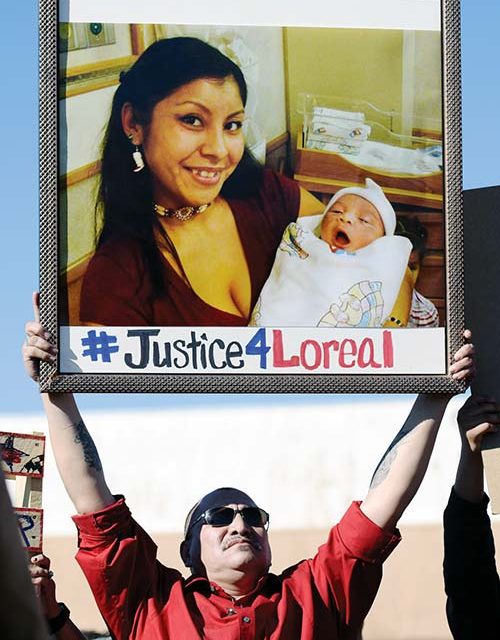 WINSLOW
As family members remembered Loreal Juana Tsingine for her "big strong hugs," Navajo Nation President Russell Begaye threatened to sue the City of Winslow during a candlelight vigil and rally on Saturday in Winslow.
In front of a barricaded area in front of the Winslow Police Department, more than 300 people stood to hear a number of speakers, some holding "Justice 4 Loreal" signs.
Austin Shipley, whose name was released a week after the shooting, was identified in a press release from the Arizona Department of Public Safety as the Winslow Police officer who shot and killed Tsingine on Easter Sunday.
Tsingine was suspected of shoplifting from a Winslow convenience store and allegedly threatened Shipley with scissors as he tried to arrest her.
Family members like Floranda Dempsey spoke about Tsingine at the vigil.
"She always liked to hug. I think most of us remember her big strong hugs and the love that she had," Dempsey said. "She was always smiling. Always said 'I love you' and give you a big hug. You couldn't stay mad at her."
Alta Barnell, who was a cousin sister of Tsingine, thanked supporters and reiterated that she, too, wanted justice for her.
Barnell said she didn't want to tell her four children about what happened to Tsingine and wanted to be strong for her family.
Begaye was in attendance and listened to Tsingine's family and supporters speak about the Winslow Police Department's tactics and how the death could have been prevented.
When he was given the mic, Begaye said border town police need to honor and respect Navajo people.
"I'm asking the police officers in Winslow, in Holbrook, in Farmington, in Gallup, to respect the Navajo Nation people that are out on the street," Begaye said. "No matter what they're doing, you can talk sense into them, you can communicate with them. You don't have to pull a gun on them."
"And I'm going to say to City of Winslow, we will sue you if you don't rectify this. The Navajo Nation, we will sue the City of Winslow, if you do not address the way it should be addressed," Begaye added.
Dempsey later added that her niece had recently become a certified caregiver to help the elderly.
---