High prices for food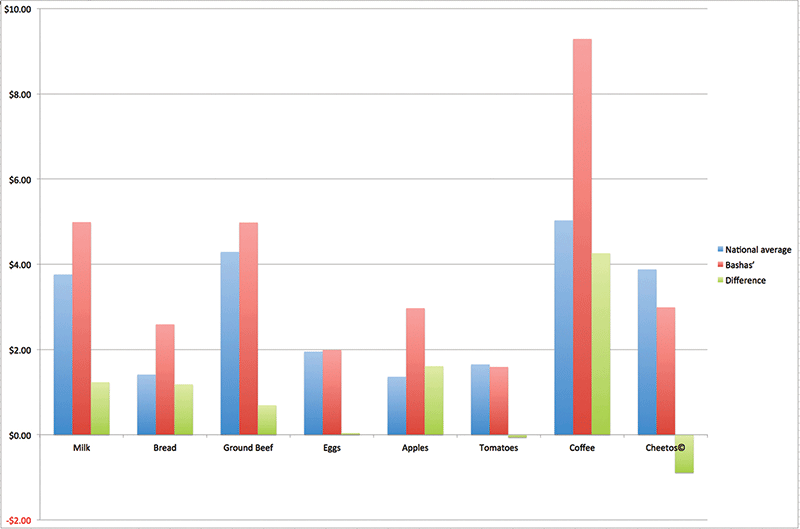 Study: Native Americans pay more, travel farther for food
WINDOW ROCK
The first-quarter results of an ongoing 12-month study released last month reveal that food prices in Indian Country create hardship for Native Americans.
The updated results expanded on findings of a First Nations Development Institute pilot project and report called the "Indian Country Food Price Index" first released in July 2016.
The original report found that Native Americans on reservations and in nearby communities tend to spend more on food than the national average, living on generally lower incomes than those outside Indian Country, under circumstances that make food access more difficult due to distance and transportation issues.
"I don't think a lot of people outside of Indian Country know the extent of emotional strain that a lot of indigenous people go through just to eat," said A-dae Romero-Briones, First Nations' associate director of research & policy for Native agriculture.
First Nations enlisted 48 paid participants to report and gather data from 53 stores on reservations and villages in 12 states — Alaska, Arizona, Idaho, Minnesota, Montana, North Carolina, North Dakota, New Mexico, South Dakota, Washington, Wisconsin and Wyoming.
The update captures food-price trends over the months of January, February and March 2017.
Romero-Briones said the research will continue with the hope of revealing details of the difficulty of getting food on reservation land, compounded when Native Americans face higher-than-average prices after a long drive, according to the update.
"What we want to do is identify that lack of resources that Indian people do face, also to identify that it is hard to get food on the rez sometimes," she said.
The update found that in the Lower 48 states, Native American shoppers pay $7.51 more for the "very same basket of food items" compared to consumers nationally.
The "basket" contained a loaf of white bread, one pound of ground beef, a whole chicken, one dozen large eggs, one gallon of whole milk, red delicious apples, a pound of tomatoes, and regular and decaffeinated coffee. The chicken, apples and coffee were priced by the pound.
The 2016 study actually covered prices at Basha's. Researchers could not give the names of actual participants who went to the location to sample the prices. The information below shows the prices at Bashar' compared to the national average in October 2014.
Two items stood out as more expensive at the Window Rock location. Milk came out to $4.99 per gallon, which put it $1.29 over the national average of $3.76. Also, customers would have paid $4.26 more for coffee per pound than the national average of $5.03.
---