Missing Farmington child possibly in danger
WINDOW ROCK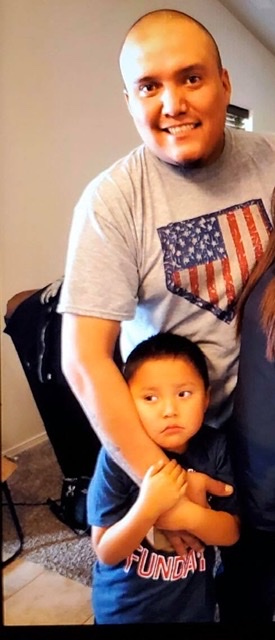 The Farmington Police Department is asking for the public's assistance in locating a a five-year-old boy who may be in danger.
According to police, Titan Lee was last seen Tuesday night around 8 p.m. with his father Beejay Lee, 29, who was intoxicated and left on foot after an altercation with the boy's mother from the 1400 block of Blue Jay Circle, on the west side of Farmington on Harper Hill.
Police have searched the area by ground, K9, and helicopter and were unsuccessful in locating the pair.
Titan Lee, a Native American, is approximately three feet tall, weighs 40 pounds and has brown hair and brown eyes. He was last seen wearing a white T-shirt and cartoon underwear. He has a birthmark on the right side of his ribs.
Beejay Lee, also a Native American, is described as 5'9, with brown eyes and a shaved head. Police say Lee has several tattoos: His last name "Lee" is tattooed on his back, "Steelers" on his right hand, and a turtle on his left shoulder.
Police did not provide what kind of clothing Beejay Lee was last seen wearing.
Anyone with information is asked to call dispatch immediately at 505-334-6622.
---