Murder victim's father sues tribe for negligence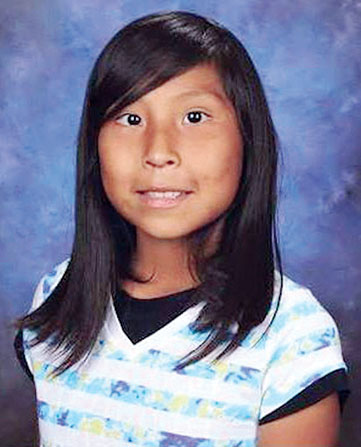 SHIPROCK
The father of Ashlynne Mike has filed suit against the Navajo Nation claiming that the tribal government's failure to implement an AMBER Alert system on the Navajo Reservation "directly" caused his daughter's death.
Named in the suit are the Navajo Nation, the Navajo Division of Public Safety, the Navajo Department of Law Enforcement and Ivan Tsosie, who was acting police chief at the time of Mike's death.
Mike, 11, and her brother, nine-year-old Ian Mike, were kidnapped on May 2, 2016, by Tom Begay Jr. Ashlynne Mike was later sexually assaulted and left to die while Ian Mike was dropped off and allowed to go home. Begaye later admitted to the killing and was given a life sentence.
In the lawsuit, Gary Mike, Ashlynne's and Ian's father, said he filed a missing person report with the tribal police at 6:53 p.m. on that day but it wasn't until 2:30 a.m. the next day that an AMBER Alert was issued.
"A search for the child was organized around this same time," the lawsuit states. Ashlynne Mike's body was found about 11:30 a.m. on May 3.
Gary Mike's position is that if the Amber Alert had been issued immediately, his daughter would be alive today. "Ashlynne was found around eight hours after the comprehensive search began and after the AMBER Alert was finally issued. Had this been done upon the making of the initial report, she could have been found as early as 2:53 a.m.," the suit states.
---