'Nihich'ą́ą́h na'ashhaał dooleeł': Richelle Montoya sworn in as next vice president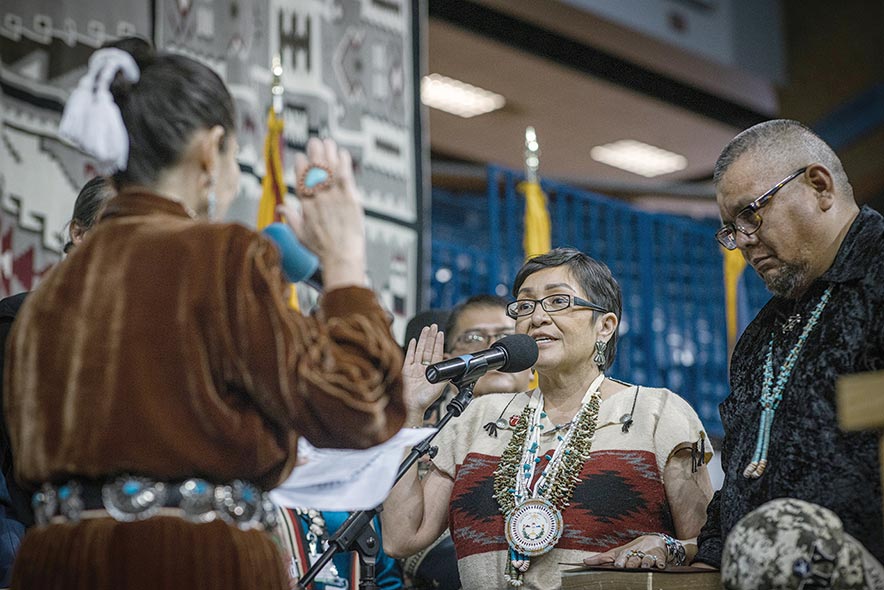 TSÉHOOTSOOÍ
Richelle Montoya was sworn in as vice president of the Navajo Nation Tuesday afternoon, becoming the first Diné woman to hold the office.
It was a ceremony in which Montoya took her oath from Chief Justice JoAnn B. Jayne, the third Diné woman appointed to the Navajo Nation Supreme Court. Montoya wore her ké ntsaaígíí, biil, adorned with dootł'izhii – yoo' łigaaí, béésh łigaaí sis, yoostsah, látsíní, and a beaded medallion with the tribal seal.
As hundreds of people watched, Montoya raised her right hand, face steeled, and placed her hand on a Bible, which her husband, the first Second Gentleman Olsen Chee held for her.
"I, Richelle Montoya, do solemnly swear to uphold and abide by the laws of the Navajo Nation and the Treaty of 1868 between the Navajo Nation and the United States of America," she said as she repeated the vice-presidential oath. "And will faithfully execute the Office of Vice President …."
The crowd erupted in jubilation. Then as Jayne read, "so help me God," Montoya repeated and smiled, shattering barriers and becoming the highest-ranking woman in the history of the Nation.
Amid the joy and sense of empowerment in seeing a Diné woman as the tribe's second-highest elected official, Montoya said before anything else, she's a mother, a daughter, and a granddaughter.
Montoya's niece, Chishi Haazba Montoya of Tsédildǫ́'ii, introduced her aunt, Richelle, who she described as the first Diné asdzáá to hold one of the top highest offices in Diné Bikéyah.
Chishi also made history as an inaugural poet and recited her poem "Beauty Will Return."
Her aunt, Richelle, sang part of a song about the Navajo land's beauty Dinék'ehjígo.
"Perhaps that's what they said," Ms. Montoya said Dinék'ehjígo. "Their prayers were heard––those who've gone before us, our ancestors. They pleaded with the Creator, Mother Earth, God's servants––please, please, they said as they wept.
"Yes, it's sad. The stories passed down by our ancestors – their prayers, positive thoughts, and way of being – is why we are here today," she said. "We are here today, standing on the shoulders of our ancestors."
Montoya asked the gentlemen in the audience if she could take a few moments to experience the history-making moment with the matriarchs: the women of the Navajo Nation.
---