Peterson Zah, the one and only Navajo chairman and president, dies at 85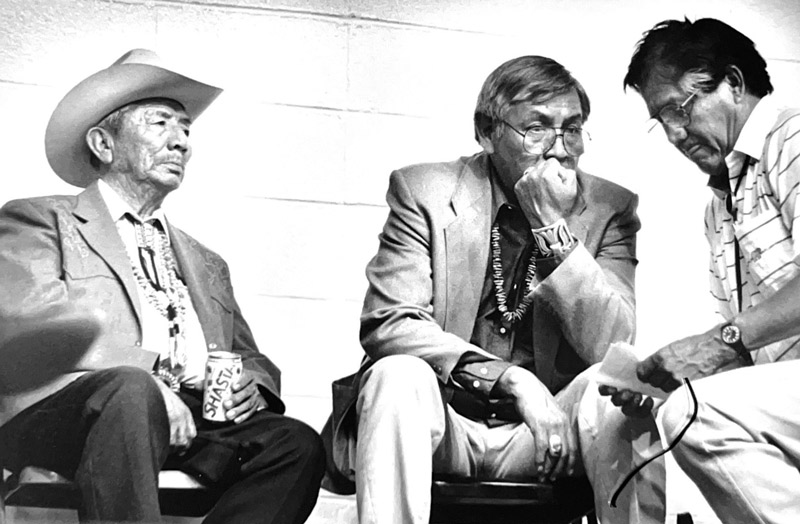 WINDOW ROCK
Peterson Zah, who served as the Navajo Nation chairman and president, died at Fort Defiance Hospital on Tuesday evening.
Zah was born on Dec. 2, 1937, to Henry and Mae Zah in Low Mountain, Arizona.
He attended school at Phoenix Indian School and later attended Arizona State University, where he got his bachelor's degree in education in 1963.
Zah became chairman of the Navajo Nation Council from 1981 until 1987, after which he continued to use his education to help fundraise for the Navajo Education and Scholarship Foundation further, pursuing his interest in the education realm for Navajo and Native American people.
In 1990, Zah was named the first president of the Navajo Nation, shifting from the Council governing system to one similar to the United States, with a president leaving behind a significant footprint in the hearts of many Navajo people.
"He's a once-in-a-lifetime leader, very personable. There are leaders that lead and leaders who lead and have followers that listen and have respect, he was influential, and he was well known across Indian Country," a family friend told the Navajo Times Tuesday night. "Anytime a new U.S. president is elected, no matter what party, they called him (Peterson Zah) on Native American affairs for his advice, position, and guidance. Other elected officials have to call U.S. presidents to meet with them, and U.S. presidents requested to meet with him, that is the first time in history."
Navajo Nation President Buu Nygren said, "I think of Peterson Zah. He was one of the very first big-time leaders and getting to meet an actual living president and chairman. He was the first chairman I met.
"When I think of Peterson Zah, I think legendary Permanent Trust Fund," Nygren said Tuesday night from Washington, D.C. "He was big on education. He was big on everything that he built his career around was for the future, whether it was the ASU construction program that I graduated from, whether it was everything that was related to education. And the way he spoke too was always so elegant — he didn't have to speak fast, he didn't have to speak fancy Navajo — he was like really just strong and to the point."
In 1995, Zah was succeeded by the late Albert Hale and left to become a special advisor to the president of ASU for American Indian Affairs. Hale passed on Feb. 2, 2021.
Throughout Zah's life, he emphasized pushing tribal youth to attend and finish school. Zah led the race to increase retention rates at ASU from 43 to 78%, also doubling the school's Native population.
Residing in Window Rock with his wife and three kids, Zah ran into complications with Stage IV cancer. He spent his last days at Tséhootsooí Medical Center in Fort Defiance.
---