Protect 'Adahiilíní: Residents working to keep Grand Falls grand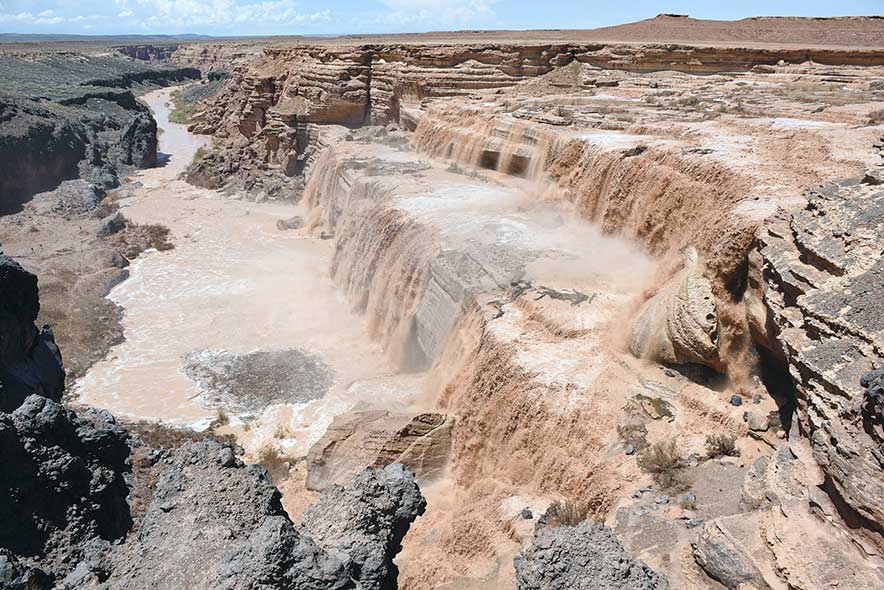 LEUPP, Ariz.
Grand Falls is now a sacred site.
Grand Falls, 'Adahiilíní, on the Little Colorado River, is home and a place to harvest plants and medicinal herbs. But for visitors, it's a getaway from the big cities.
On Sunday morning, Violet White, the lead activist in protecting Grand Falls from tourism, said Erik Stanfield, an archeologist, did some "digging," revealing that Grand Falls was deemed a sacred site.
"He (Stanfield) investigated a little about this place, and on the 21st (March) is when I found out that Grand Falls registered as a sacred site," White said. "That was very good news to us."
The site was recognized as "traditional cultural property" where there can't be any development made, said White.
Temporary shutdown
Grand Falls was frequented enough for a ramada and restroom to be built for visitors, but with further advocation, White said she and her group want to take those down to add more visitor restrictions.
"Originally, the residents wanted to permanently shut it down, but I said, 'Wait, let's just temporarily shut it down,' and I think with this (sacred-site finding) will help to permanently shut it down."
One of the residents who want visitors to stop disrupting the lifestyle of those near Grand Falls is Darlene Roides, who has lived in the area for 18 years.
"I have a homesite here, and my grandfather is named after the Grand Falls, Hastiin Adahiilíní, and over the years, we've seen it getting worse––the tourists," Roides said. "It has been bumper-to-bumper, and they come out and do doughnuts (driving). They leave garbage, liquor bottles."
The Navajo Nation is a "dry" Nation, meaning it is illegal to possess drugs or alcohol and sell it on tribal land. However, many outsiders disregard the Nation's laws and do so near residents of Grand Falls, said Roides.
"One time, across the (Little Colorado) River, somebody left beer bottles in one of the trees. They stuck on one of the branches. That just got to me," Roides said. "There are ramadas and trash cans out there, and nobody is responsible for emptying those trash cans or taking care of the restrooms."
Turned into aircraft alley
As the individuals who wanted to protect Grand Falls began to set up their stations to prevent visitors, the sound of an airplane turned the attention from the roads to the sky.
Two smaller-sized aircraft had begun circling Grand Falls to see what they weren't allowed to have visitors driven.
"We've seen drones, we've seen planes come out here often, and they scare the livestock, and sometimes they even chase our livestock," Roides said. "I remember when I was younger, we had a lot of lambs, and my mom's main concern was that the tourists were going to run after the babies when they would cross the road."
Trying to protect his home as well, Herman Cody also said, "It was quite tasking when we lived here when people would come here with their caravan going back and forth, you can't even bring the sheep anywhere with that because they would bring dogs and the dogs would just roam free and start chasing the lamb."
Cody is Tsinajinnie and born for Naakaii Dine'é. His maternal grandfather is Kinyaa'áanii, and his paternal grandfather is Tódích'íi'nii.
The caravans of people also brought the noise.
"There was a lot of noise down there," Cody said, "even gunfire. Signs are coming in with bullet holes. They would drive down and stick out their pistols to try to get it, and BB guns too. No one stopped them. No one supervised them. They wouldn't listen to us if we say anything."
Cody said his ties with Grand Falls go back to his father, a hataałii, Hastiin 'Adahiilíní, who was Naakaii Dine'é and lived in the area.
"There are some herbs along the rivers here from the falls toward Leupp and also (by) the river toward the Grand Canyon," Cody said, "and not only do Navajos come out here for herbs and worshipping and other spiritual practices, (but the Apache people also do) where Whiteriver starts. It's not only us, even the Hopi and also the Zuni. I was surprised.
"The primary reason the people are here blocking this is because of the constant bombardment," he said, "People coming out here, some of them even bring trailers out here with motorcycles and whatnot. They cross the river and go that way, and we have elders who live here who never went to school, and when they see these things, they get scared."
Desecration
The residents near Grand Falls have livestock such as sheep and cows, and Herman said during this time, there are calves, and visitors would bring their ATVs and start to chase after the calves for their entertainment.
"If somebody went into your yard and started chasing your dog around, you wouldn't be standing there thinking it's OK, but they do that here because there's no authority to tell them they can't do that," Cody said.
Cody's niece, Radmilla Cody, an activist wanting to preserve the site, said because there is no regulation, tourists do as they please.
"They go skinny-dipping at the Grand Falls," Radmilla said. "They're naked and in the water, and we have elders who walk out that way and see that kind of stuff. Some of those tourists get lost and go knocking on doors, and these elders are home alone. They get scared."
What brought Herman Cody to the preservation of Grand Falls was a Northern Arizona University professor lecturing at the Grand Falls about the archeological and scientific side of the site.
"My understanding was that he was going to charge a hundred and some odd bucks per person and bring those people out here and take them down there and do a lecture, and I thought, 'Wait a minute––a hundred-something dollars? How many people is that? How much money is that, and where's it all going to go? Has he informed the people in this area?" Herman said.
White recalled the NAU "tour" that charged between $100-$125 for a lecture. Additionally, White said there was a tour group run by a Native person charging a similar fee to take tourists to the falls.
When White reached out, she didn't hear anything back.
"There (are) other entities like 'Grand Falls Hidden Experience' that were touring, and that's a Native guy, and he was charging $160 per person to do the tour, and that's when I said this is not right," White said. "So I called them (Grand Falls Hidden Experience), and I know he gave me a random name. He said he was working with 'Beta' out of Leupp."
'Protect 'Adahiilíní'
On Feb. 18, White set up an emergency meeting to pull the community together to voice their concerns where "Protect 'Adahiilíní" emerged.
The main concern, White said, is the 25 families had was visitors profiting off of Grand Falls and initially wanted the falls closed permanently.
White said she wanted to do this the right way and get public and government entities involved, like Navajo Parks and Recreation and the nearby chapter houses but said later on, and the entities ignored the conversation.
"Some people said, why don't we just profit off of it? So I talked to my some friends at Antelope Canyon, and they said you need a (Department of) Fish and Wildlife biological survey and a $2- to $5 million-dollar insurance and OSHA inspectors and NOSHA, we have to have a business license, we have to have an emergency evacuation plan," White said.
In addition to the legalities of possibly opening a park, White said the Leupp Chapter House didn't have an ordinance to collect money or taxes. On top of all the barriers, White said opening a park would cause land disputes among the local families.
"Who's all going to do that?" White asked. "Do we really want that because now we have open range, and we have our livestock out here, and we didn't want that, so that (the planning) just killed it right there."
The residents of Grand Falls and their allies want to preserve the land for sacred purposes and the community's safety.
White said the Protect 'Adahiilíní group would also continue to meet for the sake of the Falls' safety.
"We're out here because it's peaceful and we feel invaded, that's the main thing, you know this is our homeland, and we don't go into other people's backyards, and they're coming into ours, that's my issue," Roides added.
---