Severe weather and 80 mph winds may impact the Navajo Nation through Thursday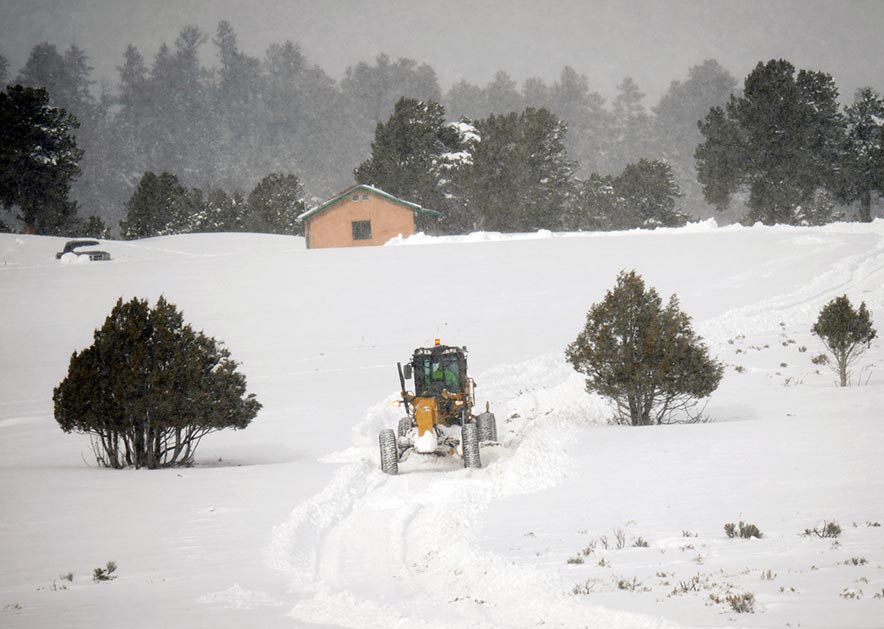 WINDOW ROCK
Gusting winds made driving conditions dangerous on Wednesday in the Window Rock and surrounding areas.
Throughout the late morning and afternoon, visibility quickly went from barely visible to no visibility. Despite the dangerous driving conditions, it did not stop drivers as they made their way through the weather on State Highway 264.
On the New Mexico side, a snow squall warning was issued for Cibola, McKinley, Rio Arriba, and San Juan Counties. A snow squall is an intense but limited duration period of moderate to heavy snowfalls, accompanied by strong, gusty surface winds, according to the National Weather Service.
In addition, the weather service forecasted that damaging winds would gust up to 80 miles per hour, impacting Coconino, Navajo, and Apache Counties through today. Snow was also expected to accumulate up to six inches in the higher elevations.
The weather is expected to last through Sunday, adding that possibly more winter weather conditions would continue through next week.
In addition to the winter storm warnings, the weather service stated that the Navajo Nation and the Hopi reservation should expect blowing dust and snow to severely limit visibility, creating even greater dangerous driving conditions.
The Arizona Department of Transportation reported Interstate 40, — east and west bound lanes — at the Arizona-New Mexico border was closed due to snow and ice. ADOT added the closure was from the state line to Ash Fork, Arizona, about a 280-mile stretch. The interstate has since been reopened. However, icy conditions continue to exist.
Roads on the reservation faired no better as snow quickly began to stick, making them snow packed and icy.
President Buu Nygren granted a two-hour delay for executive branch employees on Wednesday.
"Due to winter weather road conditions, we will be on a two-hour delay to ensure our employees are able to travel safely to their worksites," Nygren stated on social media. "Drive carefully and notify proper authorities of any emergencies that may occur due to this weather. Essential service workers, first responders, and other emergency personnel will continue to follow their regular schedules unless arrangements are made with an immediate supervisor."
Nygren added that families should check on their relatives and the elderly and ensure they are warm and safe.
Speaker Crystalyne Curley wrote in a text on Tuesday night that family members should check on one another.
"Especially our grandparents and relatives who live alone and in remote areas," Curley wrote. "Preparation is key to staying warm and safe."
Curley stated the Council appropriated $3 million for communities to respond to emergencies caused by severe weather during the winter session in January.
"That funding is now available, and we encourage chapters to be proactive with the resources intended for all of our people," she wrote.
Navajo Tribal Utility Auhtority on Wednesday reported electrical outages were occurring in Chinle, Many Farms, Rough Rock, Nazlini, Canyon de Chelly, St. Michaels, Window Rock, Dilkon, Indian Wells, and Leupp. The utility company indicated electric crews had been dispatched to restore power to the impacted communities.
"The duration of these outages are unknown at this time," NTUA reported.
Health, Education & Human Services chair Vince James said despite the hardship of harsh weather conditions. The moisture is a blessing for the Nation.
"I want to give thanks to Mother Nature. She has her own doings, her own process––I'm grateful we're getting moisture on Navajo land," he said on Tuesday night. "I'm appreciative of the snow."
For the five chapters he represents — Jeddito, Cornfields, Ganado, Kinlichee, Steamboat — James said many of his constituents seemed prepared for severe weather conditions.
Their only concern, he said, were for the elderly living alone and up to 10 miles away from the nearest highway.
During the last winter storm, in January, it dropped up to four feet of snow in the higher elevations, James said. The community of Kinlichee was impacted, creating impassable roads caused by snow drifts; some residents needed wood, added James.
In the Sawmill area, residents needed water and their prescription medication. Apache County Emergency personnel and the Navajo Nation spent days clearing snow from miles of impassable roads. As they cleared a path to homes, chapter officials acted as interpreters, assisting county emergency personnel in aiding stranded residents.
James said they worked closely with community health representatives, or CHR, for his chapters, identifying which residents were high-risk and which were elderly.
He added that some of the elderly they found to be living alone had used plastic inside their homes to retain as much heat as possible. And on the outside, they had boarded up their walls for added protection.
"We've been focusing on them," James said.
Heavy snow and blowing snow are expected to arrive on Wednesday, with snow that's expected to accumulate between 3 and 6 inches below 7,500 feet and 6 to 10 inches above 7,500 feet. In addition, winds are forecasted to gust between 60 and 80 mph.
The area that would get the most snow would be the Chuska Mountains.
The National Weather Service states travel could be "very difficult to impossible."
"Some roads may be closed. Significant travel delays are possible. Areas of blowing snow could significantly reduce visibility," the NWS stated Tuesday night. "Very strong winds could cause extensive damage to trees and power lines. If you must travel, keep an extra flashlight, food, and water in your vehicle in case of an emergency."
Patrick Sandoval, chief of staff for the Nygren-Richelle Montoya Administration, said Tuesday night that the Navajo Nation Division of Public Safety and the Division of Emergency Management are prepared.
"They are on standby and will respond accordingly," he said.
To call for help, contact the local police department, or dial 911.
---