Tazba Spruhan, 8th-grader from Tséhootsooí Middle School, advances to Scripps National Spelling Bee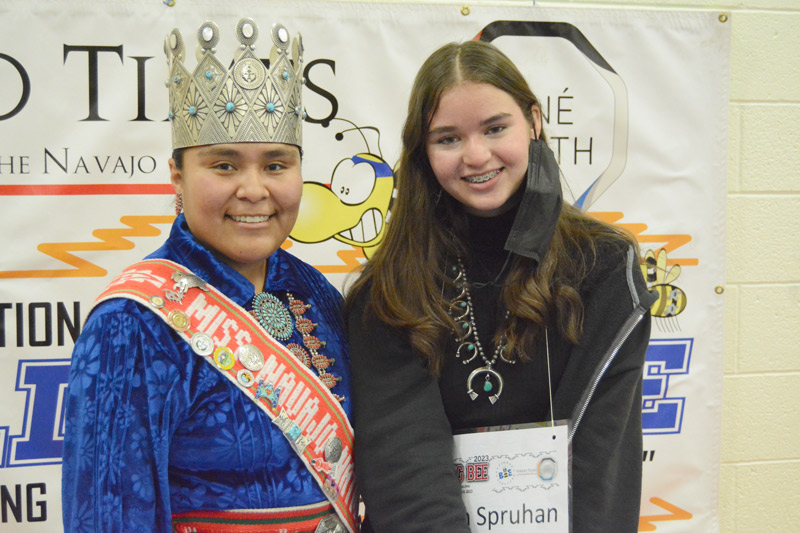 WINDOW ROCK
Twenty-two students competed Thursday in the Navajo Times-Navajo Nation Spelling Bee, determining the champion and runner-up that will compete in the Scripps National Spelling Bee from May 28 to June 2 in National Harbor, Maryland.
The 2023 champion is Tazbah Spruhan, an eighth grader from Tséhootsooí Middle School, and the runner-up is Josiah Harper, a fifth grader from Hilltop Christian School. Both are from the Fort Defiance Agency.
The final bee competition happened at the Office of Diné Youth Multipurpose Building in Fort Defiance, where the atmosphere was exciting and nervous.
Families and supporters found their way to their seats vying for an excellent spot to capture some photos marking a special day for their loved ones.
Spellers visited with their families and friends before they were called to take their seats to begin the final round of competitions.
Denise Thomas, department manager for ODY, gave the welcome address beginning her speech by asking all competitors to stand and be recognized as they received warm applause from the audience in recognition of their efforts.
"Have a great time today, and good luck to all of you," she said. "Keep your chin up and thank you for representing your school and the Nation with pride."
Inspiration from Haven, Miss Navajo
The competitors received an inspiring speech from guest speaker Kelly Haven, the three-time Navajo Times-Navajo Nation Spelling Bee champion.
Dressed in her traditional outfit, Haven shared her experiences as a bee competitor.
Haven is 18 years old and is a senior at Window Rock High School, where she is the president of her business and marketing class, DECA (Distributive Clubs of America). She said what she learned has helped her gain and use her skills in spelling bees and placed three times at the state level qualifying for national competitions in Tennessee, Atlanta, and California.
Haven is also vice president of her local National Honor Society. She was also selected a valedictorian for her high school class this year, which she credits to her spelling bee experiences.
"It gave me the mindset, the heart, and motivation in everything," she said. "It is an empowering experience to represent the Navajo Nation, to also have the opportunity to meet with different nationalities, to be in the limelight for just a moment, and to get on a plane for the first time was an experience too."
Kelly's mother, Dina Haven, was Spruhan's spelling bee coach. Haven trained and coached her daughter in the Nation bees, and Kelly won the champion title three times.
"I couldn't have done it on my own," Spruhan said. "I am so grateful for Mrs. Haven. She coached me, trained me, and made sure I had all the words, letters, meanings, and everything right.
"I am also thankful for the support of my parents, brother, and my friends," she said.
Miss Navajo Nation Valentina Clitso offered some heartfelt words of encouragement. She began her speech by addressing the spellers and providing some Diné teachings.
Clitso says, "to be in beauty, to walk in beauty, and to recognize the beauty all around us" should be in one's prayers.
Clitso says that this is a mindset and to practice it every day.
She added that even though Miss Navajo represents the entire Nation, she is still learning and reassuring the spellers that this is a lifelong process to embrace.
"As you compete today, I just want you to do your best," Clitso said. "We are all here to support you. You have your classmates, parents, and the Diné people who are all behind you. Remember to always learn different skills and to apply that to also grow in the Diné language and grow in your culture."
Little ones shine
The crowd cheered louder as the 22 students started to dwindle to the finalist. Students twitched in their seats, trying to stay calm and comfortable. And a few parents trying to contain their excitement had to stand while others paced as they watched their little ones shine.
Spruhan wore her aunt's bracelet and traditional necklace for the final bee. She says she wore it to feel protected on her milestone day.
Spruhan offered some words of encouragement for future competitors.
"Even if you don't win, be proud of how far you came because it is not easy," the youngster said, "be proud that you are getting out there facing those fears and doing it."
Fort Defiance Agency hosted the competition, and Nate Natonabah from ODY was the event's coordinator.
"I am so glad that the Navajo Times (chose) to go ahead with the bees again this year after the last few years it was canceled due to the pandemic," Natonabah said. "I am really grateful and proud of the kids, and I really think that it was a successful event this year. It also gives a good idea of how to prepare for next year now that the bees will resume."
Navajo Times CEO/Publisher Olivia Benally congratulated all the spellers, offered a word of appreciation, and recognized all who helped make this year's bee series a success.
"I'm really ecstatic that the Navajo Times was able to bring the bee back this year and to continue this opportunity for our students," Benally said. "Also, I would like to thank ODY for their partnership and Dina Haven for her tireless support."
Benally handed out certificates and awards to the competitors.
The winning word was "Dorking," an English breed of large domestic fowls (chicken) with five toes or the hind toe double.
The worker bees for the final bee were:
Coordinator – Nate Natonabah
Pronouncer – Cindy Yurth, former Navajo Times reporter
Bailiff – Kristen Pablo, Office of Diné Youth-Crownpoint
Head Judge – Shawna Claw, Navajo Nation Council delegate
Judge – Tina Tommy
Judge – Tyler C. Manson, ODY-Tuba City
---