Tohatchi, SFIS girls make 3A championship game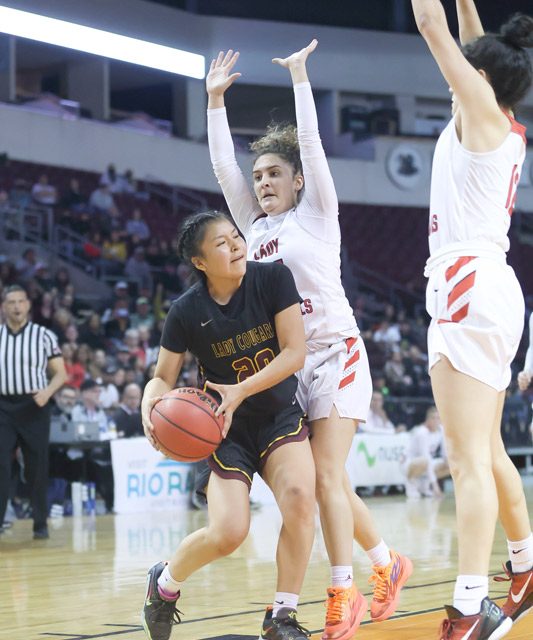 By Santiago Ramos Jr. and Quentin Jodie
Navajo Times
RIO RANCHO, N.M.
There will be a new Class 3A state champion.
No. 4 seed Tohatchi went on an 11-0 blitz in the fourth quarter to stun defending state champ and top seed Robertson 51-39 Thursday morning during the Class 3A girls state basketball semifinals at the Rio Rancho Events Center.
Tohatchi head coach Tanisha Bitsoi praised her ball club.
"They're a heck of a group," Bitsoi said. "Their resiliency and their heart and determination out there today, we can't ask for more. I'm so proud of these young ladies. Their teammates are celebrating in the locker room. We give ourselves another opportunity, another shot tomorrow (today)."
In the other semifinals, the Santa Fe Indian girls exacted some revenge against the Navajo Prep Lady Eagles Thursday night.
Two months ago, the Lady Braves earned a late three-possession lead over Navajo Prep, but in a frantic finish, the Eagles stunned the SFIS team with a come-from-behind win.
Leading by one in the middle of the fourth, the Braves didn't let that script play out again as Santa Fe Indian advanced to the 3A state title game with a 37-29 win in the late game at the Rio Rancho Events Center before a capacity crowd.
"We found a rotation right at the end that was working," SFIS coach Teri Morrison said. "Everything we did today was as a team. That's our motto, play as a team."
After the Eagles got within 26-25 on a 3-point play from junior Tru Billie, the Braves went on a 7-0 run to gain a little cushion.
"The composure down the stretch and making the free throws really helped, so I was super proud of everybody," Morrison said.
The Eagles tried to shoot its way back into the game with time running out as they missed three treys. On a couple of possessions, they turned it over.
Still, they could get a couple of baskets to fall, but it was not enough.
After leading 17-12 at the half, the Eagles had a tough time manufacturing points as it finished with 12-of-47 efforts from the field and 3-of-24 from long range.
"It was tough," Navajo Prep coach Rainy Crisp said. "We had opportunities; we had good looks. You know, the ball just wasn't falling for us tonight, and usually, we would be able to pick ourselves back up and really lock down on defense or create shots or create shots for us.
"At this level, it's hard once you take yourself mentally to get yourself back," she said. "I think those shots didn't fall for us; it started chipping away at our mental toughness a little bit."
Billie led the Eagles with a dozen points, while Aniya Johnson added six.
"I noticed that the other guards were having trouble, especially Aniya scoring, so I decided to step up and try to (chip in) with points," Billie said. "I was trying to get back to SFIS. I played my heart out in that game. I wanted to show that I wanted to win."
For SFIS, Jordyn Henry had a game-best 13 points.
Tohatchi

With Tohatchi going on that late run, Robertson coach Jose Medina praised the Lady Cougars.
"All the credit to Tohatchi," Medina said. "They played a hell of a game. They outplayed us in every aspect. We played hard; we got after it. We just missed a lot of shots. We missed free throws and didn't care for the ball, and we got outrebounded pretty bad.
"At state, you gotta execute on offense, gotta execute on defense. You gotta rebound the ball. You gotta take care of the ball. We struggled with that a little bit tonight," he said. "Tohatchi didn't panic against our press and our defense. They out-hustled us for those loose balls. They were scrappy inside. We knew they were a good team. They took care of the ball, and they broke us down and got some easy shots there at the end."
Medina said they tried to extend the game by fouling them."
"They stepped up and made their free throws at the line. A lot of credit to Tohatchi, their coach, and their players," he said.
The 23-9 Lady Cougars trailed the Lady Cardinals 38-37 early in the fourth quarter. Tohatchi's talented junior point guard Brooke Badonie drove one-on-one to the hoop and scored the go-ahead basket. Senior guard Kiana Bia, who chipped in 11 points, then split the Robertson defense and laid the ball up for another score, much to the delight of Tohatchi's passionate fans that packed the Events Center.
Badonie, who finished with a game-high 21 points, then marched to the free throw line that kept the Tohatchi run going. Badonie went to the free throw five times in the fourth period and converted 9-of-12 free throws. Teammate sophomore guard WynterRose Sheka sank two free throws to open up an eight-point lead 46-38. Badonie, who poured in 11 points in the pivotal fourth quarter, and Sheka, who tallied 14 points with a pair of treys along with five rebounds, added two more free throws that capped the 11-0 spurt with 1:23 left that gave the Lady Cougars an insurmountable 48-38 cushion.
"It feels so good to get them," Badonie said, knocking off the No. 1 seed. "I'm excited to get back to the Pit. My coach was telling me to drive the ball cause they couldn't guard me. They're gonna foul me; I feel like I'm a little tired with the girl that was guarding me, and I felt that if I get that one step ahead of her, she wouldn't be able to get back in front of me. I felt like I could take out anybody. I just had to get to the free throw line."
In the fourth quarter, Badonie converted 9-of-12 free throws to lead all scorers with 21 points, six assists, and two steals.
Robertson finally snapped a huge scoring drought when Mistidawn Roybal converted 1-of-2 free throws, but the outcome was sealed.
"She (Badonie) was a freshman when we played them at Bernalillo in the Final Four," Bitsoi said. "She was out that game. She didn't have a chance to play. She was in a (foot) boot, so this is bittersweet for them."
The 28-2 Lady Cardinals, which cruised in their two state games over No. 16 Hot Springs 58-22 in the Sweet 16 and No. 8 Thoreau 56-38 in the state quarterfinals, lost two of their starters on fouls with Alexis Pacheco and Roybal going to the bench with Badonie canning 3-of-4 free throws to send Tohatchi to the Pit and the state finals Friday at 3 p.m.
Sheka got Tohatchi, which marched to the state finals with wins over No. 13 Socorro 85-29 in the Sweet 16 and over No. 5 Tucumcari 48-23 in the state quarterfinals, off offensively in the opening quarter as she buried one of her two treys in the game along with another score and a free throw to account for her team's first six points.
"Whenever I shoot, I don't think of anything," Sheka said. "I just let my shots fall. I turn my negative thoughts into positive thoughts. All together, we work together as a team to get open shots and play good defense."
The game was hotly contested for most of the game, tied eight times with nine lead changes.
Robertson's Roybal pushed her team into the lead 36-35 after making a pair of free throws to start the final period.
Despite being keyed on, Badonie eluded her defenders and dribbled to the hoop before being fouled. Badonie's two free throws were the ninth lead change of the game, and it signaled the start of Tohatchi's dazzling finish against the state's Class 3A top seed and defending state champion.
"That's what your best player is supposed tdo," Medina said of Badonie. "Your best player is supposed to take care of the ball, make free throws at the end and get the job done for you."
Bitsoi said Robertson's style was similar to her team.
"We're up-tempo too. But they're kind of the same in style. But if you let them loosen that up-tempo offense, that's one of their strengths," she said. "So coming in, it was critical for us to make sure we got back. Normally you guys see us as a pressing team. We like to press but the game plan obviously with this team changed. If we let them go they're gonna to the hoop. They're gonna get fouled. We're gonna get in foul trouble."
Bitsoi felt that her girls stuck to the game.
"They were very disciplined in that aspect," she said. "Sometimes we can get caught up chasing the ball, so give these girls a lot of credit. This is the reason why we play teams like Volcano Vista, like Farmington, like Kirtland; they have players that have bigs inside. The girls did an outstanding job of being in front, and our outside was there. Give them a lot of credit. I feel like our schedule has really built us for these moments."
Tohatchi's 1-2-2 zone gave Robertson fits, finishing the game with a poor 31 percent (15-of-49). Tohatchi shot a solid 46 percent (16-of-35).
Due to both teams' tight defensive pressure, Tohatchi and Robertson committed an unusual number of turnovers in the first half, with 15 turnovers each. But Tohatchi took better care of the ball down the stretch in the fourth quarter with just one turnover.
"The winner is gonna be the team that takes care of the ball," Bitsoi said. "Everything else is gonna take care of itself."
Tohatchi will take on Santa Fe Indian School (23-7), which knocked off No. 2 seed Navajo Prep 37-29 in the Class 3A girls state championship finals Friday at 3 p.m. at the Pit.
---