'We want answers, we want justice': Marchers gather for Indigenous missing, murdered rally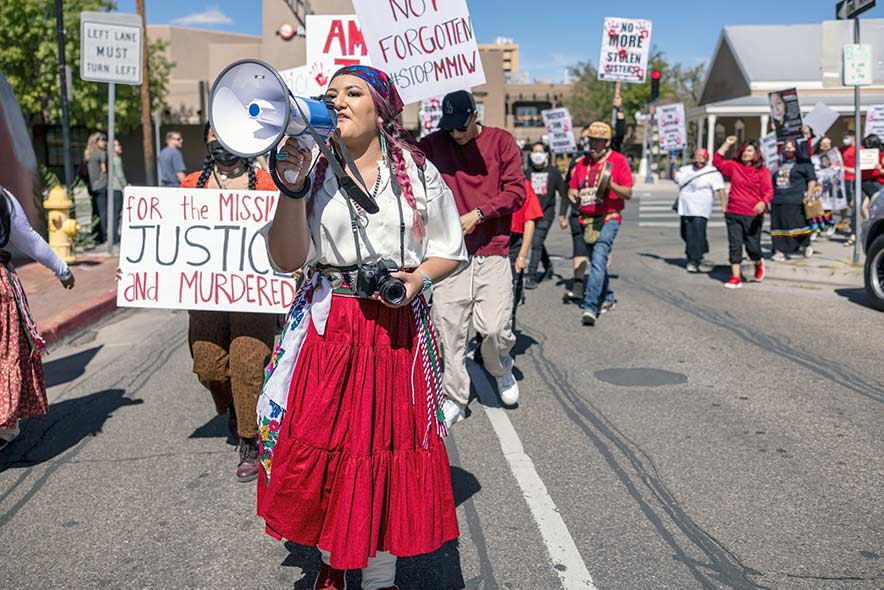 ALBUQUERQUE
Tiguex Park was filled with many Indigenous families and people on Sunday.
The participants were dressed in red and supplied with homemade signs showing pictures of their relatives who have went missing or were murdered with the goal to bring awareness to the Missing and Murdered Indigenous Women epidemic and to demand answers and justice from government officials.
Rally organizers Kara Plummer and Elisia Rodriguez said the event was held not only to bring awareness to MMIW but also to bring attention to missing 27-year-old Diné woman Pepita Redhair, who was last seen in Albuquerque on March 27, 2020.
A picture of Redhair could be seen on flyers for the rally and her name was displayed across signs held by participants that read, "Standing with our sisters, justice for Pepita Redhair."
"Seeing all of the sisters going missing, especially during the pandemic, it (number of missing and murdered Indigenous women) skyrocketed during that time," Plummer said.
"Also Anita (Redhair's mother) was one of our family friends and to hear that her daughter was missing really touched us as our own," she said.
Rodriguez said they also wanted to help raise the voices of the older generation and give them an opportunity to have a platform to share the names of their missing and murdered relatives.
"I feel like a lot of families don't have access or don't even know where to start when getting the word out on a social platform because the older generation is not really in touch with that," she said.
March around Old Town
The rally started with a welcome then transitioned into a short march around Old Town in Albuquerque.
Marchers walked around Old Town and shouted, "Justice for Pepita," and "Stolen lives on stolen land," with signs and pictures of missing and murdered Indigenous people and signs that called for something to be done about the epidemic.
When promoting the rally, Rodriguez and Plummer encouraged families who have been directly impacted to come to the rally and speak about their experiences.
Some of the victims honored at the rally with their families in attendance were Melissa and Yvette Montoya (San Felipe Pueblo), Shawna Toya (Jemez Pueblo), Zachariah Juwan Shorty (Diné), Wilhelmina Whitewater (Diné), Jamie Yazzie (Diné), and Ella Mae Begay (Diné).
Plummer said she invited the family of Jamie Yazzie because she was hearing a lot about her case through social media.
Yazzie has been missing since June 30, 2019, from Piñon, Arizona. Her younger sister Elaina Denny, aunt Marilene James, and mother Ethelene Denny attended the rally.
James said she wishes that the Navajo Nation government and police would work with them in a more productive manner when it comes to searching for Yazzie.
"I gave up because they (Navajo Nation Police) told us, 'Whatever you hear, come to us and give it to us,'" James said. "I gave them a list of names of people that are willing to talk about what they heard or what they've seen and they never got back to me.
"They said they lost it, misplaced it," she said.
James said that she repeatedly called the station and inquired about Yazzie's case but never received any callbacks. She got tired of waiting for them to make any action toward finding her missing niece.
Because of the Navajo Police's lack of response to her missing niece, she decided to take matters into her own hands and decided to talk about it on Facebook.
She said from there, people finally began to spread the word about her missing niece through sharing Facebook posts.
"As far as law enforcement, nothing," James said. "They say they're working on it and they keep telling her (Elaina Denny), 'We have you in our minds, we're still thinking about you,' and it's like, 'Are you really?' We just want some kind of update."
James is not the only one who holds frustrations with the local and federal governments for not doing enough for their loved ones.
Voicing frustration
Caresse Toya, Jemez Pueblo and sister of Shawna Toya, talked about similar frustrations.
Her sister was a mother of four and was found deceased in her car on Aug. 5 in Albuquerque. She said she wants to know why her sister was taken from her so soon.
"We want answers, we want justice," Toya said. "We don't want to be pushed aside from others because Indigenous people always get pushed down and discriminated upon."
Frank Y. Begay, Diné, held the same frustrations as Toya and said nothing has been done about his neighbor's daughter who has been missing for nearly two years.
"Why did they (federal government) send all the resources on somebody else in Utah and they haven't found this person (Redhair) here in Albuquerque yet?" Begay asked. "That's my issue with the government and any government.
"I think it's about time the tribe, the nation, federal government start looking for people that are missing," he said.
Vangie Randall-Shorty, Diné and mother of Zachariah Shorty, followed along the same lines with her opinions on how governments deal with these cases.
Her son went missing from a hotel in Farmington and on July 25, 2020, he was found deceased with gunshot wounds in Nenahnezad, New Mexico.
Randall-Shorty said the Navajo Nation can improve with the way they handle cases dealing with missing and murdered people by fixing jurisdictional issues.
"The jurisdiction sucks there (on Navajo Nation)," Randall-Shorty said, "I'm in both (Navajo Nation and San Juan County).
"San Juan County, that's where he went missing," she said. "From there, just right across from the border town, Nanahnezad, is just right there and that's the reservation."
She said the jurisdictions need to be lifted between San Juan County and the Navajo Nation so more people can get help. She also said that when it comes to her son's case, the Nation is "sloppy" and she is not getting answers from criminal investigations.
"To them (Navajo Criminal Investigations), it's jiní news and I hate that," Randall-Shorty said, "we need answers, we're not getting any answers \.
"All of these murders are just being put under the carpet and forgotten, I'm not going to let Zach be forgotten," she said.
'They haven't done anything'
Rally Organizers Kara Plummer and Elisia Rodriguez hold similar opinions with the way the Nation currently handles cases with missing and murdered Indigenous people and what they should do to improve that.
"I'm going to be honest, they haven't done anything," Plummer said. "I think they're barely starting, which is a start, but we need more funding to go into those resources.
"As an individual, my opinion is that the Navajo Nation doesn't spend their money right," she said.
"And they are not doing enough," Rodriguez added.
Plummer said she believes that the Nation knows this is a problem and if they emphasized MMIW then it will help many families.
She also said that laws could be improved with jurisdiction because she knows that jurisdictional issues are a main cause of cases like this slipping through the cracks.
"We have issues with state, federal, and tribal jurisdictions," Plummer said. "I think creating laws to help bond those or connect those better."
Rodriguez said that the governments need to have a better relationship through communication to get more done.
"I feel like with the communication, there's no communication and that's where these cold cases come from," Rodriguez said.
Plummer said her and Rodriguez's plan is to organize more MMIW rallies in the future to continue raising awareness and to help more families come out with their experiences.
"I feel like some of them (Indigenous families with MMIW experiences) just lose hope," Plummer said. "So that's really just the goal for us is just to get out there and let them know that it's OK to mourn, we're mourning with you. And just to be a support system because they don't have that."
---