Winslow detective shows compassion as he patrols the streets after shooting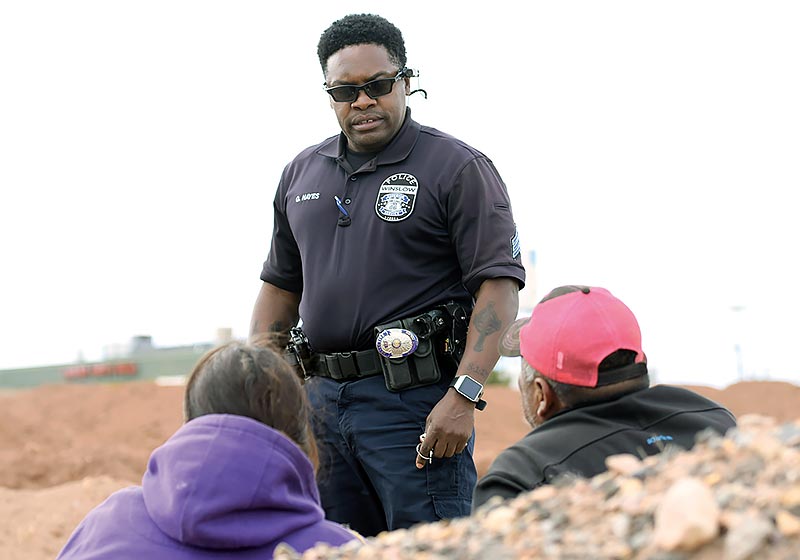 WINSLOW
On a Friday afternoon, Detective Quentin Hayes begins his shift on the north side of Winslow where transients are gathered.
Hayes, who's been a detective for the past 13 years, has had to help patrol the city since the March 27 shooting that left Navajo woman Loreal Tsingine dead. As he drives towards them, a Navajo man and a Navajo woman get up and start walking away from where they were sitting.
"When I'm out (on patrol), I like to come out and check on them to make sure they're OK," Hayes said. "In the summertime, we make sure they have water. In the wintertime, we hand out blankets."
Over the winter, Hayes says three people died of exposure. Hayes stops and tells the dispatcher on the radio where he is and what he's going to do before he gets out of his police cruiser.
"'Treat them with kindness', that's been my philosophy since I became a police officer," said Hayes, who is African-American and who was born and raised here.
He says that if the people he serves and protects ask him for some water or food, he doesn't hesitate to buy it for them. Hayes walks toward the group of people he saw sitting on a berm. He spots a man lying on his side and asks if he's OK and if they're thirsty or hungry.
"I'm thirsty," says the woman.
"OK. I'll get you some water," Hayes says to her. "Do you also want anything to eat?"
"Yes, please," the man answers.
Hayes makes his way to a nearby convenience store and buys a bag of BBQ chips and a gallon of water. He returns and gives it to them. They thank him and shake his hand as he leaves.
Fridays are typically busy for the police, said Hayes. Especially on the north side of town where he says most of the city's violent crimes take place. And buying water for people is not uncommon within the police department.
"These people are vulnerable and really isolated," Hayes said.
As he leaves the area, he spots another Navajo woman sleeping against an abandoned building that was once a gas station. Hayes parks near her and gets out and walks up to her.
"Are you OK?" Hayes asks.
The woman mumbles something and shrugs him off, and goes back to sleep. Hayes tells her he'll come back to check on her later and leaves.
Suddenly, the dispatcher calls for a police officer to respond to a possible domestic disturbance already in progress. Hayes becomes quiet and speeds up his police cruiser. A crackle comes over the police radio. A fellow police officer, Marlalita Jones, who has been on the Winslow Police Department for more than a year, says she is the first to arrive. Hayes increases his speed in an effort to provide Jones with support.
"Yeah, it never fails on Friday afternoons," Hayes says.
---