Workshop highlights cultural appropriation v. appreciation within mascot issue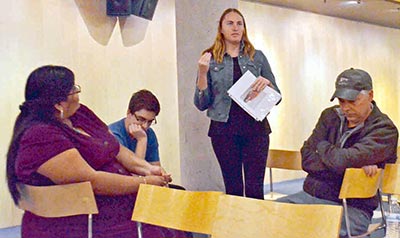 By Nikiana Medansky
Special to the Times
PHOENIX
Attendees of the "Cost of Indigenous Stereotypes and Mascots" workshop looked at the difference between cultural appreciation and cultural misappropriation Saturday to attendees at the Burton Barr Library in Phoenix.
They did that by listening to three different speakers, interacting with other attendees to examine photos involving stereotypes, and discussing one's thoughts and feelings after watching a documentary on culture and identity, specifically toward Native Americans in sports.
The interactive workshop, held by Project Humanities in Phoenix on Nov. 7, focused on media, particularly in sports, that used Native American-like clothing, chants, and names from Australia to the United States; many believed that the cultural items being used were honoring the culture, rather than misappropriating it.
"In Whose Honor?", the documentary shown during the event, delved into the topic of Native American items used in the mainstream media, though not in the most respectful manner.
"At home, we are taught to respect eagle feathers, respect the chiefs, the paint is sacred, that dance is something sacred to us," said Charlene Teters, advocate and main subject of the documentary, of the imagery of Native Americans in media. "If you've never been taught to respect these things, it might not bother you. But if you've grown up in the community, where those things have meaning, it's going to have that impact on you."
The documentary began with Teters first encountering the Native American imagery at the University of Illinois, where she was going to school while taking care of her children. The university's mascot is Chief Illiniwek, a student dressed in buckskin clothing like that of traditional Native American clothing, doing an "authentic" dance in front of the school at sports games.
Teters decided to stand outside the games and attend any events involving the mascot with signs that read "Native Americans are human beings, not mascots," to protest the imagery.
Several alumni, trustees and students of the university did not see the mascot as cultural appropriation of Native Americans, however, but believed that they were honoring the culture.
"The purpose of Chief Illiniwek, I pretty much see as two-fold," Jeff Beckham, a student who actually performed as the Chief in 1993, said during the documentary. "The first is that it helps us remember the people who lived on this land long before the university was ever dreamed of, and the second reason is to really honor those people."
---