Youngest Navajo president sworn in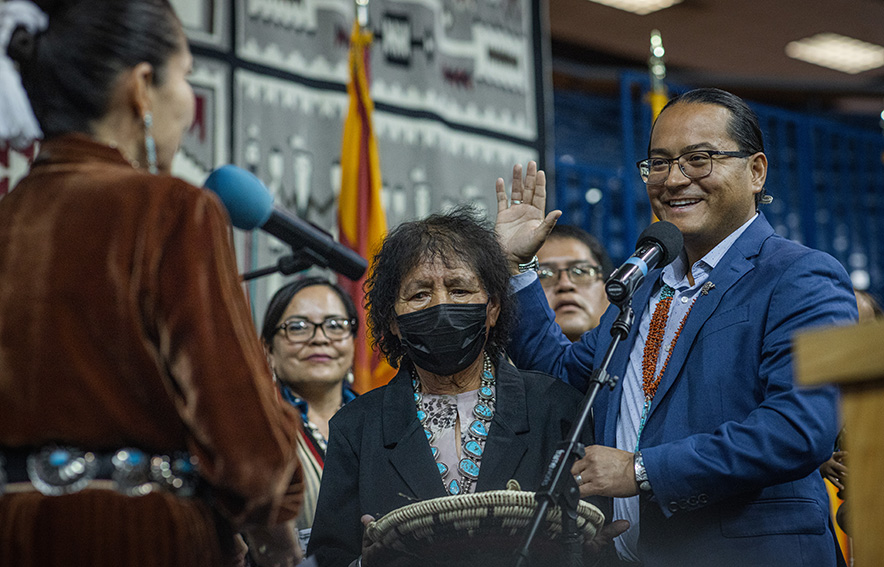 FORT DEFIANCE
The youngest Navajo Nation president has officially taken the helm.
Buu Nygren, who turned 36 on Christmas, took the oath of office at 12:06 p.m. at the Bee Hołdzil Fighting Scouts Events Center in Fort Defiance.
Nygren smiled throughout the oath as his wife, former Arizona state Rep. Jasmine Blackwater-Nygren stood behind him with their daughter.
His grandmother Marilyn Slim held a Navajo basket with the Bible, which Nygren used to take his oath.
Nygren, who's never held a political office, spoke to the crowd as they cheered for him and opened his speech by thanking his supporters.
"I just want to thank you so much to each and every one of you," he said to a cheering crowd.
Nygren told the people he was ready to begin working with the 25th Navajo Nation Council, which convened to conduct its first-order business and elect a Speaker Pro Tem.
"One of the things I've always said as a united Navajo Nation, leadership is going to be strong. It's going to move things forward," Nygren said. "We can start talking about the basic needs of our Navajo people."
As the Nation's president, Nygren faces a gauntlet of challenges. He said he'd tackle the social ills impacting the tribe once he took office.
"We campaigned on how do we combat the everyday things that hurt and go up against our people like poverty, hunger, thirst, sickness, old age, greed, jealousy, and laziness," he said.
Having never served in any political position, Nygren and his Vice President Richelle Montoya, the first woman to hold the Nation's second highest office, made no promises but said their administration would begin working toward bettering life for the Navajo people.
"We have one mission: let's get basic services to the Navajo people," he said. "We need water; we need roads; we need public safety. So, as your next Navajo Nation president, I will not hesitate. I will do whatever it takes to make sure that our people have a chance."
His predecessor, former President Jonathan Nez and his former Vice President Myron Lizer, sat with his wife in the crowd. Nygren acknowledged and thanked them.
Nygren released the names of his cabinet on his Instagram page.
They are Department of Justice Attorney General Ethel Branch, Division of Human Resources Executive Director Debbie Nez Manuel, Division of Public Safety Executive Director Michael Anderson, Division of Economic Development Executive Director Tony Skrelunas, and Division of Natural Resources Executive Director W. Mike Halona.
Kimberly Yazzie will head the Navajo Department of Health as the executive director.
Other members of his cabinet include Division of Community Development Executive Director Calvin Castillo, Environmental Protection Agency Executive Director Stephen B. Etsitty, Division of General Services Executive Director Shawnevan Dale, Division of Transportation Executive Director Garrett Silversmith, Division of Social Services Executive Director Thomas Cody, Washington Office Executive Director Justin Ahasteen, Navajo-Hopi Land Commission Office Executive Director Raymond Maxx, and Telecommunications Regulatory Commission Office Executive Director Tico Charlee.
---