Alottees on oil-rich land oppose grassroots interference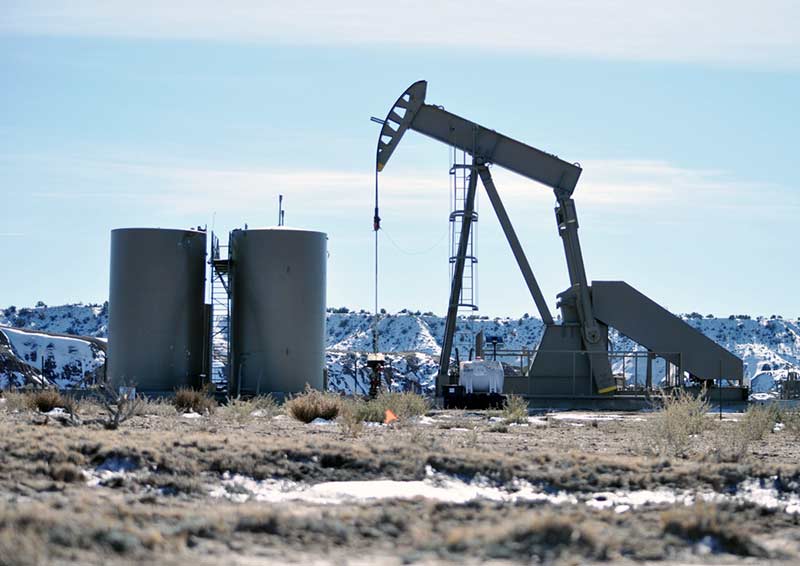 WINDOW ROCK
Some allottees in Eastern Navajo Agency question why Daniel Tso is hugging the head of the Bureau of Land Management on the front page of the Farmington Daily Times.
Tso, an allottee from Torreon, N.M., was captured by local media embracing Victoria Bar, district manager for BLM's Farmington Field Office.
Their intimate hug was in response to Tso, along with several grassroots organizations, including Diné CARE, issuing a letter to Bar on Monday that calls for a moratorium on hydraulic fracturing, or fracking, on BLM land, state, and individual allotments in the Gallup Mancos Shale Formation.
The letter delivered to Bar also comes after the grassroots groups, led by Navajo elders from across the Navajo Nation, joined forces this past weekend at Chaco Canyon National Historical Park.
There, gatherers held discussion on stories of Chaco's past, the current fracking issue in and around Chaco – considered a cultural sacred site and UNESCO World Heritage Site – and their hopes for the future.
Allottees confused
"People are confused," Etta Arviso said about Tso and Bar's public embrace. "There is no drilling in Torreon. There is no fracking or drilling in Ojo Encino."
Arviso is an allottee affiliated with the Caretakers for Land, Elderly and Children Association and was one of the allottees confused by Tso's actions because he's not directly from the impacted area of the oil and gas development in Nageezi, Counselor and Lybrook, N.M.
Arviso opposes the efforts of grassroots interference of oil and gas development in Eastern Navajo Agency, mostly because she claims these grassroots organizations are merely organizing to make money off the backs of those that live at ground zero, she said.
When it's all said and done, she said, allottees in the area would have the final say on their individual allottments because they have that right as private landowners.
Arviso also said that if people want to assist her and members of the CLEC organization, which recently organized to contend with the ongoing interference of grassroots, environmental organizations, the government and oil and gas industry, they should go back to their Navajo communities and pass resolutions in support of their efforts.
"If BLM is allowing these companies to drill on these lands, then why are they making an L-shape and stealing oil from allotment lands and tribal lands," Arviso added.
Allottees bothered by Tso's actions
What's more, other allottees like Delora Hesuse, whose family has profited off leasing their allotments to WPX Energy, claim that Tso has no right to speak on their behalf, adding oil development is not even occurring in his home chapter of Torreon.
"It's bothering for the alottees," Hesuse said about Tso's effort with the coalition of environmental organizations that also include WildEarth Guardians.
Hesuse turned out for the Monday meeting that occurred between Tso and Bar in an effort to oppose any plans to stop oil and gas development, because her application to drill with the state of New Mexico is currently being reviewed.
"They are wondering why these environmental grassroots are coming in," Hesuse said of the allottees that are concerned with the coalition that gave the letter to Bar to support a moratorium.
Hesuse is a Sam Comanche heir with shares to allotments, and is also the daughter of Henry P. Hesuse, original founder of the Shii Shi Keyah organization, which formed years ago to advocate for the rights of allottees in Eastern Navajo.
"A lot of people are telling me they don't want the oil companies to stop," Hesuse added. "They are living a better, every day life."
Hesuse is part of the 91 applications with permits to drill that have been approved by the state and that grassroots interference is hindering royalties.
"We are in the next step because we have a rig," Hesuse said, adding that WPX Energy has been good to her and other Comanche heirs.
Diné CARE speaks
Aside from the letter they sent, the organizations, led by Diné CARE, filed a preliminary injunction in federal court on May 11 on all BLM fracking activities.
Coleen Cooley, an organizer with Diné CARE, said the suit is specific to the BLM, not to the individual allottees.
"They're kind of on their own," Cooley said about allottees that support oil drilling. "The allottees do have a different perspective. They depend on the royalties and some of them may have not gotten a fair share of royalties."
She, however, said that industry is probably taking resources from allottments that don't have an approved lease via the horizontal drilling process of fracking.
According to the BLM, and pressure from grassroots, in January it deferred five parcels of allotments near Chaco from oil fracturing.
Cooley also clarified how the Greater Chaco Region includes the area beyond Chaco Canyon National Historical Park that environmental coalition members are concerned with.
"There are a lot of cultural resources outside of the Chaco area," she added, noting that Navajos living on trust land near BLM and allotment drilling are being impacted.
"There are community members that come up to Diné CARE and us and tell us to educate about the fracking process and proposed pipeline," Cooley added.
She also said members of the public may be intimidated by industry and that they're also probably used to industry being out there near their homes for years.
"Sometimes we have to be the voice for the people as well, but also for the environment, the land, air and water," Cooley said.
As far as Tso hugging Bar, Cooley described that act as a gesture of respect.
"He's being respectful," she said. "I don't think he's going to be disrespectful to a decision maker."

Tso responds: Hug was initiated
Talking to Tso, he said that he knew the Daily Times would capture that photo and print it.
"My position is that it's not a personal attack against Ms. Victoria Bar," Tso said, adding, "It's the position of the BLM."
Asked about the embrace with Bar, Tso said, "She initiated the hug and I responded."
Tso also addressed how he does in fact have trust and beneficiary heir-ship to allotments, where the ongoing oil and gas development is playing out, noting they're in strategic locations.
Tso is aware the that oil and drilling that is currently happening is a done deal and that he's working with grass roots organizations to halt future development proposed under the BLM's amendment to its 2003 Resource Management Plan.
"That's a done deal," he said. "But it's the other areas that have not been fracked or drilled."
Tso, who was also a former Council delegate for Torreon, said that cultural resources sites like White Belt Mountain are being threatened, which is why he's an advocate for the moratorium. White Belt Mountain, according to oral Navajo history, is the place the horse was created in the Navajo Creation story, before physically being transported via boat by Europeans in the 1500s.
"We want this moratorium to at least allow local residents to gather and really talk about the impacts to their health," Tso said, referring to how some Navajos living on trust land basically endure the noise from nearby development as loud as an airplane on the daily.
Tso also has issue with the lack of involvement of the BIA, its Federal Indian Minerals Office and the Navajo Nation over the fracking development near trust land and on allotments.
"The thing is that the BLM is using their own staff or contract staff to survey the area for cultural properties and what not," Tso said. "Where is historic preservation?"
He also wonders where Navajo EPA is to inspect for the industry's chemicals, adding that the Jicarilla Apache tribe is citing industry in their neck of the woods.
"This stuff right now is occurring under the 2003 RMP," Tso said about the ongoing oil development. "The BLM lands are there for multiple use and the way things are going it's only for singular use now."
---