Yideeską́ądi Ntsáhákees': Nygren-Montoya campaign committed to 'home'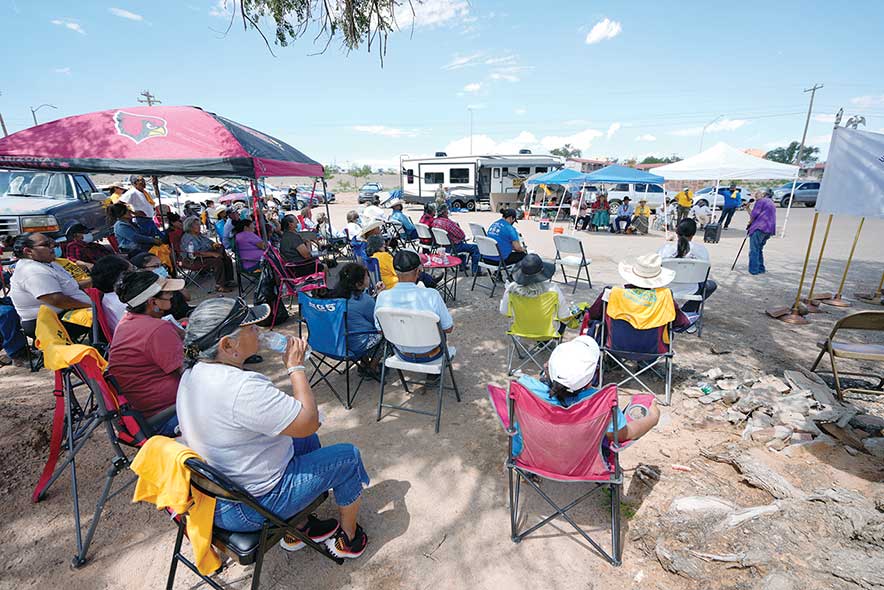 TSÉBIGHÁHOODZÁNÍ
Jasmine Blackwater-Nygren was always told that having college degrees, job security, and wealth are the epitome of success.
"That's what my relatives expected of me when I graduated from law school," Blackwater-Nygren, 27, said. "It's what's expected of a lot of young Navajo people.
"To my own relatives, that was success," she said. "I was told, 'The rez will always be here.' When I think about that, I think about the problems that they might have been talking about––these problems are always going to be here."
She said she has internalized the issues in the Navajo Nation and the meaning of that phrase alongside her husband, Buu Van Nygren, a candidate for president.
"When I think about that saying and phrase, it makes me really sad," she said. "I don't want that for my daughter, and I think about her and her future. I want her to have an awesome school, an awesome education on Navajo, and the utmost opportunities available to her.
"I want her to be successful on Navajo. That's what (the Nygren-Montoya) campaign is about," she said. "Yideeską́ądi ntsáhákees, we're thinking for the future; we're thinking for that next generation because we want opportunities."
Blackwater-Nygren said yideeską́ądi ntsáhákees is the campaign's motto, and it's what motivates her and her husband to strive for their daughter, Evelyn Charlotte Nygren, and the Nation's future.
"We want things available to them (young people) that we didn't have," she said. "We really want to change that mindset of you have to go off (the Nation). That's what drives Buu and his vision.
"We want our young Navajo people to be successful, and that's what resonates with me the most about this campaign," she added.
Blackwater-Nygren earned an undergraduate degree from Stanford University in 2017 and a law degree from Arizona State University's Sandra Day O'Conner College of Law in May 2020.
She is the youngest member of the Arizona House of Representatives and was appointed to represent District 7 at age 25.
On the campaign trail
Blackwater-Nygren, who travels with her husband on the campaign trail, said the Nygren campaign gained momentum and more supporters, many of whom may not have voted for Buu, after the Aug. 2 Primary Election.
"I (believe) we're going really strong," she said at the Tuba City flea market stop on Friday. "We had a really awesome showing at (the 74th Navajo Nation Fair), where we won the government category in the parade."
Over 80 volunteers joined Nygren and his running mate, Richelle Montoya, on their floats on Sept. 10. Their entourage comprised horseback riders, walkers, youth, and older people.
"We're feeling really confident and continue to hit the campaign trail," Blackwater-Nygren said in an interview. "It's going good."
Blackwater-Nygren said the Nygren-Montoya campaign is fighting racism quietly.
She said the best way to achieve racial justice can sometimes be to downplay, which may seem counterintuitive, but that doesn't mean she and the Nygren team don't know what some people are saying.
"We know what's being said," Blackwater-Nygren said. "We have chosen not to comment on a lot of those borderline racist statements because when you meet Buu, you see who he is, and you see that he's Navajo. He speaks Navajo, and he grew up here in the Navajo Nation.
"He grew up with his mom and his grandma," she said. "As Navajo people, we are a matrilineal society, and when you learn about his story, there's no question after you get done talking to him, after you hear him speak."
The surname Nygren was given to Buu by his late mother, Charlotte Slim Toney, who was a single mother and raised Buu and his brother, Bijou Etcitty, in a 14-foot-long travel trailer, six miles from a highway down a bumpy road.
Toney had Buu when she was 15, and he never met his father.
Buu has said his mother played a role of a mother and a father yet was always loving and strict because she wanted him to avoid her mistakes and seize opportunities she didn't have.
"We see a lot of absent fathers," Blackwater-Nygren said. "Buu is no different from a lot of these Navajo boys who grew up without a father. I think a lot of people resonate with that."
Buu has said he grew up without electricity and running water, but his family's trailer was always clean.
"(People) resonate with that story," Blackwater-Nygren said. "Navajo or not, I think a lot of people understand that.
"He (Buu) came from very humble beginnings," she said. "What he said a lot was, 'I wasn't meant to be successful,' 'I wasn't meant to go to school.' And that's so true when we think a lot about our young people, what they have to overcome to be successful. It really is up to the individual."
Blackwater-Nygren says that's what the Nygren-Montoya campaign stands for – to help people get educated and take hold of opportunities in the Nation instead of putting pressure on an individual.
"Come back and help – that's extremely difficult to do after you've lived off Navajo for so long, and you see how it is to be off, and there's a lot more opportunity," she explained. "That decision to come home.
"We are committed whether we lose or not," she said. "We are committed to being home and giving back to our community.
"Even building a nice house is extremely difficult on Navajo," she said. "There are no financing and no construction loans available; even getting contractors to come out is difficult."
Committed to home
Returning home after years away at school can be a difficult decision to make when there are no jobs in the Nation, said the young lawmaker.
"What Buu and I bring is a fresh perspective, kind of a new motivation for the next generation to step into those roles," Blackwater-Nygren said.
"Just because this road has always been this way doesn't mean it's acceptable," she said, "it doesn't mean we're just going to accept things the way they are.
"I think that's what I've seen in my role as a young person, as a legislator, and even in this campaign," she said. "A lot of our volunteers, they're not people in their twenties or thirties campaigning with us – there are older people, and I respect that.
"I respect they have faith in us," she said, "and they see us as young new leaders who can really change things."
Blackwater-Nygren said that young voters reveal generational tensions driving their frustration and are more interested in results and innovative action.
As a young lawmaker, she sees the disconnect when she goes out to meet with her constituents.
"And unfortunately, a lot of the time, I'm faced with the same criticism," she said. "It's always going to be this way; these roads have been this way since forever.
"Buu is in that unique position to really challenge the status quo and to really change things," she said.
---