Tsosie introduces bill to override Shelly's veto in language dispute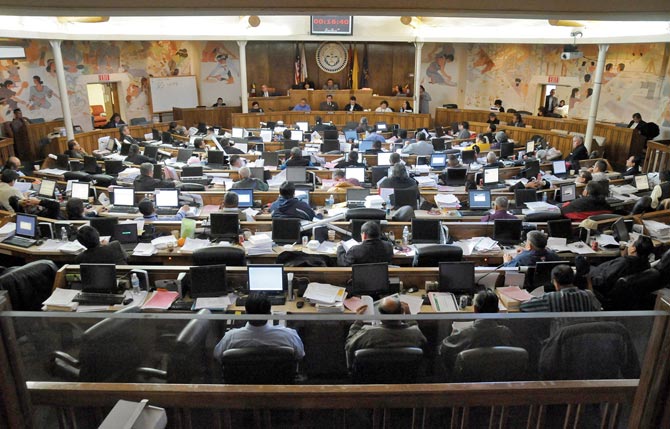 WINDOW ROCK
While Navajo Nation President Ben Shelly vetoed a bill Tuesday that would have amended the language requirements of the Navajo Nation Election Code, Council delegate Leonard Tsosie introduced a subsequent bill to override the president.
According to the Navajo Nation Council, the override bill sponsored by Tsosie has been introduced into the legislative process and is currently undergoing the five-day public comment period. The bill is available online at www.navajonationcouncil.org, and will be available for committee action on Nov. 3, the day before the 2014 Navajo Nation General Election is scheduled.
A successful override requires two-thirds vote from the Navajo Nation Council. Tribal law requires that the override bill go through the Council's Naabik'íyáti' Committee before going to the full Council for consideration.
"The Navajo Nation finds the override in the Navajo Nation's best interest," states provisions of the proposed bill.
In Tsosie's column that is published in this week's Navajo Times, he tells of how many people have "misconstrued" the language fluency bill that Navajo Nation Council passed last week during its fall session by a 11-10 vote.
"It does not erase the Navajo language," he said. "It leaves the choice of determining the fluency of potential Navajo leaders to the voters."