Question remains about Begaye's wife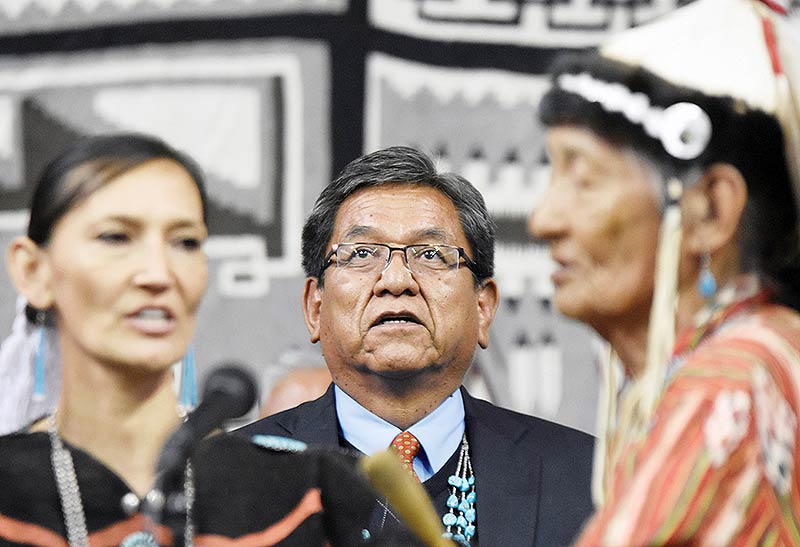 WINDOW ROCK
Everyone seems to be wondering about what's going on with Navajo Nation President Russell Begaye and the mystery surrounding his missing wife.
That includes people in Marietta, Ga., as evident by the fact that the community's newspaper, the Marietta Daily Journal, reentry published an article about the fact that Begaye's wife was not only missing from his inauguration but she was also not present during the campaign and apparently doesn't plan to have any role in the running of the Office of the First Lady.
Begaye was vague during his campaign about why his wife, whose name is Kyoon Chung Begaye, was not at his side. At the time, he told the Navajo Times that the marriage was a "business decision" which led to all kinds of speculation among members of the chapter and sparked an interest by the off-reservation press as to what all of that meant.
After his inauguration, Begaye continued to avoid questions about his wife and queries to his staff and associates also drew no response.
The Associated Press was able to track Begaye's wife down to Atlanta where she worked as a dentist but was not able to contact her, despite the fact that she had placed ads in Georgia papers advertising her services in both English and Korean – her own native language.
The AP was able to learn that Begaye had spent part of his earlier life as a Southern Baptist minister, something else he rarely brought up during his campaign, and that he married his wife in 1999, some two years after the death of his first wife, Helen Shoemaker, a member of the Choctaw Nation who had met Begaye when they were both attending a seminary.
The AP reporter even interviewed some of Begaye's family and biggest supporters without getting any closer to the truth about Begay's wife.
Ray Begaye, a former state representative in New Mexico and Russell Begaye's brother, told AP that the last time he saw Begaye's wife was six years ago in Atlanta. He said he kew that Mrs. Begaye had visited the Navajo Reservation a few times but decided to stay in the Atlanta area because of the difficulty of starting a business on the reservation.
Former Navajo Tribal Chairman and President Peterson Zah was one of Begaye's supporters who were unaware of the marriage situation, according to AP. Zah, who campaigned heavily for Begaye and is now on Begaye's staff, said he was aware of Begaye's first wife but then "noted that Begaye never mentioned any other union."
But although the AP put out a long story about Begaye and his background as a Baptist minister and dealings in the home improvement area, the one question that the AP couldn't answer, however, was one that attracted the media company to the subject in the first place – what is going on with Begaye and his missing wife?
---