Basketball camp taps Native women players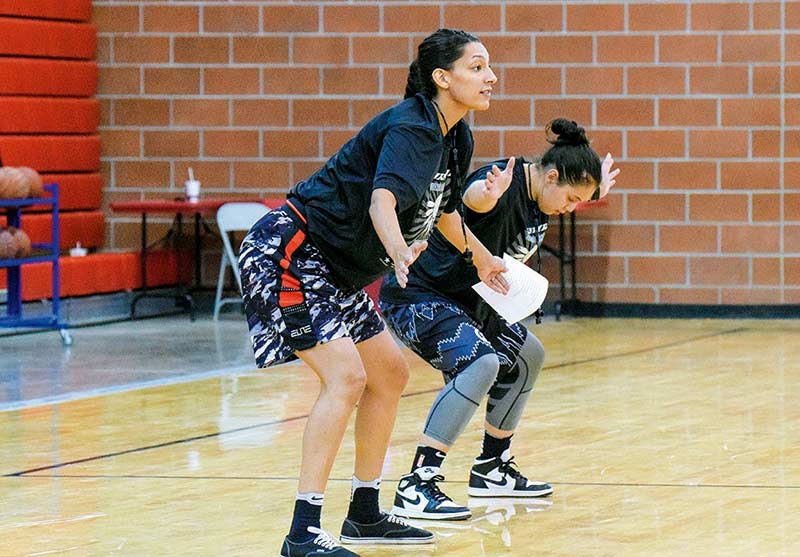 By Krista Allen
Special to the Times
TÓNANEESDIZÍ, Ariz.
It is very rare for anyone to be successful without any help. So, a key to being successful is finding someone who pushes you. Someone who pushes you to be the best you can be, said Buddy Tsingine.
"What I've seen are kids that I've coached in junior high," said Tsingine, a retired basketball coach and a school administrator. "They never went on. They were better athletes than anybody. But after junior high, nothing."
That is why Tsingine and his family are now inspiring area young people to take charge of their own future and complete their education past junior high and high school.
"Because they never went on – that's what's been bothering me," Tsingine explained. "They have so much talent and we have so many people who are so smart."
Earlier this month, Tsingine and his daughter, Georgia Lynn Tsingine, a family physician in Phoenix, invited Native basketball players Shoni Schimmel (Umatilla) and Abby Scott (Warm Springs) here to coach a basketball clinic at Tuba City Boarding School.
The basketball clinic, Buddy Tsingine says, was designed to help the youngsters who registered to not only improve their basketball skills but also to help them seek higher education, just as Schimmel and Scott did.
"These kids, they need something to see," Tsingine said. "I just wanted to get them motivated. We're (Tsingine family) involved in education. We're doing it for the kids and we want them to be motivated. We want a future for them and (for them) to see somebody that's achieved success on the national level, not only in sports but also in education."
That is exactly why they were there, said 26-year-old Schimmel, who is currently a free agent. She played for the University of Louisville and was a first-round draft pick of the WNBA's Atlanta Dream.
"It's a great opportunity for us to be able to see the youth and come out here and give a different look on basketball," Schimmel said in an interview with the Navajo Times, "(and) to teach them what we know as a collective group, as basketball players, as human beings, as Native American people."
Schimmel says she makes a point to work with the youth, especially the Native youth who have dreams of playing basketball at the college and the professional levels.
"You are who you are," Schimmel said in a message to the youth, "go out there and be proud of who you are and believe in yourself and work hard. Take care of your business when it comes to school and being respectful on (and off) the court.
"We're teaching more than just basketball. It's a life camp because we're out here teaching (these youngsters) how to be great warriors … and how to be successful in life because we've done it."
Scott, 24, who played for New Mexico State University, said the two-day basketball clinic earlier this month was a success and saw that many of the youngsters she and Schimmel coached were focused and were eager to learn.
The clinic included four sessions for both children and teenagers. Scott said the younger group needed more coaching than the older group.
"But everybody was so enthusiastic, and we had a blast doing it," Scott said. "When the kids can sit there and give that to us, then we have all the time in the world to be there and give back to them."
---