Wild Thing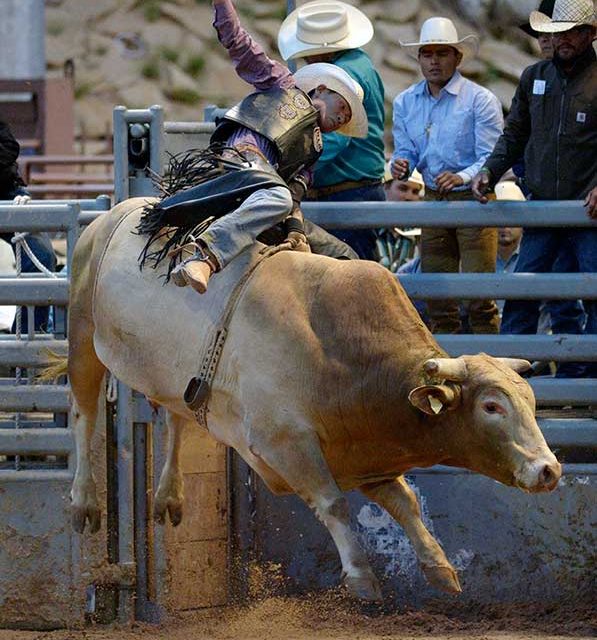 Practice pays off for Lupton cowboy
RED ROCK PARK
A year after finishing as the reserve champion, Tustin Daye delivered a signature performance on Saturday night.
Daye bested 87 other riders to claim this year's Wild Thing Championship Bull Riding before a capacity crowd at Red Rock Park.
"I've been practicing for this bull riding (event) because I knew it was going to be tough," the 26-year-old cowboy said. "They have some tough bulls but I've been practicing. I have been doing the usual stuff that I've been doing."
By virtue of winning the Long's Bull Fest a couple of weeks ago, Daye said he had his Wild Thing entries paid for by that event.
He did not disappoint his sponsors as the Lupton, Arizona, cowboy rode a Sammy Andrews bull for 87 points, which paid him a whopping $11,400.
"It feels pretty good," Daye said of winning his first Wild Thing title. "I was working hard this past week. I knew they were bringing in some tough bulls. I did my job and it paid off."
As for his bull, Daye said the Sammy Andrews product was one of the biggest bulls in the pen.
"He was pretty stout," he said. "He was a big yellow bull. He was squatting a little in the chute but he wasn't too bad. He was pretty strong and he rode into my hand."
Daye said he solicited the stock contractor's advice to get an idea of what to expect, something he usually doesn't do.
"Sammy told me that he's going to be right there to the left," he said. "Usually I don't ask because that is when you start to set up a game plan in your head, but I would rather react to him."
Daye said he's been riding in the iconic event for the past 10 years, seeing success in the last four years. In 2015 he placed eighth and the following year he took fourth. Last year he finished second with a 91-point ride behind event winner Pistol Preece.
"I get pretty excited and I love coming out to this bull riding," he said.
---