Condensed schedule squeezes Prep, but it endures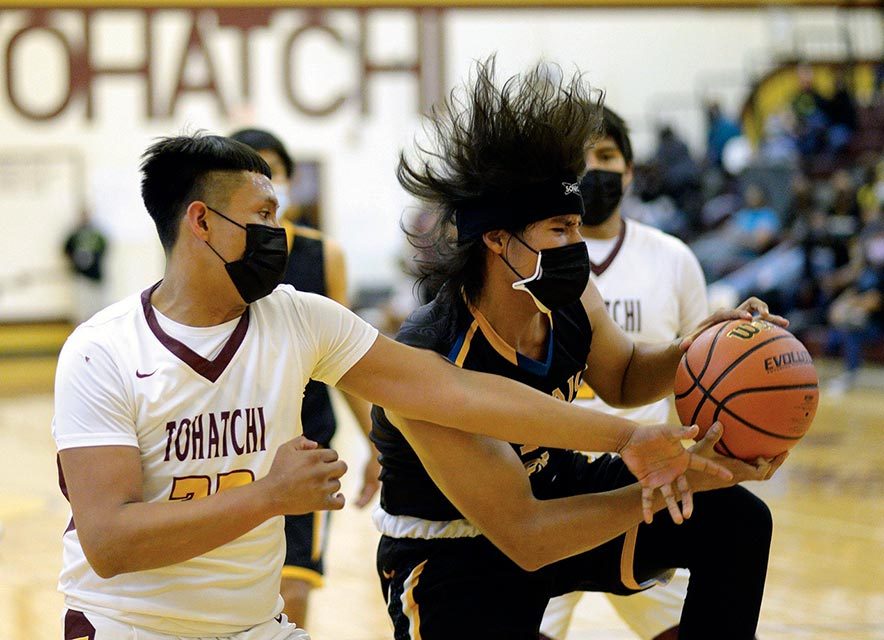 FARMINGTON
It's not an ideal schedule but the Navajo Prep boys' basketball team endured a tough stretch last week.
The Eagles played four games in five days in this era of condensed scheduling caused by the ongoing pandemic.
Of those four games, the Eagles played three league games, as Navajo Prep owns a 4-0 record in District 1-3A play. The Eagles did play against Newcomb on Tuesday but results for that contest were not posted a press time.
"It's been up and down," second-year Navajo Prep coach Matt Melvin said of their play. "I think everybody's going through it with the COVID stuff. We didn't have a big preseason and we jumped into so many games.
"This is our fourth game in five days so we're learning as we play, which you never want to do," he continued. "But for the most part we're taking care of business with a really young team, and I like our possibilities."
And with an early lead in the district race, Navajo Prep is five games out of earning an automatic bid to the 3A state playoffs.
"We've done our homework by watching how the other team plays," Navajo Prep senior forward Javy Atcitty said. "We've studied our opponents and I feel like we're able to adjust to what they do on offense and defense."
With the season halfway through, Melvin said they control their own destiny but they still have to take care of business.
"We don't want to overlook anybody," he said. "Not only are we improving but I think everyone is in the same boat. So this next go round, I don't think you're going to see the same teams. Everybody is getting better every day.
"We don't want to overlook anybody so we gotta continue to take it one game at a time," he said. "You gotta take care of the district to give yourself an opportunity to however the state playoffs play out this year."
Despite losing eight seniors last season, Atcitty said he's optimistic about their chances of making a return trip to state.
"I really feel like this team can go far," the 6-4 forward said. "I feel like Coach Melvin is the coach that can take us there. He's pretty hard on us but it's nothing personal. He's the kind of coach that keeps it real for us."
According to Navajo Prep guard Dontrelle Denetso, the team has managed to blend in three freshmen into the lineup and they're learning as they go.
"We got a few freshmen but I think we're pretty solid," the junior guard said. "We got our freshmen and we got some young players that jumped onto the varsity team so right now we just got to get the plays down."
Denetso said they're able to beat teams by getting up and down the floor. And when they get in transition, he said, they're pretty hard to defend.
"We try and not let them set up their defense," he said. "We try to get the ball in transition and we like to run."
Navajo Prep used that approach against Crownpoint on April 10 as they picked up a 62-35 win.
Denetso led all scorers with 21 points while freshman guard Jude Thomas added 11. The Eagles also got nine points from senior forward Tristan Cly and seven points apiece from Isaiah Morris and Atcitty.
Junior Quincy Benally, meanwhile, led Crownpoint as he finished with 10 while Ladanian Willie and Tyrell Archie added eight each.
When asked about what sets them apart, Atcitty said the team has a genuine camaraderie.
"I feel like that the chemistry is there," Atcitty said. "Most of us stay in the dorms so we spend a lot of time with each other. We joke around and we just hang out. I feel like us spending a lot of time together plays a big role on the court. We're really comfortable with each other and we all bring something different to the table."
Melvin called his team a unique group with a plethora of young talent.
"We're a super young group," he said. "They're all great and they all take care of business. They're playing extremely well and I'm proud of them. We got a lot of work to do and we're far from where we need to be, but right now we're doing a lot of good things.
---