Lady Bengals emerge from the battle of Gallup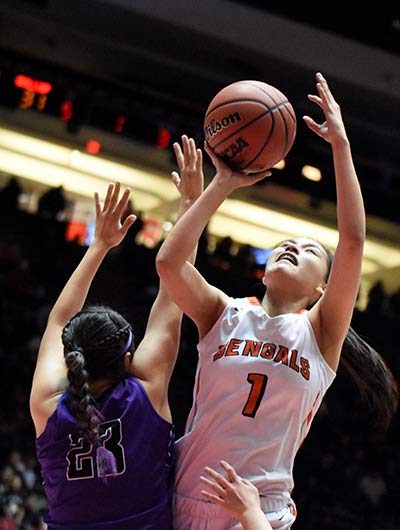 ALBUQUERQUE
There was room for only one Gallup team in the 2018 girls' New Mexico high school championships.
The spot was decided on Tuesday night when the No. 3 Gallup Bengals met crosstown rival No. 11 Miyamura in the Class 5A quarterfinals at Dreamstyle Arena, aka The Pit.
The Lady Bengals defeated the Patriots 61-52 to become Gallup's royalty.
Miyamura head coach Steven Gilbert said it came down to which team wanted it most.
"This was a rivalry game, so at the end of the day records mean absolutely nothing," he said. "It's just about the heart and the will and the want to actually want to be here.
"They're all best friends," he added. "They all hang together. At the end of the day they Snapchat each other, and Facebook, and call … But at the end of the day it's about what school's pride, who wants to stand out, and right now they're the queen of Gallup right now."
It was the third meeting for the two teams this season (they split during the regular season), and they played like it.
Gallup got on the board first and Miyamura answered every time the Bengals scored. At the end of one quarter, the game was tied 8-8.
The second quarter belonged to the Patriots. After gaining a 17-15 lead, Miyamura hung on. The Patriots followed with two baskets after every Bengal basket and led 26-22 at the half.
---