R.C. Gorman Room an underused treasure trove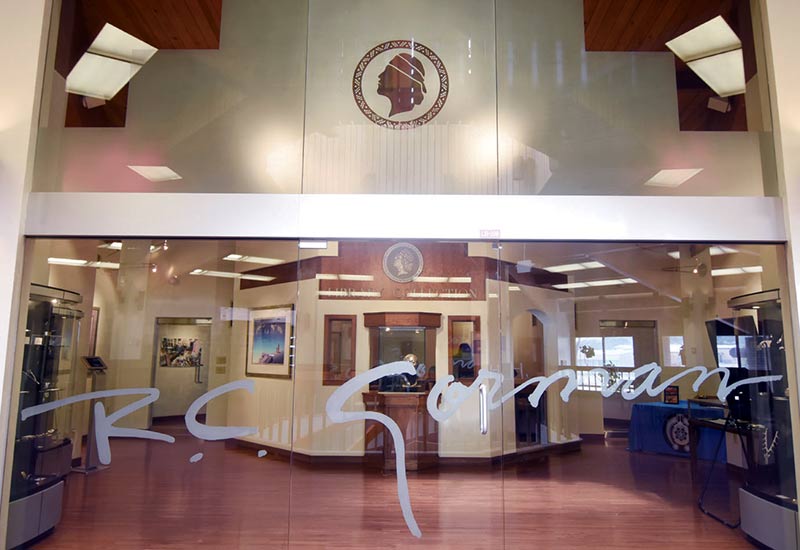 TSAILE, Ariz.
You can find R.C. Gorman's art in galleries and private collections from coast to coast. But he left "a portion of himself" on the reservation, said Rhiannon Sorrell, Diné College's instruction and digital services librarian.
It is, perhaps, the most revealing portion of himself. On the second floor of the Diné College Library, you will find the R.C. Gorman Room. The inviting round space houses a few of Gorman's most beloved prints and some busts both by and of Gorman, but the real treasure is along the back wall: the iconic artist's book collection.
From literature to pop culture, art books to cookbooks (Gorman loved to cook and authored two cookbooks with his longtime housekeeper, Virginia Dooley) and murder mysteries, the hundreds of volumes give an insight into Gorman's soul. And you can sit in the inviting, peaceful space and browse them all you want.
"I don't think most students even know this is here," lamented Sorrell.
That's one reason the Navajo Cultural Arts Program, which is headquartered in the Gorman Room, decided to hold its latest exhibit of Navajo silverwork there, said Christine Ami, grant administrator for the program. "We even had a silverworking demonstration on the landing right outside the room, so people studying on the lower level would hear it and be attracted up here," Ami said.
---