Miyamura boys end losing streak with Gallup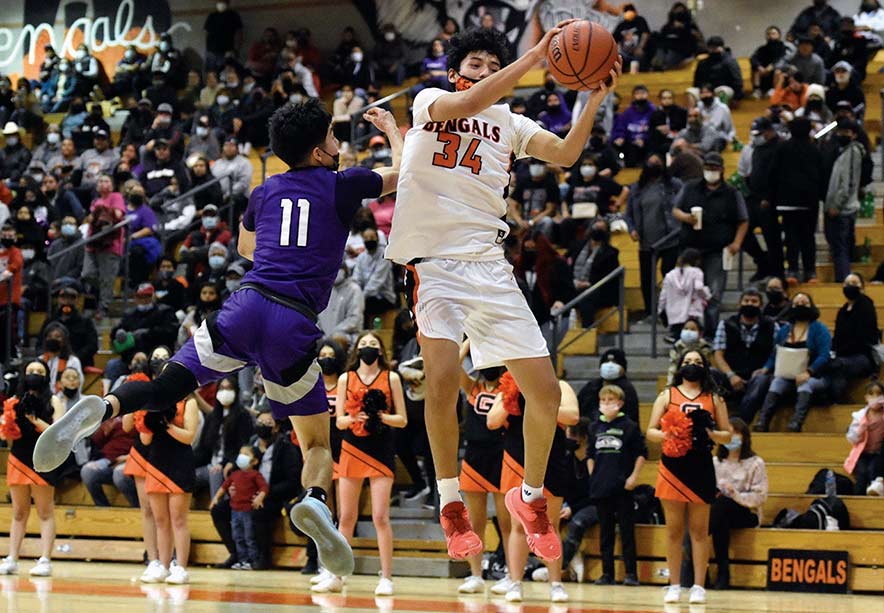 GALLUP
Streaks are meant to be broken.
In Miyamura's case, the Patriots waited nearly three years to get the best of its city rival finally.
On Saturday night, the Patriots trailed only once against a depleted Bengal squad to claim the third-place trophy at the Gallup Invite with a 54-51 win.
The three-point win was the second-ever victory over Gallup under the tenure of Miyamura boys' basketball coach Reyes Hernandez.
"We have high respect for them," the Miyamura coach said. "We want to beat that team every year. We want to win district, and we got to go through Gallup High. They're the class of the district, and so this is a stepping-stone in the right direction."
Gallup coach Joshua Dunlap took the blame for the loss while reiterating that he didn't prepare his guys.
"If I was any other team, I would play us 2-3 zone, and that's on the coach right here," he said. "Once we get all our guys back, we'll be running our system against these zones.
"But that's the name of the game," he said. "If you run a 2-3 on us, we're going to be shaky like that. We were definitely shaky tonight, and that's on me. I got to make sure my guys know where they're supposed to be and be confident in what they're doing."
Besides an early 2-0 lead, the Dunlap-coached team trailed Miyamura for most of the game as the Patriots got steady production from its guard play.
Senior Mathias Rodriquez finished with a game-high 27 points. He scored most of his points from the inside as Miyamura hit some early threes to open up the lane.
"I guess I was hot tonight," Rodriquez said of his exploits. "I just kept driving it in and scoring points, but it's all about confidence."
The Patriots displayed that trait for much of the night as back-to-back treys from Ja'kel Ahiyite, and Dionte Gilbert gave the Patriots a 6-2 cushion with 6:10 left in the opening quarter.
The Patriots added three more treys, two by Rodriquez, to open up a 19-12 cushion heading into the second.
Those long-range makes, Hernandez said, is what the Patriots needed after it came off a 76-51 defeat against Farmington in the tournament's semifinals.
"We got our butts handed pretty good," the Miyamura coach said of their previous game.
"We had to come out and get off to a great start," he said. "We had to get some confidence, and I think we did that for the first couple quarters."
And although they tapered off a bit, Miyamura did not relinquish the lead as Gallup closed the gap down to 24-22 on a 3-pointer from senior Kody Touchine with just under four minutes to go in the half.
At the break, Miyamura led 29-25.
In a low-scoring third, the Patriots extended that lead to 38-32 entering the fourth.
That is when things started to pick up as Rodriquez scored eight straight for Miyamura while Gallup got treys from Nathaniel Yazzie and Jermaine Smith.
A 2-point basket by freshman Kristian Touchine got the Bengals within 44-42 with just over five minutes left.
A 3-pointer from Gilbert, however, gave Miyamura some momentum as it built a 53-44 cushion on a basket by Rodriquez with 1:45 to go.
It took almost a minute for Gallup to score, but Yazzie's trey at the 47-second mark spearheaded a 7-0 run. He added a basket with 10 seconds left, cutting Miyamura's led down to 53-51.
At the other end, the Bengals put Gilbert Valdez at the line, and after his miss on a one-and-one attempt, Rodriquez came up with a key steal, swiping the ball away from Gallup's Kristian Touchine.
Rodriquez then hit 1-of-2 free throws with 5 seconds to seal the win.
Dunlap said his team never faltered despite trailing by nine points late in the game.
"We're never out of it, we're always gonna play hard," Dunlap said. "I can't even fault Kristian at the end. He's been playing great for us with all these injuries. He's a ninth-grader.
"Man, he's really stepped up," he added. "That's a learning experience for him and us, but we still had a chance to win at the end of the game while we're missing 10 varsity guys."
For Gallup, Nathaniel Yazzie finished with 16, while Touchine added 15.
Dunlap said he should have all his players back this week as they are set to play at Chinle on Saturday.
"We're excited to go to that gym, and we've never played in that gym," he said. "We've been trying to play Chinle for four years now. We finally got it worked out. Hopefully, we'll have a whole team."
With his top players returning, Dunlap said he'll have a team out there that Gallup High can be proud of.
"There's a lot of guys coming back, so it's not the end of the world," he said. "But for this coach right here you're going to see a whole different team by the time we play Miyamura again."
In the fifth-place game, the Sandia Prep Sundevils of Albuquerque defeated Grants by a 50-46 count to claim the consolation championship.
Window Rock took seventh with a 67-49 win over Navajo Prep.
---