Navajo Prep girls get over hump, reach Final 4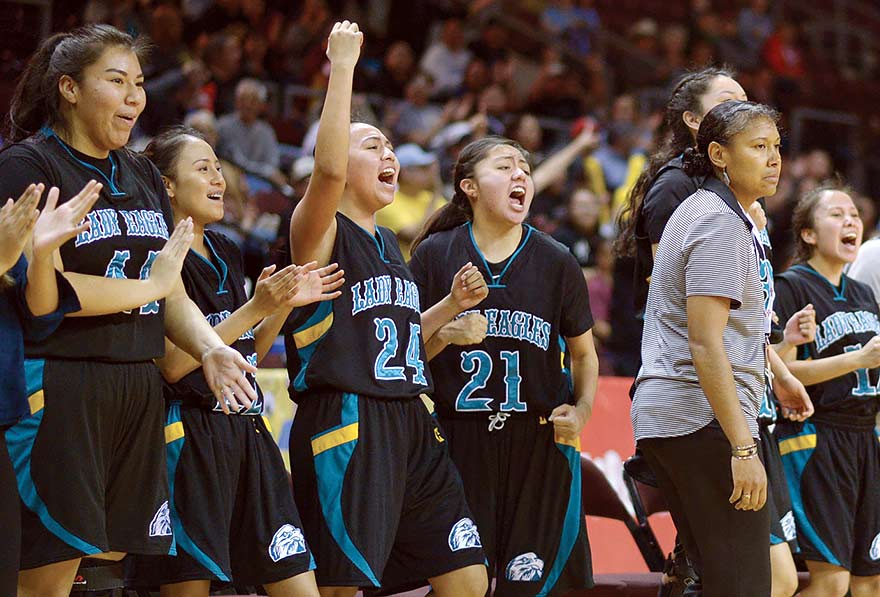 RIO RANCHO, N.M.
After seven years of coming up short, the Navajo Prep Lady Eagles overcame a proverbial hump on Tuesday at the New Mexico Class 3A state playoffs.
The Lady Eagles reached the Final Four round for the first time since 2012 as they upended No. 4 seed Hatch Valley Lady Bears by a 66-57 count at the Santa Ana Star Center in Rio Rancho.
"It's great that we made the Final Four, usually it's been either the first round or the quarterfinals," longtime Navajo Prep coach Rainy Crisp said. "These girls are hungry and our senior leadership have that experience of being here. They know what it takes to be here and they're really pulling us through."
Crisp also spoke highly of sophomores Aiona Johnson, Hailey Martin and Laila Charley as those three players combined for 46 points with Johnson leading the charge with 26 markers.
"The great thing about them is they just play basketball," she said of her underclassmen. "And, you know, they're fearless. Sometimes that fearlessness will get us in foul trouble but at the same time they're aggressive. It's been awhile since Navajo Prep has had this type of team so we're taking full advantage of it."
The fifth-seeded Eagles will take on top-seed Las Vegas Robertson at 9:45 a.m. today at the Santa Ana Star Center as Robertson pulled away from West Las Vegas by a 73-51 count.
The winner of Thursday's semifinals advances into Friday's state championship game, which is scheduled for 3 p.m. at the Dreamstyle Arena, "aka the Pit," on the University of New Mexico campus.
To reach the semis, Navajo Prep overcame a four-point deficit at the start of the fourth quarter. The Eagles changed the complexion of the game by slapping on a full-court press and that pressure yielded five Hatch Valley turnovers.
Navajo Prep cashed in on three of those possessions as they earned a 50-47 edge after Johnson scored on a putback with 5:51 left in the contest.
On the ensuing inbounds, Charley came up with a steal but her basket was nullified as Hatch Valley coach Ben Trujillo called a timeout just as Navajo Prep swiped the ball away.
Nonetheless, the Eagles picked up where they left off as they opened up a 54-49 cushion with 3:41 left on two free throws by Johnson.
"Our guards are pretty quick so they know how to trap," Johnson said of the extra opportunities they had.
"I think our pressure just frustrates our opponents," Martin chimed in.
Hatch Valley made one final push as they got within 56-53 on two free throws from junior Maddison Williams with 2:41 left but Navajo Prep iced the game by making 6-of-8 free throws, which capped a 25 to 12 scoring run for the Eagles.
Fueling that fourth quarter outburst was Prep's ability to make shots. In the final eight minutes, the Eagles hit 7-of-11 shots with all of their attempts coming inside the arc.
Early in the contest, the Eagles had a hard time finding their outside range as they went 3-of-16 from the 3-point line. But with a pair of treys in the opening quarter, they led 16-14.
In the second they hit another one but Hatch Valley used a late 7-0 scoring run to take a 26-25 edge at the break with junior Tavyn Trujillo and senior Megan Montez combined for 18 points.
"We knew this was going to be a good game and Hatch Valley came out strong," Crisp said. "They were definitely ready to play."
At times, Trujillo broke down Preps' defense, which didn't surprise Crisp.
"She's a great player, she's very aggressive and she's smart," the Navajo Prep coach said. "She can create for herself so our goal for the third and fourth quarter was to shut her down, especially in the fourth.
"We needed to shut her down and limit her points because everything was going through her," the Navajo Prep coach said. "Laila Charley did a great job for us in playing defense for us."
Trujillo finished the contest with 17 points but she had to earn them. With the focus on Trujillo, Hatch Valley's other guard, Maddison Williams, carried the scoring load for the Bears as she put in 12 of her team-best 18-points in the second half.
As a team, Navajo Prep won the rebounding battle by a 41 to 23 margin as they collected 18 offensive boards for 16 second chance points.
"Kariah Wilson came up big for us by grabbing some rebounds," Crisp said of her senior post who finished with a double-double with 10 points and 14 boards.
On the defensive end, Navajo Prep's defense forced 18 turnovers, which led to 22 points.
And although she was impressed with those numbers, Crisp said the difference in the game came down to limiting their fouls. In the opening quarter, Prep where whistled for 10 fouls and in the second they cut that down number to 8.
"The biggest thing for us was adjusting to the officials," she said. "(Early on) I think that is what took us out of our game. That is what we did better in the third and fourth quarter, especially in the fourth quarter. We adjusted and we just played good defense.
"It was a great team win and the defense did great tonight," Crisp added. "Our shots weren't falling tonight from the outside so we had to create our points off of our defense."
---