Former participant now runs art competition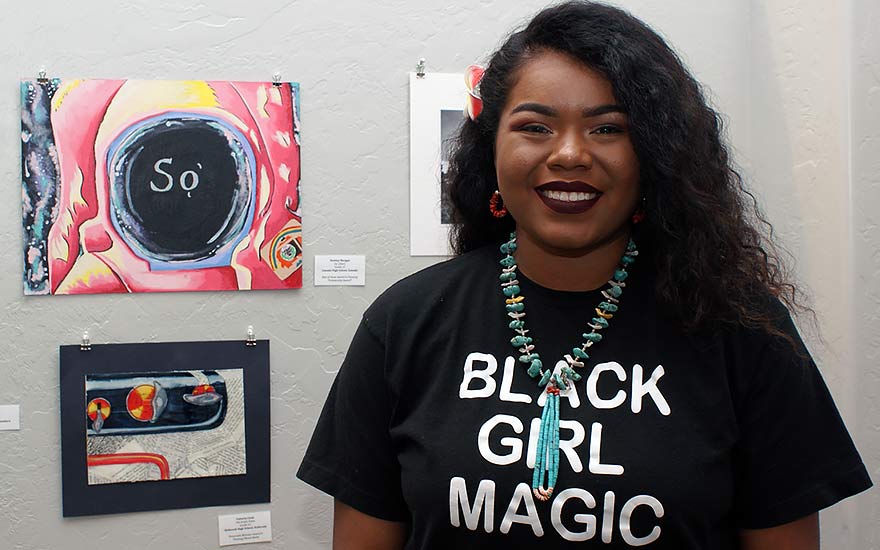 SHOW LOW, Ariz.
In 1997 contemporary Diné painter Peterson Yazzie won the high school art contest held by Northland Pioneer College, which earned him a scholarship to the school and eventually led him to become a teacher. Now the two-dimensional art instructor and faculty member helps run the same annual art competition at the college.
Yazzie, who says the foundation and inspiration for his work is Navajo culture, says winning the scholarship changed the course of his life.
"Nobody in my family went to college. It wasn't even on the menu — I didn't think it was a possibility," said Yazzie. "For me, it was a huge thing, and being able to be in a position to offer this opportunity to other high school students now really amazes me."
NPC, which has four campuses and five training centers in Northeastern Arizona, puts on a high school art show every spring and invites regional high schools to enter artwork. This year 109 entries were received from 8 schools, and 73 works were chosen to be part of the exhibition.
"It's a juried exhibit," said Yazzie "Most of the entries are paintings, drawings and photography. After all of the pieces that been received, we choose the award-winners based on quality and content."
The top winners in each category are awarded a $2,000 scholarships to the school and awards were given out an opening reception last Friday at the Talon Gallery at the White Mountain Campus in Show Low.