Peshlakai memorial tournament draws 56 teams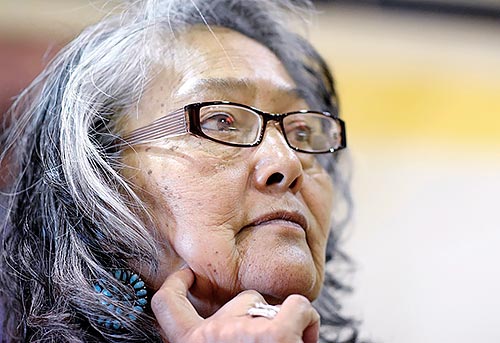 NEWCOMB, N.M.
To help combat and raise awareness against drunk driving, Darlene and John Peshlakai created the Peshlakai Angels Memorial "Don't Drink and Drive" Basketball Tournament.
Del Lynn, 19, and DeShauna, 17, were killed on March 5, 2010, in Santa Fe, N.M. when they were rear ended by repeat DWI offender James Ruiz.
The 5th annual basketball tournament was held from last Wednesday and ended on Sunday as 56 teams competed for the tournament title at the high school and middle school gyms in Newcomb. Pictures and banners of the sisters decorated each gym as a reminder to let participants to not drink and drive, a concern Darlene says cannot be stressed enough.
"My concern is (someone) getting behind that wheel after you've been drinking," she said. "I don't want to say 'don't drink' because it's a social skill for some. My point is don't get behind that wheel when you drink. Walk home, call somebody, or get a motel. Prepare yourself if you're going to drink, to not drive."
---