Revamped Volcano Vista team includes three Diné players: Lady Hawks come up short in 5A title game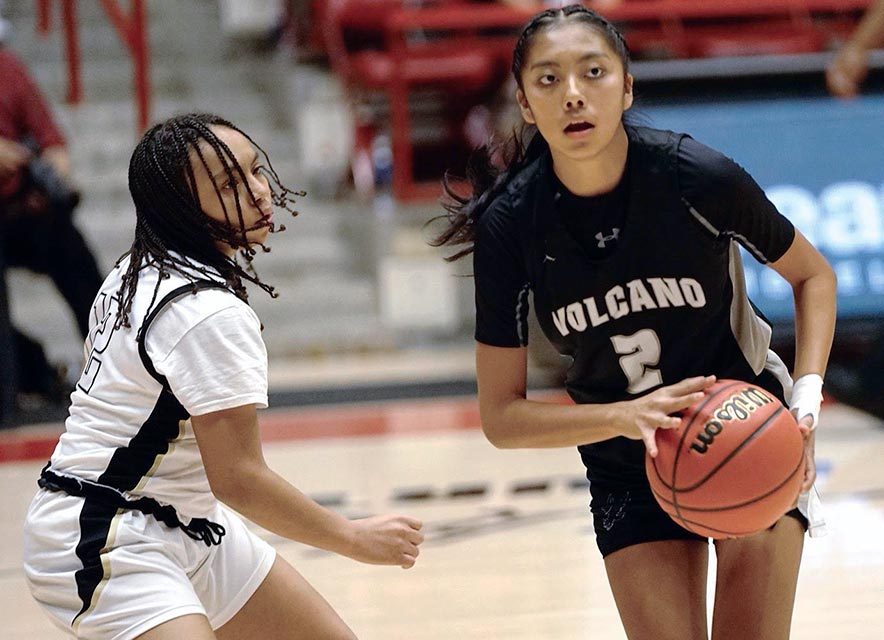 ALBUQUERQUE
Volcano Vista girls basketball coach Lisa Villareal had to revamp her lineup entering the 2022-23 season.
The 16-year varsity head coach had to replace three starters that won back-to-back 5A state titles. That loaded team won 43 straight games and despite some new faces the Lady Hawks made its fourth trip to the state finals in the large schools division.
"I'm not as surprised as everybody else was," Villareal said. "These girls always went up against the best and they played with a lot of heart and soul, and they believe in what we do as a system, and as a program. And we put them in as many positions as possible to be successful.
"What a lot of people don't realized is the girls that I put on the floor tonight we're constantly going up against those seniors that we lost last year, so they were bound to get better," Villareal said. "The pressures they had to play against Jaelyn (Bates), Natalia (Chavez) and Kennedy (Brown) and those girls put these girls to the test each and every day."
Diné players Lilliana Duncan and Storm Nguyen said they came into this season prepared thanks to the aforementioned players who now play at UNM. The third Navajo player is eighth grader Mvhayv Whitehair.
"They taught us a lot in terms of leadership skills, and it's really just like iron sharpens iron," said Nguyen, who has roots in the Ganado area. "We really learned from the best and whenever I could I asked Jaelyn or Natalia questions about the game and what they would do and how they handled the ball in different situations."
Nguyen, a senior, said she applied what she learned to this year's team that finished 27-4 overall.
"Having them there to lead me and guide me was a huge asset," she said. "I carried those things I learned into this season."
Duncan said they had to fill some big shoes and by her estimation they passed with flying colors.
"We had to fill in the gaps with the players that we lost last year," the junior guard said. "They were big-time players, but I think it was more of us proving to ourselves that still had a good team."
As the third seed Volcano Vista knocked off Eldorado, Las Cruces Centennial and Las Cruces High to reach the 5A title game.
Villareal said she's happy with the progress they made this season.
"These girls have worked hard all season long," she said. "You know, I keep talking about how they're writing their story and it continues. I know at the beginning we weren't really looked at to be a team to be reckon with, but I think we proved to a lot with where we're at right now."
In Saturday's championship game, the Villareal-coached team could not overcome a 10-point deficit as it fell short to top seeded Hobbs Lady Eagles, 52-45, at the Pit in Albuquerque.
"We missed some early shots to kind of keep us in the game," Villareal said. "We had to struggle to actually to stay in the game because we played from behind.
"The effort these girls showed was just tremendous," she added. "Our team never gave and that is all I can ask for as a coach – a team that never ever gives up."
The meeting on Saturday was the third straight year that Hobbs and Volcano Vista played for the 5A title with the latter winning the previous two.
"There is a revenge factor, but more than anything these girls wanted to win their first," Hobbs coach Joe Carpenter said. "I'm just so happy for them because they put in a lot of time, and they wanted respect from people.
"They knew they were the only No. 1 seed on ProViews Network not to get picked to win," he said, "so they wanted to do well."
After leading 21-19 in the first half, Hobbs put together a 12-4 scoring spurt for a 33-23 entering the fourth.
Volcano Vista didn't go quietly as it got within 33-30 on a bucket by junior post Taejhuan Hill.
The Lady Eagles responded by scoring 13 of the next 19 points for a 46-36 cushion with 2:32 left. The Hobbs coach said the "experience" factor on his team proved to be the difference.
"I'll be honest with you, we're an experienced team," he said. "We're young, but we've been here six times in a row, so a lot of these girls have been here three times.
"And so, we just held our composure and we talked about that," he said. "We're experienced, so we're going to handle this, and we did that."
Hobbs had four players in double figures with Jayla David and Nakia Mojica scoring a dozen each while Bhret Clay added 11 and Brynn Hargrove chipped in 10.
For Volcano Vista, Hill lead the team with 19 points and 10 rebounds. Duncan finished with 11 points on 5-of-10 shooting.
"With the team making the championship game, I think we had a pretty good season," Duncan said. "I had a slow start, but I feel like I'm a different player from where I started at the beginning of the season."
Villareal said she's excited to get Duncan back for another year as she played a vital part of Volcano Vista's offense this past season.
"I don't ever take her out of the game because she has a high basketball IQ and she's one of our go-to-players for scoring," Villareal said. "She's a multi-sport athlete and I love multi-sport athletes. She does soccer and I'm just happy to get her for basketball because I feel multi-sport athletes give you a lot more.
"You know, they're more conditioning," she added. "They just worked a lot of muscles and I just I love what she brings to our program."
As for Nguyen, Villareal said she went through a "rough patch" at the start of the season by accepting the role that she had as the team's sixth man.
"As she grew through our system and understood what was expected she became a really great player," Villareal said. "She ended up being one of the players that was in at the end of the game when we were making this run in the state tournament."
As the first player off the bench, Nguyen said she gave it 100 percent on both ends of the floor.
"If we needed energy on defense, I would give that," she said. "And if we needed someone to knock down a 3, I would give that.
"I just applied my skills wherever I could with the minutes that I was given," she added.
---