3A boys playoffs: Crownpoint fights back, loses to Sandia Prep
RIO RANCHO, N.M.
In the top half of the 3A bracket, the Crownpoint boys came up short to No. 4 Sandia Prep by a 38-37 count on Mar. 8 in the state quarterfinals.
"It was a good game, and the boys played with a lot of heart," Crownpoint coach Thale Goodluck said. "They put everything they had. My seniors are hard working. Anytime I had open gym they were there and it's one of the reasons why we were one of the top contenders in the state."
Crownpoint trailed by as much as 11 points in the early going of the third, but the Eagles chipped away at that margin with senior post Tyrell Archie (seven points) starting a 10-4 rally with a 3-point play.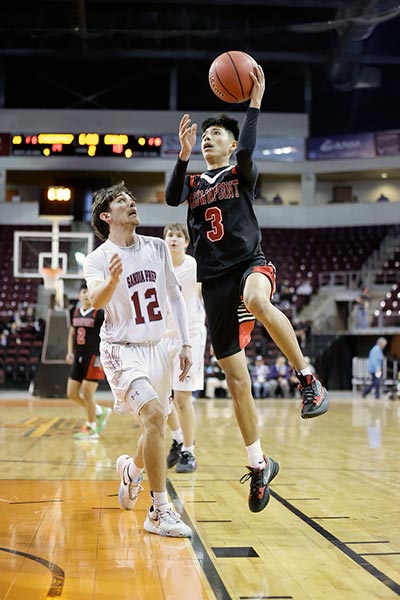 Senior guard Tylon Tsosie added five of his team-high 16 points to pull Crownpoint within 32-27 at the end of the third quarter.
"We've been fighting all season and being down is not new to us," senior Taye Harvey said. "We always try to play from the beginning of the game to the very end no matter what.
"That is how we're taught to play basketball," he added. "We just don't give up."
The Sundevils upped its lead to 36-31 behind 1-of-2 free throws from Jaxon Feit with 4:58 left in regulation.
The Eagles got two consecutive baskets from Tsosie with his second one drawing Crownpoint within 38-35 with 1:01 left on the clock.
The Eagles put Sandia Prep post Alex Jeffries (19 points) at the free throw line for a pair of one-and-one opportunity and both times he missed.
And with three seconds left, Tsosie was fouled and he hit both free throws as time ran out on the Eagles.
"I wasn't really aware of the time," Tsosie said. "Maybe if I knew the time I would have just intentionally missed that last free throw so that we could get an offensive board, but I was just not aware of the time.
"I thought we had more clock left," he added.
The Eagles hit 12-of-35 shots, which included a 3-of-13 effort from long range with a pair coming from senior Jordan Harrison.
Harvey said it was tough to manufacture points due to the Sundevil's size.
"They have a lot of length," said Harvey, who finished with two point, which is well below his average
"They're whole five, they're probably over 6-foot so it was hard to get shots off inside the paint because they got length."
And although they got some good looks at the 3-point line, they were not connecting.
"It felt way different coming from our school to this court here," Harvey said. "We were trying to find our shots before the game, but when it came to the game we couldn't hit anything from the 3-point line except for Jordan."
"I think the (setup) played a big factor," Goodluck said. "I mean, with our school we have the rims and then the wall. And the one here we had the rim and a big backdrop in the back, so it took some time for the kids to adjust to their targets."
Despite the loss, the Crownpoint coach was real proud of his senior group as he had Harvey, Tsosie and Archie hit the 1000th point milestone this past season.
"They achieved that and it's an honor to hit that milestone," Goodluck said.
With his big pieces set to graduate, Goodluck said he's going to hit the offseason pretty hard.
"I got find new stars and build confidence up in them," he said. "The biggest thing these boys had here was chemistry. I've coached them since middle school and they played as a team and worked as a team. This new group that is coming up, I'm going to do the same thing with them."
---