Thin St. Michael team falls to Fort Thomas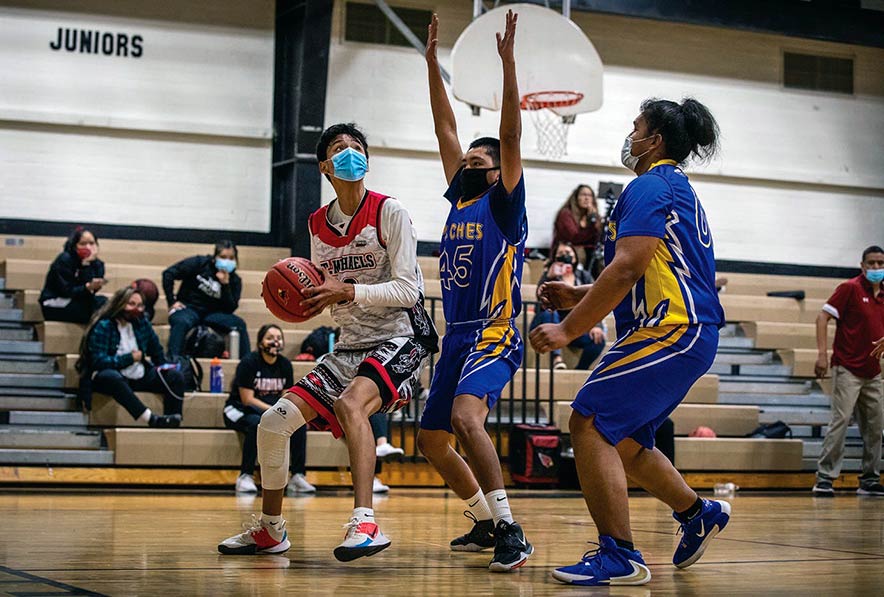 EAGER, Ariz.
Having a full roster could solve a lot of problems for the St. Michael boys' basketball team.
Unquestionably, the Cardinals are lacking numbers this season with only seven players on their roster.
"We're doing what we can with a short bench," said Cardinals coach Patrick Dalgai, who took over the team on an interim basis after head coach Joshua Anderson stepped down to attend to personal matters.
"I'm thankful that I was provided the opportunity to coach these kids," he said. "I hope that I can guide them in the right direction and teach them what I know about the game."
Of the seven players, only Trey Holgate, Matthew Herrera, Dayshon Dalgai and Dante Garcia have varsity experience.
"We have one kid that is new to the game," Dalgai said. "We're a young team, but we do have some upperclassmen that are doing pretty good leading the team. They're setting the example and they're teaching the younger guys on where they need to be and where they need to excel."
Admittedly, Dalgai said his team is struggling as the Cardinals are still seeking their first win of the season. Last Friday, St. Michael (0-8) showed some promise as they trailed by six points at the half to Fort Thomas, the defending 1A state champions.
The game, however, took a turn as the Apaches used their size and girth to post a 61-41 win.
"Defensively, we knew what they were going to do in the first half," Dalgai said. "But come second half, they started to get more physical and they picked apart our zone defense."
In that promising first half, the Cardinals got a pair of treys from Holgate and with 6:25 left in the half they opened up a 19-14 cushion after a basket by Dayshon Dalgai.
Nonetheless, the Apaches closed out the half on a 17-6 run with junior Cameron Anderson pouring in 10 of his team-best 21 points, which included three treys.
His second three broke a 25-25 tie as Fort Thomas capped the half with another trey from senior Tayshaun Wilson for a 31-25 cushion.
"I thought we had a pretty good start," Patrick Dalgai said. "We had a lot of opportunities. We had some open looks and we had some shots fall."
The St. Michael coach, however, sensed that the tide was shifting during the Apaches' late first-half run. His fears were answered when Fort Thomas scored 16 of the first 21 points in the third stanza for a 47-29 advantage.
"We're going to learn from this game," Patrick Dalgai said. "With every game we need to know how to adjust what we're doing offensively and defensively. As a coach we can tell them what to do, but it's up to the players. They have to execute those plays."
Dayshon Dalgai led St. Michael with 20 points while Holgate added 10.
In addition to Anderson, Fort Thomas also got a great effort from Colby Pino as the senior post had 15 points while pulling down 15 rebounds.
St. Michael will play at Page today in a freedom game before they resume 1A North East play on Friday with Ray at Joseph City High School.
---