Tohatchi, Gallup girls capture state titles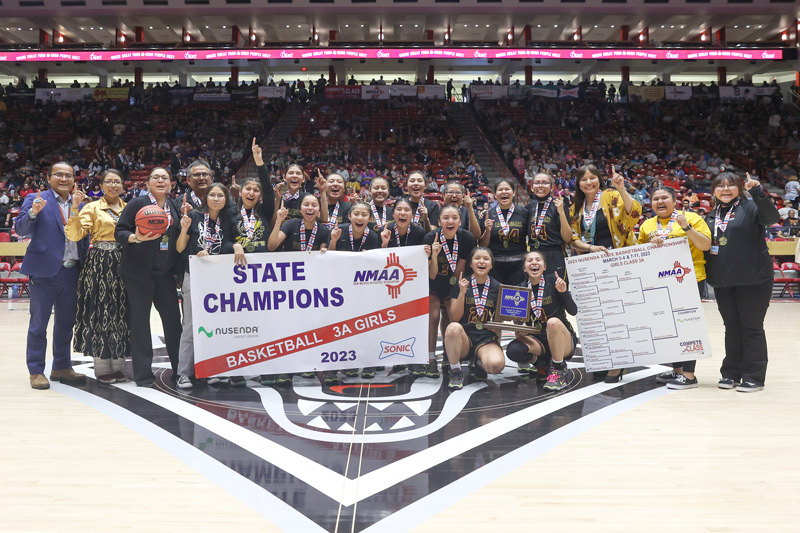 ALBUQUERQUE
Three state championships were decided at the Pit on Friday, with area schools Tohatchi and Gallup girls winning its respective playoff brackets.
The fourth-seed Lady Cougars opened up a 12-2 first-quarter advantage and steadily built an insurmountable cushion in beating No. 3 seed Santa Fe Indian School, 46-24, in the Class 3A title game before a capacity crowd.
"I'm very proud of these ladies," Tohatchi coach Tanisha Bitsoi said. "This is very emotional. We've gone through so much this season, and this opportunity presents itself for them.
"They're very hard-working young ladies, and I can't say how proud I am of them and so grateful that they're able to take us on this journey," she added. "If not for them, we're not here, so I'm just full of emotions right now."
Behind a 16 to 7 outburst in the third stanza, Tohatchi gained a 36-15 advantage, with junior Marisa Denetso hitting a pair of 3s while junior Brooke Badonie added six points.
"I'm just happy," the junior guard said. "I'm so proud of my team. I'm happy that we were able to come together in the end, and we were able to play as a team."
Last season, Tohatchi dropped a 43-41 decision to SFIS in the 3A semifinal, with Badonie going 2-for-17 from the field as she was coming off a knee injury.
In Friday's game, she finished with a dozen points and seven assists.
"This feels so much better than last year," she said.
The Lady Cougars also got 12 points from junior Marisa Denetso and nine from senior Kiana Bia.
SFIS, which struggled mightily from the field, got 10 points from sophomore post Emma Lewis. The Lady Braves connected on 10-of-45 shots for 22%, while Tohatchi made 15-of-29 shots for 51.7%.
"I've got to give them credit, they're a great team, and they played really well," SFIS coach Teri Morrison said of the Cougars. "They're on a great run right now; they played exceptionally, and they're playing with a lot of confidence.
"We missed our first 12 shots, and that's usually not us," she added. "We've had cold quarters, but not where it just looks like nothing was working. So yeah, I give them credit. They did what they needed to do, and that's always the point."
4A girls  
The Gallup Lady Bengals hit four treys and got nine points from sophomore post Rylie Whitehair in the second stanza, which ultimately proved to be the difference in its win over archrival Kirtland Central.
Gallup won the 4A state title with a 57-47 win as the Bengals won its seventh state title, two under head coach Todd McBroom.
"I mean, the kids played really well," McBroom said. "I think the first quarter we had some jitters and whatnot, but we came out in the second quarter and played lights out, and kind of built a lead and was able to maintain that lead throughout the rest of the game. And these kids, they're unbelievable."
Senior guard Daliyah Morris hit two treys in that surge, while Kiera Livingston and Delia Tello added one each.
"We had two in a row right there, and it kind of changed the momentum," McBroom said. "The last time we played them, we went 0-for-7 on 3s, and that's the first time in my career that's happened, and we still beat them."
Inside, Whitehair made her presence known with three field goals and connecting on 3-of-4 free throws in that second quarter as Gallup erased a six-point first-quarter deficit and led 35-24 at the break.
"Every time I knew that I beat the girl, I took her to the basket," Whitehair said. "I just went up strong because the refs weren't going to call barely touched (fouls). So, I went up there, and I took it strong to them."
Despite trailing by as many as 13 points, KC got within 43-41 with 5:56 left in the fourth on a layup by senior Teghan Begay, but that was as close as they would get as Gallup closed out the game on a 14-6 run.
"We were putting all our energy into that comeback," KC coach Devon Manning said. "You know, we were right there, but I think we went back to back to where we're looking to score layups, and either we missed the layup or we turned it over.
In those empty possessions, Gallup scored, pushing its lead to 50-41.
Senior post Aaryanna Lansing led KC with 19 points and 10 rebounds, and Begay added 16.
Gallup had four players finish in double figures, with Whitehair leading the way with 18 points and 13 rebounds.
"Riley, oh my gosh, she's a good post," Lansing said. "She's really big, and she's strong, so I think it was hard to work around her, and I tried to play defense, but they just overworked us.
"I just couldn't stop her," she added.
Gallup also had Livingston with 12 points, and Morris and Tello added 10.
For a more in-depth story pick up Thursday's Navajo Times.