To'hajiilee's Donata Secatero hits game-winner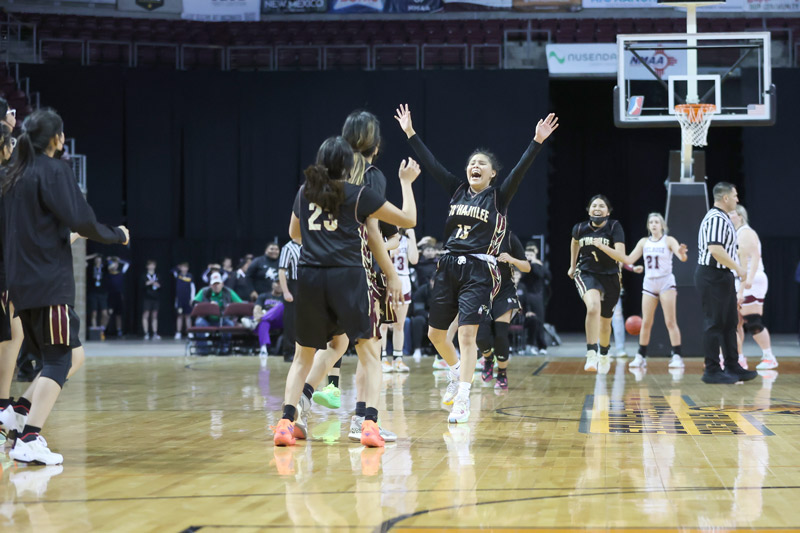 Lady Warriors advance to 1A title game
By Santiago Ramos Jr.
Special to the Times
RIO RANCHO. N.M.
With time running out, Lady Warrior senior guard Donata Secatero laid in the winning layup to lift No. 4 seed To'hajiilee past top seed Melrose in a dramatic 54-53 state semifinals win Thursday afternoon during the Class 1A girls state basketball championships at the Rio Rancho Events Center.
To'hajiilee (27-1) will play No. 2 Roy/Mosquero in the state finals Saturday at 10 a.m. at the Pit. Roy/Mosquero downed No. 6 Animas 55-39 in its state semifinals.
Melrose junior Karlee Elliott gave the Lady Buffaloes a brief lead when she sank the back end of a two-shot foul with 16.9 seconds left in the game.
But Secatero went to the hoop and scored the go-ahead basket, 54-53. She was fouled on the play but was unable to convert.
Melrose's Sorrell Allen grabbed the rebound, but Kinlee Bradley failed to connect on a final shot as time expired, sending To'hajiilee to its first state finals.
"She won the game for us," To'hajiilee head coach Thomas Sullivan said of Secatero. "I told the girls we're pretty much evenly matched up. Whoever executed better today was going to win the game. And it just so happens we had the ball last."
Sullivan said that he expected a close game with Melrose.
"I told them a long time ago that when we were going to match up with Melrose today, it was going to be a dogfight to the end. We told them at halftime it was going to come down to the last possession. And it did."
Secatero said she needed to step up in the final seconds.
"I just knew that I had to step up, help my team," she said. "I was doing turnovers and everything like that, so I knew that I had to step up for my team. I'm so glad that they were shooting, they were getting rebounds, they were assisting, getting some steals. I'm thankful for this. I just knew I had to step up with 10 seconds on the clock. I had a good shot."
During last year's state semifinals, To'hajiilee was eliminated by Melrose.
"Melrose has been our nemesis since she was a freshman," said Sullivan pointing to Secatero. "She finally got them this year."
Melrose head coach Josh Meyer said it was a "tough loss."
"I thought we got a good trap right there. We were just trying to slow them down. We had a good trap, and that girl just threw it over her head, found her, and scrambled, and we gave up that shot. We were trying to get a timeout. We could have a great outlet and get a layup, and I chose not to call a timeout."
Meyer gave credit to To'hajiilee.
"They're the best passing team in 1A girls basketball," he said. "They're very good passing the ball, so we focused on blocking their cuts. But we had every opportunity. Any time you get a one-point game, you look back and watch that film that's gonna hurt – missed layup here, missed layup there.
"Hats off to To'hajiilee," he said. "They played great. They hit a lot of key shots and did a lot of great things."
To'hajiilee shot 40 percent (16 of 40), while Melrose shot a poor 31 percent (15 of 49). That miserable shooting paved the way for the unexpected state semifinal loss for the Lady Buffaloes.
Melrose, which won three straight state titles from 2018 to 2020, led for the first quarter and a half before To'hajiilee tied the game for the first of seven ties at 17-all after a score by Cadence Secatero and then grabbed its first lead of the game 20-17 on a trey by Tyler-Rose Apachito with 4:40 left in the first half.
Lady Warrior Kaiden Wilson, who led the team with 17 points hitting 3-of-4 treys, sank free throws early in the fourth quarter to tie it at 43-43.
Donata Secatero, who added 14 points and six rebounds, completed an old-fashioned three-point play that tied it at 49-49 with less than two minutes left. Alyce Apachito put the Lady Warriors back in front on a putback. A free throw by Cadence Secatero made it a three-point game, 52-49.
Graci Odom, who chipped in 14 points, sank the front end of a 1-and-1 for Melrose with less than a minute remaining. In contrast, teammate Isabelle Sena, who finished with a game-high 19 points, tied it for the seventh and final time that, set up the winning shot by Donata Secatero.
"Hey, we got to stop No. 13 (Sena) and her penetration," Sullivan said, "We've been watching her all year. She's been doing that all year. You stop her, and she dishes off to a teammate. She is really good at that. We just had to come back and try to stop the best we could and take care of what we do.
"I told the girls that it was going to come down to execution, free throws and boxing out, and getting the rebounds. They (Melrose) kinda lost their composure a little bit. They missed some shots they normally hit, and my girls never lose their composure. They're prepared for anything they face."
The Lady Warriors, which will lose seven seniors, posted two effortless wins at state, whipping No. 13 Jemez Valley 78-34 in the Sweet 16 round and No. 11 Dora 69-42 in the state quarterfinals.
Melrose dumped No. 16 Cimarron 55-20 in the first round and then turned back No. 8 Springer 44-33 in the state quarterfinals.
Sullivan said that seeding does not matter at state.
"We told the girls this time anything can happen at any time at any moment," he said.
---