Window Rock duo uses their height for teamwork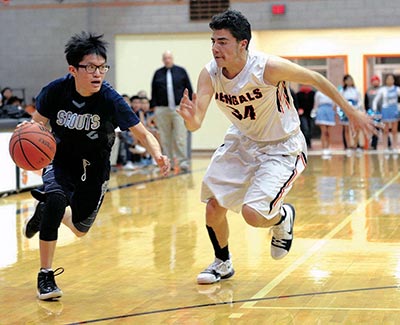 GALLUP
Dereny Long and Tristan Nez sometimes forget their primary roles on the Window Rock boys' basketball team.
Long, a point guard who is just 5 feet, 4 inches tall, is who the team expects to take care of the ball on offense, and Nez, who stands 6-3, is the post, who is seen as the playmaker in the paint.
The two seniors embrace their roles but don't like to limit themselves to one position and often switch jobs with one another.
Window Rock head coach Joel Harper said it's become a habit for the two.
"I have to remind each of them of their position now and then," he said. "Dereny does a great job taking it in. He's a smaller guard and he doesn't see size – he'll go after anybody. He'll guard anyone and he'll take it in on anyone, and he'll look for the opening and try to get there.
"Tristan likes to play outside," he said. "I have to remind him, 'You can also play inside you know.' He's got a phenomenal inside game, but now and then he's got a good shot outside and he really knows how to see the court and anticipate an opening so he can play well either making the assist or making the shots on the outside."
The two are on opposite sides of the spectrum. Long doesn't have much height but likes to play as he does and Nez has size, yet is comfortable playing like a guard.
Long said his desire to play big stems from having to embrace his size, or lack thereof. He said it wasn't until after his freshman season that he learned to use his size.
"Honestly, my freshman year I wasn't really playing big and I was afraid until I started playing in tournaments and against bigger guys," Long said. "I started facing reality that I'm the smallest guy on the court, that I have a 99 percent chance of being the smallest one. I wanted to be the smallest one, but I also wanted to be one of those to look out for and that's what I try to do."
---