Alchesay wins 2A North behind effective running game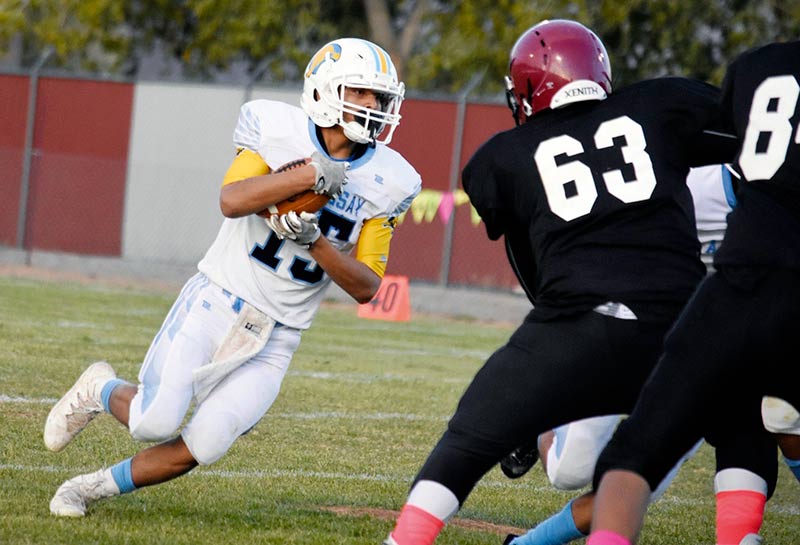 MANY FARMS
A tough preconference schedule helped pave the way for the Alchesay Falcons to claim their second consecutive 2A North Region title last Friday night.
The Falcons capitalized on a number of short fields to post a 64-14 win over Many Farms.
"I am proud of the kids," said Alchesay coach Brandon Newcomb, whose team capped the regular season with an 8-2 overall record, which includes a 6-0 mark in league play. "The region championship was on the line so this game meant something to us. We wanted to defend it and we knew Red Mesa and Many Farms were going to challenge us."
Alchesay has a bye this week and they will await the release of the Arizona Interscholastic Association 2A state bracket on Saturday to see whom they play. In the latest AIA power polls Alchesay was ranked No. 10.
"As long as we are not matched up with another region champ ranked higher than us we should get a home game because we're the region champs," Newcomb said, while noting that last season Alchesay hosted a state playoff game for the first time in over 20 years.
"We're a basketball town and they've played a lot of playoff games but not in football, Newcomb said. "I don't know how many rez schools have won a playoff game so that is our goal now."
Earlier this year, the Falcons lost to No. 2 Phoenix Christian and No. 7 St. Johns.
"After we lost to St. Johns we started winning," said Tyreck Cosay, one Alchesay's biggest threats in the backfield. "We started the season slow but the competition we played at the beginning of the season got us ready."
Of the 342 yards gained on the ground last Friday, Cosay racked up 166 yards on 13 carries, as the junior running back scored three touchdowns.
On a number of occasions, Cosay broke a couple of tackles to gain more yardage.
"We're fortunate to have him," Newcomb said. "He's a good of a back as I have coached at Alchesay. He doesn't go down on the first tackle and we call that being your own blocker."
"Once I feel contact I just keep my leg pumping," Cosay said. "I just try to keep moving forward."
---