Guest Column: Loreal: The ordinariness of being Diné in Winslow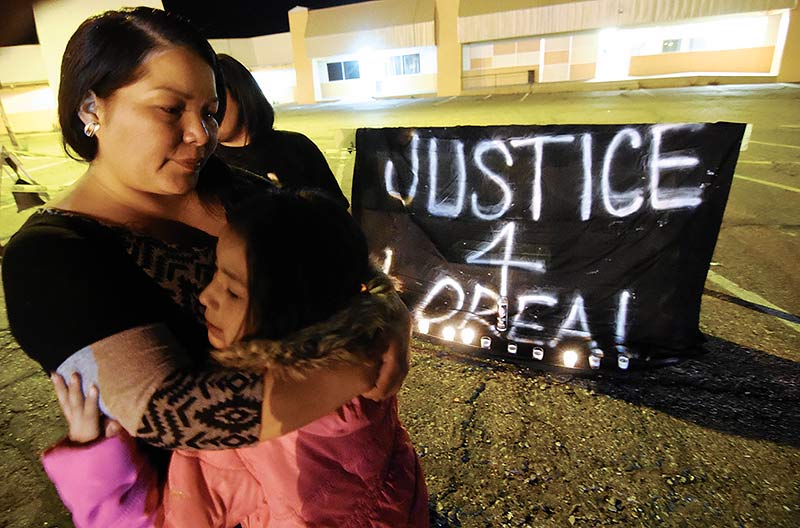 By Jennifer Denetdale
Special to the Times
On Thursday, Oct. 19, as the Navajo Nation Human Rights Commission and the Institute of American Indian Research at the University of New Mexico in Albuquerque neared the end of their day-long inquiry into the murder of 27-year-old Loreal Tsingine, who was shot five times by Winslow police officer on March 27, 2016, the commission's executive director, Leonard Gorman, received notification that the U.S. Department of Justice has closed its investigation into the case.
The DOJ concluded that Loreal's civil rights were not violated, with attention to federal civil rights statue 18 U.S.C., subsection 242, that prohibits certain types of official misconduct. The news was disheartening, to say the least.
The two-day work session spurred social media commentary, with much of it not only toxic, but uninformed. It is difficult to raise questions about cases such as Loreal's where one confronts such sentiments as the following: "Not all police are bad." "It is just one bad apple." The chat becomes about good and bad cops and debates of cops and justified shootings.
Other talk implicates Loreal in her own death: "What was she doing in Winslow?" "She should have put down those scissors." "She should have complied with the police's demand."
Even more noxious are the insinuations that if Loreal had been "traditional," she would not have been on the streets of Winslow that day.
As I read through the law enforcement investigative reports, I thought about the Loreal presented to us: deviant, uncontrollable, mentally ill, silent, erratic, alcoholic, out of place, criminal, sad, impoverished, etc.
That day, March 27, 2016, when Loreal left the Circle K store for the fourth time, after taking two six-packs of beer on an earlier trip, returning and taking a cigarette lighter for which she threw money at the clerk on another trip, she grabbed a hot dog and ate it as she exited the store.
The Circle K attendant called the police each time. What happened to Loreal that day, after she left the store and Austin Shipley identified her as the alleged shoplifter, confronted her and when she resisted – within twenty seconds – shot her five times and left her to die, is neither extraordinary or remarkable.
What happened to Loreal, in fact, is the ordinariness of being Navajo in Winslow, Arizona.
Data from the Centers for Disease Control and Prevention collected from medical examiners in 47 states between 1999 and 2011 indicate that when compared to their percentage of the U.S. population, Natives were more likely to be killed by police than any other group, including African Americans. From 1999 to 2014, Natives are 3.1 times more likely to be killed by police than white Americans. Further, Natives killed by police go largely unreported by mainstream U.S. media.
The Navajo Nation Human Rights Commission's 2010 study of border towns race relations draws upon and extends the 1970s Navajo activists' demands for investigations into race discrimination in towns like Farmington and Gallup, New Mexico, as does the work of The Red Nation, all of which demonstrate that Native people experience harassment by police, local business owners, citizen vigilantes, and political elites at rates much higher than any other demographic in these border towns.
These settlements thrive on the exploitation of Native peoples with its sprawling pawn shops, predatory lending stores, predatory car sales, funeral service businesses, trading posts, and liquor sales, among othersÑall targeting Native customers and exploiting cheap Native labor.
Exploitative economies and harassment of Native peoples, including violence against us by law enforcement, are constants in these border towns. The fact of the matter is, in this country, it has never been a crime to kill an Indian. I find that this fact also extends to law enforcement.
What can we know about Loreal beyond her portrait by the police reports and much of which journalists have drawn upon in their reports of this case?
Loreal's story includes her police record, one some might call a lengthy police record. These accounts indicate that she was not in a good place, she lived an extremely stressful life, and had many hardships. The record is of the desperation of a young Navajo woman who moved back and forth between the rez and border towns; it is not a life that is unfamiliar to many of us who are Diné, for our history of relations with settlers and their settler towns are implicated in the conditions of our lives.
As scholars Melanie Yazzie, Nick Estes, and David Correia observe, "To be Indian in a border town is to be a problem that needs solving; it is to be present when you're not supposed to exist."
Our presence in these towns, on traditional Navajo and Native lands, remind settlers and the state that we are the rightful owners and that we are not to be disposed of so easily. We return and claim our humanity and continue our relations with the land they so arrogantly claim as theirs.
I thought about who Loreal was as a Diné woman, who like so many of us live with and through extremely harsh conditions, who had a daughter whom she loved, of the Diné man, David John, who came forward and claimed her as his daughter. "I helped raise her," he said. Of the Facebook posting of Loreal holding her daughter.
Loreal was one of our relatives. She had a spirit. How do we go forward as a community who remember her not in the way the police investigative reports tell us we must think of her – as one of our lost unredeemable ones, one who deserved to thrown down hard and then shot by the police because she was not compliant? The police investigations even ignore that in the aftermath of her death, Loreal was charged with four crimes, including assault on a police officer.
If anything came out of my involvement in the tragedy of what happened to Loreal in Winslow, it is that the family of Loreal and our community remember Loreal with love and compassion.
I am especially grateful to Radmilla Cody for uplifting us with her compassion and love. As Cody reminds us, K'e brings us together and shows us the pathway to healing. What we did brought light to Loreal as our loved one, our granddaughter, sister and daughter, to hold her up, and that is what matters. When we have contributed some good, then we have behaved as good relatives.
On Oct. 20, the second day of the work session on Loreal, Navajo Nation Attorney General Ethel Branch released a statement saying that the Navajo Nation rejects the findings of the U.S. Department of Justice and that the nation will continue to pursue justice on behalf of Loreal and her family.
Jennifer Denetdale, from Tohatchi, New Mexico, is a historian and an associate professor of American Studies at the University of New Mexico. She is the director of the Institute for American Indian Research at UNM. She is the chair of the Navajo Nation Human Rights Commission and was a lead organizer for the two-day work session on the death of Loreal Tsingine, Oct. 19 and 20. This guest column is solely the work of the author and does not reflect the positions of either the University of New Mexico or the Navajo Nation Human Rights Commission.
---