Bloomfield falls short, but proud of accomplishments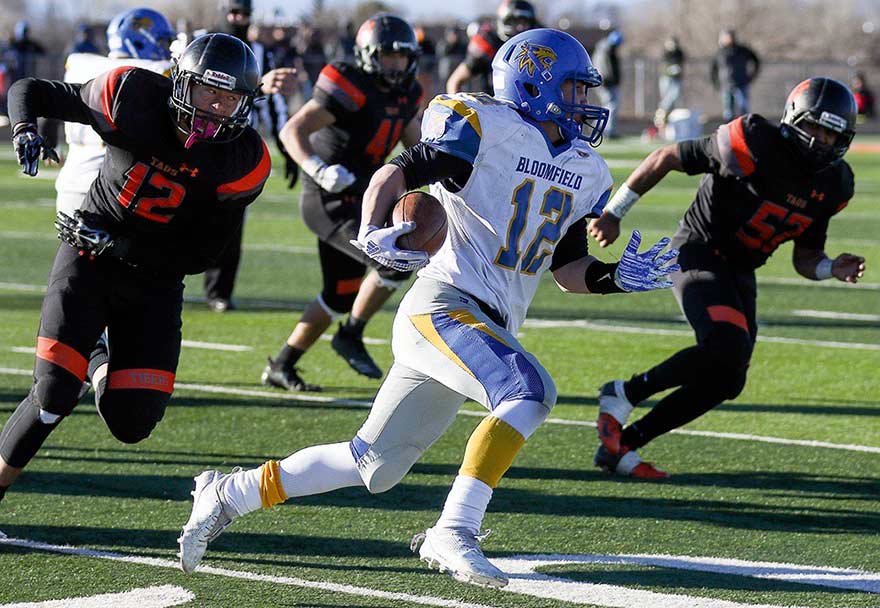 <strong>TAOS, N.M.</strong>
A couple of yards was all that kept the Bloomfield High School football team from accomplishing their biggest goal this season.
The Bobcats fell short to Taos in the 4A New Mexico high school football state championships 14-7 last Saturday in a defensive tussle. It was the first time the Bobcats made it to the state championship game in 28 years.
Bloomfield head coach Bob Allcorn said it was a tough one to swallow, but the fact that they were able to play in the title game left a lasting impression.
"It was very exciting, but the disappointment of losing the state championship game, it hurt. There were definitely some tears shed, I know by many of the players and now by myself, because we were so close," he said. "At the same time, I'm very proud of getting to that game and when we weren't expected really to be there. I think it was a surprise to many."
Taos set the pace minutes into the title game when Jonathan Garcia took a starburst kickoff of 79 yards for the return to give Taos the quick 7-0 lead.
Allcorn said the team knew it was a possibility but they were not necessarily expecting it. He added that the team worked on starburst throughout the week as they prepared for the big game.
"They got a break on the opening kickoff and scored on that. We haven't given up anything like that pretty much all year," he said. "Our main game plan was to keep the ball on the ground and force them to pick it up late, not let them get into their starburst. It's one of those things you don't want to see happen, but that's why teams run it."
Bloomfield spent the remainder of the first quarter getting into the game and finding their level of comfort.
They made a number of attempts and got into scoring position a few times before ending the quarter trailing Taos 7-0.
In the second quarter, in both teams' first possessions of the quarter, they struggled to move the ball past the 50-yard line.
It was a battle on the defensive lines, a battle Allcorn said he expected and prepared his team for.
"I knew going into the game it was going to be a defensive game," he said. "They're really good on defense, we're really good on defense."
---