KC finally gets a win, Shiprock in showdown against 'Prep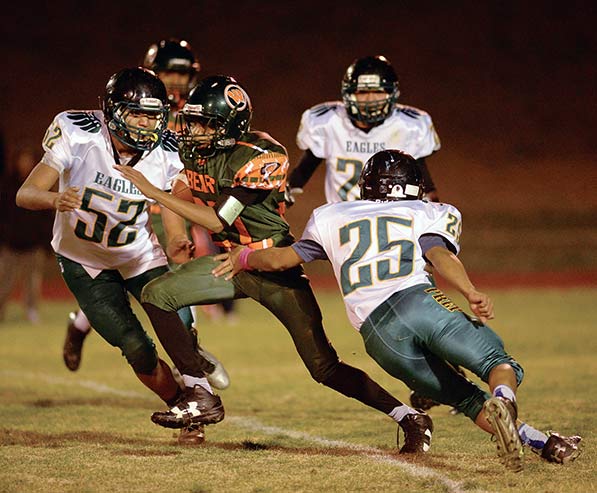 FRUITLAND, N.M.
The Kirtland Central football team is finally coming around.
The Broncos were desperate for a victory going into their District 1-5A game against Bloomfield last Friday – and they got it.
They defeated the Bobcats 38-18 and are now 1-3 in the district.
KC head coach Grey Jenks said his team simply improved.
"We continue to get better," he said. "Once again I don't know if everybody is going to be able to see it, but we got better with every game."
Jenks said his team was on all cylinders going into the game with Bloomfield.
The Broncos scored 23 points before the Bobcats got on the scoreboard in the first half.
"They were blitzing like mad, sending six to seven guys every play," he said. "We just would have enough big plays to counter their blitz."
Jenks said his team scored on three of Bloomfield's first four possessions with one of the touchdowns off an interception.
Kirtland Central went into halftime with the 23-6 lead.
"It just felt like there's been more of a focus with the players since that Aztec loss and they just continue to get better," he said.
Bloomfield came out more focused in the second half.
They scored six points early in the third quarter, but KC put up two more touchdowns to extend their lead.
"Our players responded well," Jenks said. "We were able to get two more scores before they scored their last one."
The Broncos picked up their first district victory of the season.
Jenks said hoped his team would pull through after a couple of tough losses but their fate has yet to be determined.
Jenks said their record alone does not secure them a spot for the postseason but that's out of his hands.
"Unfortunately it's another year where we put it in the hands of the committee on whether we get into the playoffs at all, rather than keeping it in our hands," he said.
The Broncos will host their last district game tomorrow against Gallup at 7 p.m.
Jenks said they'll work toward another good performance.
"We got to get better this week again and finish out the district strong," he said. "Hopefully that will be enough to get us in the playoffs."
Shiprock works to defend title
In District 1-4A, the 2016 district champions, Shiprock, are working to defend their title.
Shiprock defeated Thoreau last Friday 40-0. The victory put them 2-0 in the district and 7-2 overall.
Shiprock head coach Eric Stovall said his team prepared specifically for Thoreau.
He said he and his assistant coaches made sure the team was well prepared.
"We really focused on our defensive scheme, getting prepared for the run game," Stovall said. "They have good athletes, they do a good job running the ball."
Shiprock picked up a quick 18-0 lead in the first quarter alone thanks to the defensive line.
He said the team's defensive coordinator, Ronnie Armenta, prepared the defensive well.
"He's doing a great job, he's done a great job all year," Stovall said. "We forced them (Thoreau) to make some inner passes. It gave us some openings on defense. We were able to effectively slow their run game and their pass game as well."
In the second quarter alone, Shiprock scored 22 points to lead Thoreau 40-0 going into halftime.
Stovall said he put in younger kids in the third quarter to give them playing time but the Hawks weren't able to get past their defense.
Shiprock junior tight end Tyris Newton finished with two interceptions and two touchdowns.
Stovall said despite the win and the score, Thoreau pushed the Chieftains back on a number of occasions.
They gave the Chieftains a look at areas that need improvement. Shiprock's final district game is against Navajo Prep tomorrow at 7 p.m. in Farmington.
Navajo Prep is also undefeated at 2-0 in the district.
"We got our hands full Friday night for the district championship," he said. "We're going to have to scheme well this week as a coaching staff."
---