KC boys, girls successfully defend district titles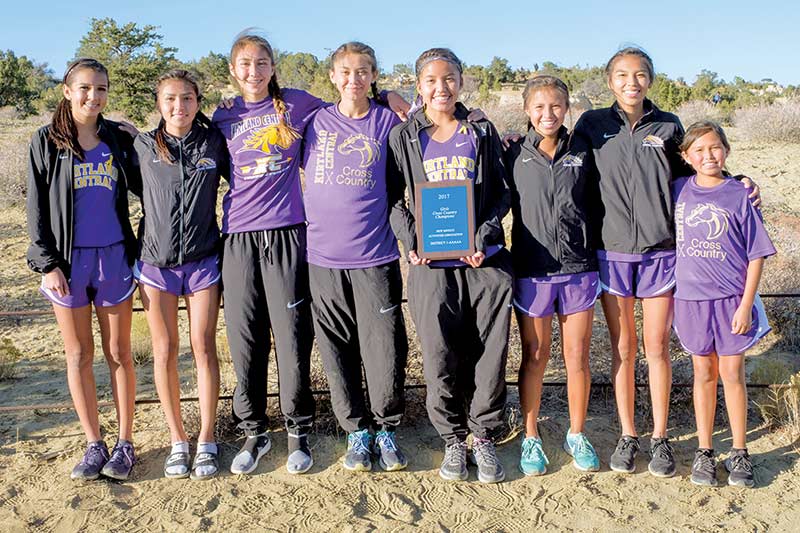 FARMINGTON
After another successful regular season, the Kirtland Central boys' cross-country team is in a familiar place.
The Broncos finished as back-to-back district champions last week with a total of 26 points.
Head coach Lenny Esson said his team was just preparing for the big stage this weekend – the state cross country meet in Rio Rancho, New Mexico.
"Last week's race was more of a confidence boost for our boys as far as getting ready for state," he said. "This week it's just going through the process of what we've been working on.
"No disrespect to the other teams but we're kind of ahead in our training of where we wan to be to be ready for next week," he added, "so that's basically what we're doing."
Kashon Harrison, a junior, led the team with a first place in a time of 16:12.3. It was his third individual district title. Senior Tristen George came in second for the team and third overall in 17:20.5. Right behind George was teammate Jacob Hawkins, a junior, who finished third for the team and fourth overall in 17:30.2.
Coming in fourth for the team was Koby Blackwater, a senior, who finished eighth overall in 17:53.7. The fifth runner was sophomore Hyrum Yonnie, who finished 10th overall in 18:06.1.
Esson said he put no pressure on his team to defend their district title, but the team pressured themselves.
George said they wanted to defend their title but they wanted to do it smart as there is still one more race to run.
"Our focus was to capture the title again and, I guess, work as a team all throughout the whole race," he said. "I think we did that … I think it feels like we're ready for state in order to capture the state title this year."
Esson said his team faced some adversity with one runner out and one ill, but they managed to pull through.
"My number five guy didn't get to run today but we'll have him back next week," he said. "My number two has been battling the stomach flu since last week."
Esson said the team also improved their pack times.
"My three and four guys weren't as close as I'd like them to be, but the two and three were," he said. "But I think the boys do have a little bit more confidence from last week's race."
Finishing behind Kirtland was Aztec with 48 points, third was Miyamura (62), followed by Gallup (93), Bloomfield (130) and Farmington (162).
On the girls' side, the young Lady Broncos also defended their district title.
Kirtland Central finished with a total of 42 points, in front of Miyamura who had 54, followed by Gallup (73), Aztec (88) and Farmington (90).
Leading the Broncos was junior Tiajhae Nez who finished first for the team and fourth overall in 21:28.4.
Nez let a pack of Lady Broncos with freshman Autumn Harrison just behind her, finishing second for the team and fourth overall in 22:00.7. Following her was freshman Michaela Hawkins (sixth overall and third for the team, 22:13.0), sophomore Leiyah Light (fourth for the team, 13th overall, (22:12:01.6), and Katilyn Harrison (fifth for the team, 14th overall, 23:02.1).
Esson said the race didn't exactly go as planned and it showed in his team's overall performance.
"They were kind of set on running the course a certain way then it got changed so they just made adjustments," he said. "It's a race, you just have to prepare for whatever is out in front of you, but we're young so they were a little rattled by that."
Esson said their win came with surprises – some that were good and others that will need to be ironed out by Saturday.
He said his two top runners, Hawkins and LaKyla Yazzie, didn't preform well, but two others, Nez and mid-school runner Katilyn Harrison, stepped up.
"As far as our leadership, we got to go back to the drawing board a little bit," Esson said. "Who I would normally have my number one and two didn't run well today, and both didn't run well last year at state so that kind of made a difference."
Esson said he's confident in both teams as they gear up for the championship meet on Saturday.
"We want to keep going up, that's kind of our goal," he said. "We want to chase the state title.
"And then on our girls, we got a young team, but we have a really good shot to finish in the top three," he said.
"That's really been our goal from the start is to get both programs on the podium," he said. "I believe we have the depth, it's just a matter of being rested and mentally getting back on track."
---