Post-Covid, Bears see many possibilities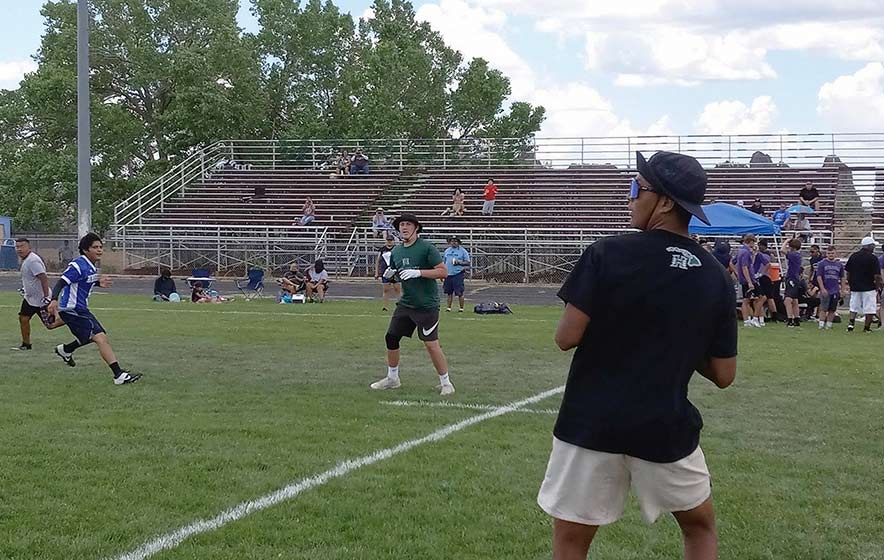 FORT DEFIANCE
The 2022 football season is full of possibilities for the Wingate Bears and second-year coach AD Jim.
When Jim took over the program he inherited a major rebuilding effort as the Bears sat idle during the 2020 season due to the ongoing pandemic.
In his first season last year, Wingate went 0-8.
"We had a tough year," Jim said on Saturday at the 7-on-7 football tournament hosted by Window Rock High.
"We came off of a Covid year, and the year before that we didn't have a season, so we took our lumps," he said.
Jim coined last season as their "rebuilding year" as the Bears started the season with 17 players and ended with 17.
Of those players, 15 took part of the team's summer program, having attended summer scrimmages with Crownpoint, Grants, Gallup, Miyamura and Window Rock.
"We have a good foundation to work with," Jim said. "The kids have been definitely committed. We've actually started practice back in April, and they've been coming every day.
"It's really showing with these 7-on-7 stuff," he added.
On Saturday, Wingate earned the tournament's top seed with a 4-1 record, earning wins over Holbrook, Hopi, Miyamura, Tuba City and host Window Rock.
In bracket play, the Jim-coached team came up short to eventual champs Miyamura by a 15-6 count in the semifinals.
With the developments he's seen over the past few months, Jim is expecting a better outing for the upcoming year.
"I've seen a lot of progress," he said. "I'm actually very proud of them because they've learned a lot."
Some of the top players include ball carriers Christian Davis, Darius Begay and Leshane Wyaco with the later being pegged as the starting quarterback.
In addition to those skilled players, Jim said they have an experienced line coming back.
"That is going to be real crucial this season," he said of the men in the trenches. "We've seen some major developments with our line and we're hoping for a better season."
As part of this new realignment year, the Bears will remain in District 5-3A with Cuba, Crownpoint and Thoreau for the next two-year block.
Last year, Cuba captured the league title with a 3-0 mark followed by Thoreau (2-1), Crownpoint (1-2) and Wingate (0-3).
Jim said it's too early to make predictions on which team is projected to win the district.
"I'm not really sure right now," he said. "I know Cuba has been doing some summer participation up in Farmington and anytime you have kids participating in the summer they're going to come in and be ready to play football in the fall.
"I think they're going to be decent," he said of Cuba.
Jim said Crownpoint is another program to look out for.
"They have their program up and running, so they should be tough too," he said. "I'm looking forward to playing those two squads."
---