Red Mesa gives No. 2 seed Trivium Preparatory a scare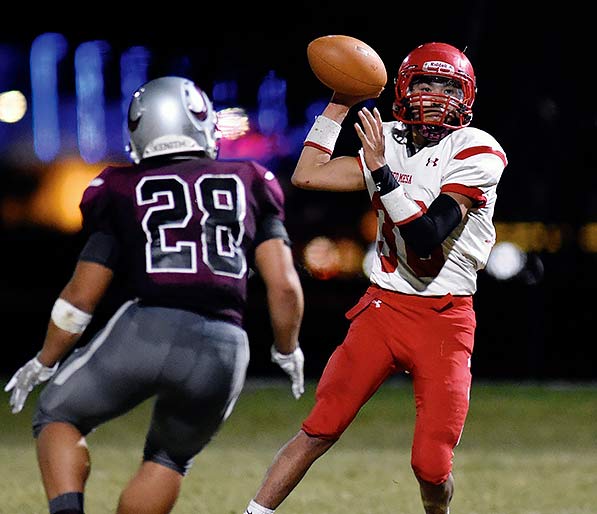 GOODYEAR, Ariz.
As the No. 15 seed, the Red Mesa football team had to make a six-hour drive to play the Trivium Preparatory Crimson Knights for their first round Class 2A state playoff game.
The Red Mesa bunch was not so keen on making that drive so they made the most of it by giving Trivium Preparatory an early scare.
"We didn't want to come down here just for a ride," Red Mesa coach Pita Olomua said following their 36-26 ouster. "We already went on a long drive (two weeks ago) when we played Alchesay so we had to show something. We had to display the kids' talent and heart and sometimes you can't measure that stuff.
"I'm just so proud of our kids," he added. "They represented the Navajo Nation and all of the people in Red Mesa really well. They displayed their talents and sportsmanship and all that good stuff."
After punting on their opening drive, Red Mesa scored on two consecutive drives to go up 14-8. Senior running back Roland Begay capped the first scoring drive by running in the final three yards as Red Mesa tied the game at 8-all after senior Dearan Horse hit Hunter Pipkin on the successful two-point conversion with 4:29 to go in the opening quarter.
Red Mesa tacked on another score, this time going deep in their playbook with a trick play. After taking the snap, Horse threw a lateral pass to tight end Keanu Smith, who then threw a 15-yard strike to Pipkin to complete a 69-yard scoring drive with 11:50 to go before the half.
Red Mesa had a chance to add to that lead but they came up three yards short of a promising drive. With the ball marked at Trivium Preparatory's 18-yard line, Red Mesa advanced the ball only seven yards and they turned it over at the 4:35 mark.
Olomua said that turnover hurt his teams' chances and if they scored on that drive that would have put more pressure on Trivium Preparatory.
"Unfortunately that didn't happen," he said. "When you get inside the red zone we have to think about scoring. If we did that we could have got (Trivium Preparatory) frustrated."
Trivium Preparatory coach Michael Spencer said that defensive stop was the turning point of the game.
"That definitely got the momentum on our side," he said. "We got the stop and we were able to punch one in right before the half. Our kids were a little nervous at the start and I think that kind of settled them down."
---