Lady Cougars reach 1A quarterfinals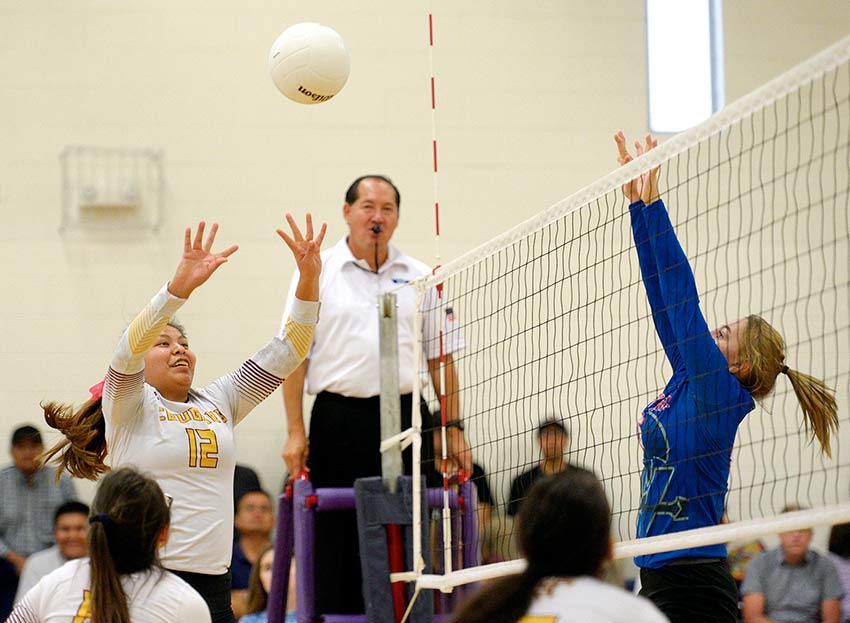 LAVEEN, Ariz.
Of the three local qualifiers, the Rock Point volleyball team made it as far as the Arizona Class 1A state quarterfinals.
The No. 6 seeded Lady Cougars swept Ash Fork/Seligman in the opening round by a 25-17, 25-18, 25-21 count.
In the next round, Rock Point lost to No. 3 seed St. David in four sets. The set scores were 25-14, 21-25, 25-19, 25-17 at Betty Fairfax High School last Friday.
"I think we did as well as we could," Rock Point coach Melvin Arthur said. "The only thing that we didn't work too well was our hits. We didn't put them down.
"On several occasions our hits were really good," he added. "Unfortunately we had some hitting errors."
Defensively, Arthur said his girls held their own.
"We were digging a lot of balls and our serving was OK," he said.
Arthur said during their match with St. David they were leading the Lady Tigers in the middle of each set but in three of those games they could not finish.
Despite falling short, Arthur said they had a good showing at state.
"I think playing in the quarterfinals lets a lot of people know that our volleyball program is growing," he said. "This is our third appearance in the tournament. I have a new group coming in so we'll be a lot stronger in a year or two."
Rock Point will be losing 10 seniors next year.
In other 1A action, Red Mesa and St. Michael were eliminated in the first round.
No. 15 seed St. Michael went four sets with No. 2 North Phoenix Preparatory. The Lady Cardinals fell 25-17, 22-25, 25-20, 25-17.
Red Mesa, meanwhile, overcame some early jitters. Red Mesa played out of sync in the first set before making NFL Yet Academy earn the win. The set scores were 25-2, 25-13, 25-13.
"That first game wasn't our game," Red Mesa coach Henrietta Haven said. "I don't know what to call it but we settled down and we started playing more of our defensive-oriented game."
---