Navajo Prep girls soccer wins first-ever playoff game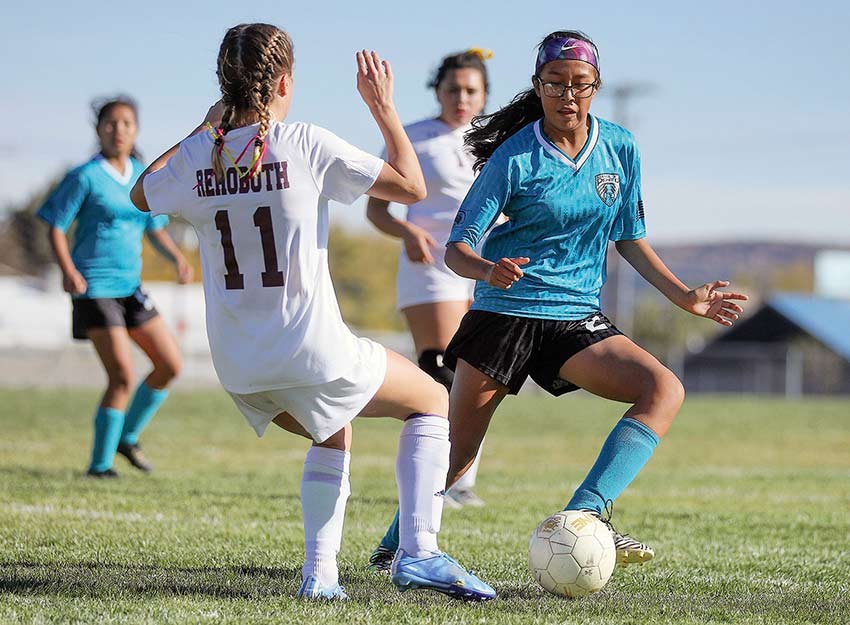 FARMINGTON
The Navajo Preparatory School Lady Eagles entered the first round of the state soccer tournament ready to fight flames with fire.
The Lady Eagles drew the No. 7 seed in the Class A-3A for first round of the state championships and defeated their district rivals Rehoboth Christian, the No. 10 seed of the tournament, 4-0 one flame at a time.
Navajo Prep head coach Stacy Irwin said he knew Rehoboth would enter the game hot after having beaten them twice already this season, so the game plan was simple: put out the fire with fire.
"I told the girls, 'They're here to beat you. They have nothing to lose even though you beat them twice, they're coming with fire,'" he said. "'We need to play with fire,' and they did."
Navajo Prep blazed into the first half scoring their first goal 13 minutes into the game. Navajo Prep freshman Mya Benally scored with a left corner box kick for a 1-0 lead.
With the two teams battling back and forth in the first half, Rehoboth coach James Rich said that showed how well his team matched up with Navajo Prep despite the fact that they lost to them twice before during the regular season.
"(The match up) was surprising because I didn't expect Prep to get the No. 7 seed," he said. "It was a nice surprise because we knew what they play like. They know us and we know them, so it's a little bittersweet I would say."
Having been so familiar with Prep, Rehoboth zoned in on one of the Lady Eagles' main scorer, junior striker Emma Mohs.
Rich said the team decided to put some pressure on her and it worked for most of the first half.
"We knew they had the young lady Emma Mohs, she put two goals on us the last game, so we knew to come in and mark her. She was a threat and we knew that she exists," Rich said. "If you're marking, that's a compliment. We took her out of the game, but they had other threats as well."
With the pressuring being put on Mohs, Navajo Prep saw an opportunity to change a few things to open up their scoring ability in the second half. They also showed other threats the team had, especially on defense.
---