Tohatchi comes from behind in turnover fest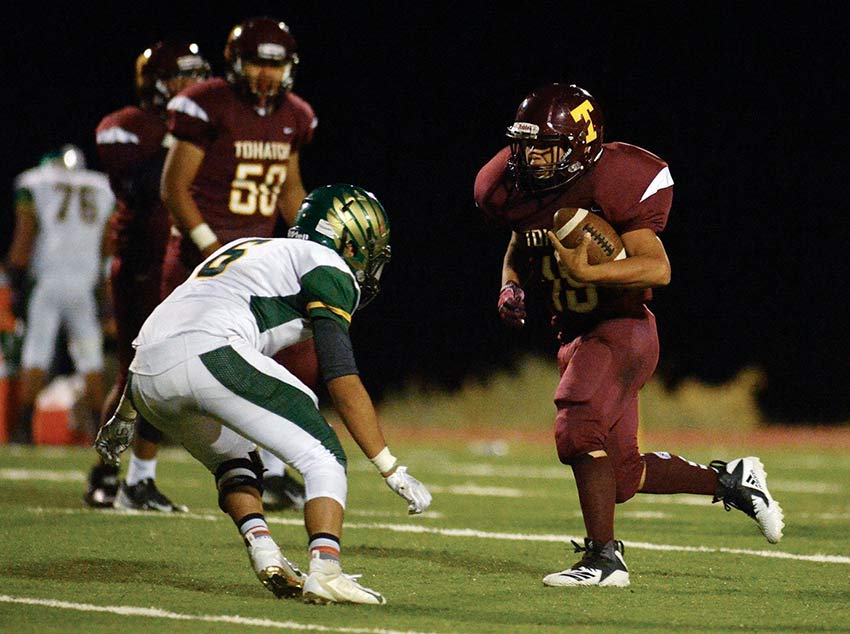 TOHATCHI, N.M.
The turnover count was mindboggling.
In a District 1-3A opener, the Tohatchi Cougars capitalized on a pair of Thoreau fumbles to score a 22-18 come from behind win on homecoming night.
"The odds were against us but we fought for every play in that second half," said Tohatchi coach Landoll Benally, whose team improved to 4-3 overall, 1-0 in district play. "I told our guys that every game is won in the fourth quarter and I am just so proud of them. They fought until that last second."
Both teams combined for 14 turnovers with each team coughing up the ball seven times. Thoreau (1-5, 0-1 in district) turned over the ball four times in the second half, including two late in the game.
"That is the stuff that we have to work on," Thoreau coach DeJong DeGroat said. "They did a good job of capitalizing on our mistakes, just like the way we did in the first half.
"I have to give a lot of credit to Tohatchi," DeGroat said. "They came out ready to play in the second half. We made some mistakes, but we'll work on those mistakes and try to get better next week."
Trailing 18-14 with just under three minutes left, the opportunistic Cougars recovered a Thoreau fumble when senior OL Samuel Belone pounced on the loose ball at the Hawks' 37-yard line. That fumble was a result of a big hit from Tohatchi senior Justin Leonard.
The Cougars ran the ball five times with junior running back Mario Perez punching in a score from 8 yards out with 1:09 remaining in the game.
That score capped an unbelievable game as Thoreau led for a majority of this contest. Despite facing an uphill battle, Tohatchi junior Ryan Begay said the team never faltered.
"I didn't have any doubts," Begay said. "I had a lot of faith in my teammates. They had a lot of faith in me too. We really didn't start taking care of business until the second half."
In the opening half, things looked bleak for his team as they were hit with the turnover bug. Tohatchi had five turnovers, including two in the first four minutes of the game.
The Hawks pounced on those miscues to go up 12-0 with 8:27 in the opening quarter. Thoreau recovered the games' opening kickoff, after it touched a Tohatchi player, deep in their territory.
While facing a fourth-and-8, Hawk quarterback Bradley Largo completed a pass to senior Sean Emerson to go up 6-0 with 10:06 left in the opening quarter.
Thoreau took advantage of another short field when they recovered a Tohatchi fumble inside the red zone. On the first play from the line of scrimmage, junior Cordell Platero found a hole and rumbled for a 20-yard score.
"When you get the ball near the end zone you get to do great things," DeGroat said. "Our boys came out well and we made some adjustments from our game (two weeks ago) so I'm proud of the start we had."
---