Wildcat homecoming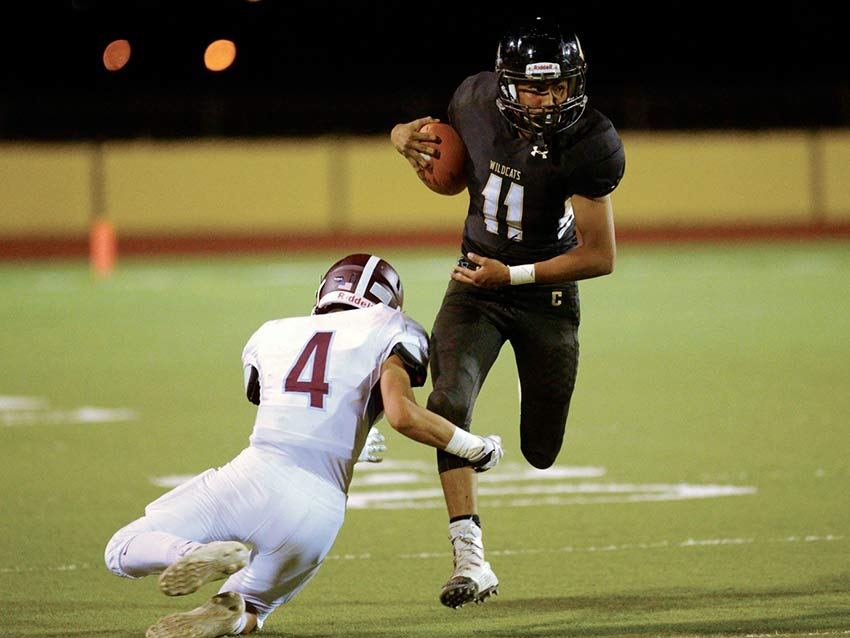 Chinle upends Ganado in bizarre twist of fate
CHINLE
In a bizarre twist of fate, the Chinle Wildcats wiped away an 11-point deficit to upend Ganado last Friday night in a 3A North Conference opener.
The Wildcats (2-4, 1-0 in 3A North) trailed Ganado 18-7 with 12.1 seconds left in the opening half, but an 84-yard kickoff return by junior Darren Woody quickly turned the tables for the Chinle squad.
That return gave Chinle a much-needed shot in the arm as they scored 36 unanswered points to post a 43-18 win on homecoming night.
"That is one of the beautiful things about sports," first-year Chinle coach Alan Barwick said. "It doesn't have to be a big moment but the effect of just a simple kickoff return is huge. All we did is close the gap and that was huge for our players and our team."
Like all sports, Barwick said football is a game of highs and lows. He's hoping the surge they had will get people enthusiastic about the program they are running.
"We're trying to build something here and with it being my first year here we're happy with the way our seniors are playing," he said. "But we always need players and hopefully the people that were watching tonight will want to be a part of this."
Woody said he can't explain what happened on that kickoff return. He just read what Ganado's defense was giving him.
"I just read the holes and I hit the gap," the six-foot junior said. "I'm just thankful for my teammates for opening up those holes."
Like most people in the stands, Ganado coach Connor Simmons was stunned.
"I'm just speechless right now, literally speechless," he said. "Hats off to Chinle. They played a heck of a game. They came in more prepared."
The first-year Hornet coach said his team was sitting comfortably when they went up 18-7 on a touchdown by senior quarterback Herman Kee. Kee ran the final nine yards in a 37-yard drive that took 40 seconds to complete.
"We were feeling pretty confident but we allowed that to happen," said Simmons, whose team dropped to 3-3 overall and 0-1 in 3A North play.
"That's just unacceptable and when you give a team momentum going into halftime like they did – you don't have a chance, you just shoot yourselves in the foot."
---